Page 2 »
 When it comes to having extra storage space, what is the ideal solution for you? That all depends on your unique setup and usage. The most common accessories when it comes to storage is the flash drives and hard drive enclosures. These devices allow you to transport data from one computer to another computer relatively easy, but is there a better option with more possibilities? The next logical step up would be to move to a NAS (Network Attached Storage) unit. Not only does a NAS give you an easy way to move files from one computer to another, it also gives you several options that a standard flash drive/ hard drive enclosure can not. Today we are going to be taking a look at one; the Synology Disk Station DS107+ NAS units.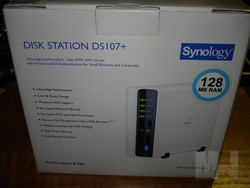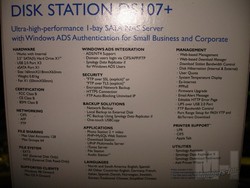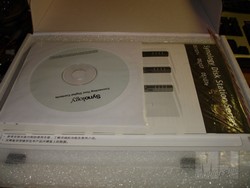 The Synology Disk Station DS107+ comes in a very informative box. The front and side list the main features of the DS107+ while the rear shows an illustrated version of networking side of the DS107+. Opening the box you will find the Installation CD and Users Manual.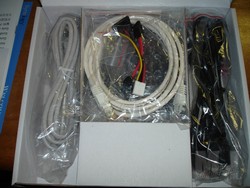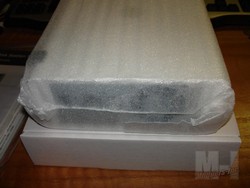 The DS107+ comes with all the needed cables and hardware for setup. The DS107+ itself is wrapped in a protective bag and nicely packed in the lower section of the box.
Specifications & Features
Hardware
CPU Clock Rate: 500 MHz
RAM Size: 64MB or 128MB
Internal HDD: 3.5" SATA(II) X1
External HDD Interface: USB 2.0 port X3, eSATA port X1
Size: 160mm X 218mm X 63mm
Weight: 0.81kg
LAN: Gigabit X1
Fan: X1(50mmX50mm)
Power Recovery
AC Input Power Voltage: 100V to 240V
Power Frequency: 50Hz to 60Hz, Single Phase
Max Capacity (Internal HDD): 1 TB (See All Supported HDD)
Max Supported IP Camera: 64MB RAM: 2; 128MB RAM: 5 (See All Supported IP Cameras)
Operating Temperature: 5°C to 35°C (40°F to 95°F)
Storage Temperature: -10°C to 70°C (15°F to 155°F)
Relative Humidity: 5% to 95%RH
Maximum Operating Altitude: 10,000 feet
Power Consumption(1)
19W(Access); 
8.6W(Hibernation)
Certification
FCC Class B, CE Class B, BSMI Class B, VCCI Class B
Networking Protocols
Windows ADS Domain Integration
ADS Support
Domain users login via Samba/AFP/FTP
Synology Data Replicator 3 for Domain Users
Security
"FTP over SSL (explicit)" or "FTP over TLS (explicit)"
Encrypted Network Backup
HTTPS Connection
FTP Auto-Block
File System
EXT3
FAT (External Disk Only)
NTFS (External Disk Read Only)
File Sharing
Max User Accounts: 128
Max Groups: 64
Max Shared Folder: 100
Max Concurrent Connections: 32
Utilities
Synology Assistant
Synology Data Replicator 3
Synology Download Redirector
Add printer wizard
Applications
Surveillance StationNew!
Photo Station 3New!
File Station
Audio Station
Web Station
PHP/MySQL
Download Station
iTunes Server
UPnP Multimedia Service Support
Sony PS3, Microsoft Xbox360 (See All Supported DMA)
Audio Format: AAC, M4A, MP3, Ogg Vorbis, WAV, WMA, WMA VBR, WMA PRO, WMA Lossless
Video Format: ASF, AVI, DAT, DivX, MP4, MPEG1, MPEG2, MPEG4, VOB, WMV, XviD
Image Format: BMP, JPG (jpe, jpeg), GIF, ICO, PNG, PSD, TIF (tiff), UFO
Playlist Format: WPL, M3U
iTunes Server Support
Audio Format: MP3, M4A, M4P
Playlist Format: M3U, WPL
Audio Station Support
Audio Format: AAC, M4A, MP3, Ogg Vorbis, WMA, WMA VBR
Playlist Format: M3U, WPL
Internet Radio: SHOUTcast, Radioio
Photo Station 3 Support
Video Format: ASF, AVI, MPEG1, MPEG4, WMV, XviD, DivX, DAT(2), MP4(2), MPEG2(2), RM(2), RMVB(2), VOB(2)
Image Format: BMP, JPG (jpe, jpeg), GIF
Management
AJAX-based Management UI
Download Station Bandwidth control
Download Station Port Range Setup
Editable HTTP Error Page
Email Alert Message
Email Notification for New User
External HDD Hibernation (eSATA, USB)
Scheduled Power Off
Firmware Upgrade
FTP passive port range
Hide-able Shared Folder
Internal HDD Hibernation
Port range for BitTorrent
Removable Default Shared Folder
Ez-Internet
PPPoE
UPS Management (Over USB 2.0)
User Quota
Web-based Download Station
Backup Solutions
Network Backup
Local Backup
Desktop Backup (using Synology Data Replicator 3)
USB Copy
3rd-Party Backup Support
Acronis True Image
Symantec Backup Exec
EMC Retrospect
LaCie SilverKeeper (Details)
Supported Clients
Windows 2000 onward
Mac OS X 10.3 onward
Printer Support(3)
Max Printer #: 1
Supported Protocols: LPR, CIFS, AppleTalk
Languages
English, German, French, Italian, Spanish, Danish, Norwegian, Swedish, Dutch, Russian, Japanese, Korean, Traditional Chinese, Simplified Chinese.
Environment
Package Content
DS107+ Main Unit
Installation CD
Welcome Note
Assembling Kit
AC Power Adapter
AC Power Cord
2M RJ-45 LAN Cable
___
(1) Measured with 1 Seagate 750GB ST3750640NS hard drive. The figures could vary on different environments.
(2) User can click and download the file, but not play it in Photo Station as compressed Flash video.
(3) For Mac users, DS107+ supports PostScript USB printers only.