Page 2 »
OCZ Technology is making a name for itself in the PC world with its very popular memory modules. One of the reasons OCZ has become a preferred vendor is its Extended Voltage Protection warranty that covers the memory even if the memory voltage is bumped higher than stock. The OCZ DDR2 PC2-8500 Reaper HPC Edition is ready to push any system that can handle the 1066MHz modules, but can it handle being pushed back?
   The OCZ DDR2 PC2-8500 Reaper HPC Edition comes in a stylish blister pack that highlights and allows you to see the memory modules to their fullest glory. Right away you notice that they do not look like any ordinary RAM with something added to the top. This "something" is a heat pipe system that will help remove the heat from the modules.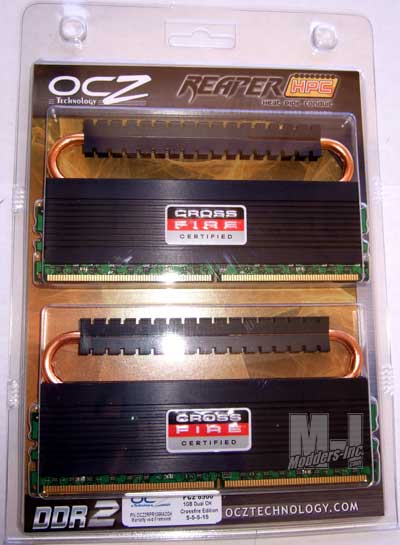 The rear of the blister pack gives you a quick lesson on how the "heat pipe" will help reduce the temperature of the memory modules. There is really not much more you could ask for as all the answers you might need to ask is all laid out on the packaging if you look for it.
What OCZ has to say about their product:
The Reaper HPC is an innovative patent-pending cooling solution developed by OCZ to effectively minimize heat produced by high-speed memory. As heat rises into the thermo-conductive copper heat pipe conduit, it is dissipated through the strategically-placed compact aluminum fin array. By guiding performance-robbing heat away from key memory components, the unique Reaper HPC design helps facilitate improved overclocking performance, while improving longevity and stability of the modules. 
The first modules to be incorporated with the new Reaper heatsink are rated at 1066MHz and run at CL 5-5-5. Featuring an EPP (Enhanced Performance Profiles) programmed SPD, PC2-8500 Reaper HPC modules will immediately boot at the rated specs on the latest generation of NVIDIA® SLI™ chipsets. Although the OCZ Reaper HPC series was coined for enthusiasts, EPP eliminates the need for manual configuration and makes memory optimizations a household item for the complete range of consumers looking to maximize system performance through overclocking. 
As part of OCZ's line-up of premium memory, PC2-8500 modules are backed by a Lifetime Warranty and industry-leading technical support.