DDR Memory
Kingston Savage 8GB 2133MHz Memory Kit Review
Article Index: >>
Overview »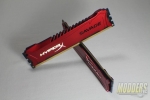 Memory is by far the single most produced hardware component (Power Supply Units come in at a very close second) that goes into your computer in the PC industry to date. It's no wonder that when it comes to choosing a good set of memory for your first rig, that things can quickly get overwhelming. Does this scenario sound familiar? You log into your favorite tech retailer, scroll through pages upon pages of module after module. Your head starts spinning, you start to develop that uncontrollable twitch in one of your eyes, and your lip starts curling up at the corner as foam begins to froth from your clenched teeth. Don't worry we have all been there. With that lets take a look at the new Savage 8GB (4GB x 2) 2133MHz memory kit from Kingston.
Review Sample Provided by: Kingston
Product Name/Link to Website: Savage 8GB 2133MHz
Product was given in exchange for work done to produce this review.
Specifications
| | |
| --- | --- |
| CL(IDD) | 11 Cycles |
| Row Cycle Time (tRCmin) | 48.125ns(min) |
| Refresh to Active/Refresh Commnad Time (tRFCmin) | 260ns(min) |
| Row Active Time (tRASmin) | 35ns(min) |
| Maximum Operating Power | TBD W* |
| UL Rating | 94 V – 0 |
| Operating Temperature | 0c to +85c |
| Storage Temperature | -55c to + 100c |
Features
JEDEC standard 1.5V (1.425V ~ 1.575V) Power Supply
VDDQ = 1.5V (1.425V ~ 1.575V)
800MHz fCK for 1600Mb/sec/pin
8 independent internal banks
Programmable CAS latency: 11, 10, 9, 8, 7, 6
Programmable Additive Latency: 0, CL – 2, or CL – 1 clock
8-bit pre-fetch
Burst Length: 8 (interleave without any limit, sequential with starting address "000" only), 4 with tCCD = 4 which does not allow seamless read or write (either on the fly using A12 or MRS)
Bi-directional Differential Data Strobe
Internal (self) calibration: Internal self calibration through ZQ pin (RZQ: 240 ohm ± 1%)
On Die Termination using ODT pin
Average Refresh Period 7.8us at lower than TCASE 85°C, 3.9us at 85°C < TCASE < 95°Cº
Asynchronous Reset
PCB: Height 1.180" (30.00mm), single sided component
XMP Timing Perameters
JEDEC: DDR3-1600 CL11-11-11 @1.5V
XMP Profile #1: DDR3-2133 CL11-12-12 @1.6V
XMP Profile #2: DDR3-1600 CL9-9-9 @1.5V
Module Dimensions
Length: 133.35mm
Height: 30.00mm
Article Index: >>
Overview »