Testing Methdology and System Benchmarks »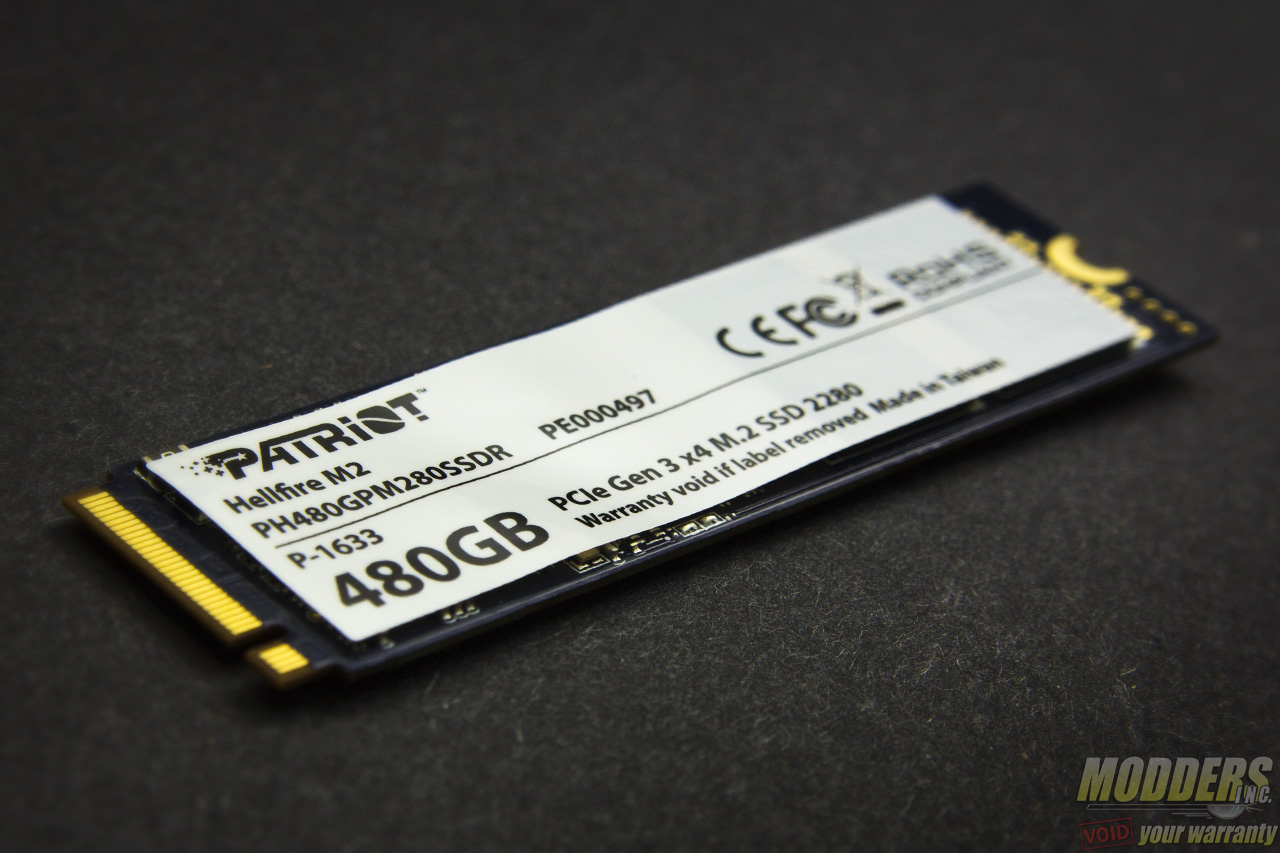 Barely larger than a stick of gum, the M.2 form factor SSD (formerly Next Generation Form Factor) is currently the belle of the ball when it comes to fast desktop and notebook storage, providing significantly faster performance compared to SATA/mSATA while consuming less power. Not to be left out of the game, US based flash storage and memory manufacturer Patriot Memory has been tweaking their Hellfire M.2 and has been teasing it since CES earlier in 2016 as an interesting alternative to the current crop of M.2 drives. The Hellfire M.2 is a PCI-E x4 SSD that replaces Patriot's own Ignite M.2 that was hampered in performance by the limits of SATA III standards.
Patriot's Hellfire M.2 is available in 240GB and 480GB capacities and is available as a stand-alone M.2 drive. Patriot will also be releasing a version bundled with a PCIe add-in-card later on for users who do not have an M.2 on-board slot on their system. Patriot's NVMe solution uses a Phison PS5007-E7 controller which has a recently upgraded firmware to version 2.1, bringing it to levels competitively at the sweet spot in relation to existing NVMe* drives from Samsung, OCZ and Intel.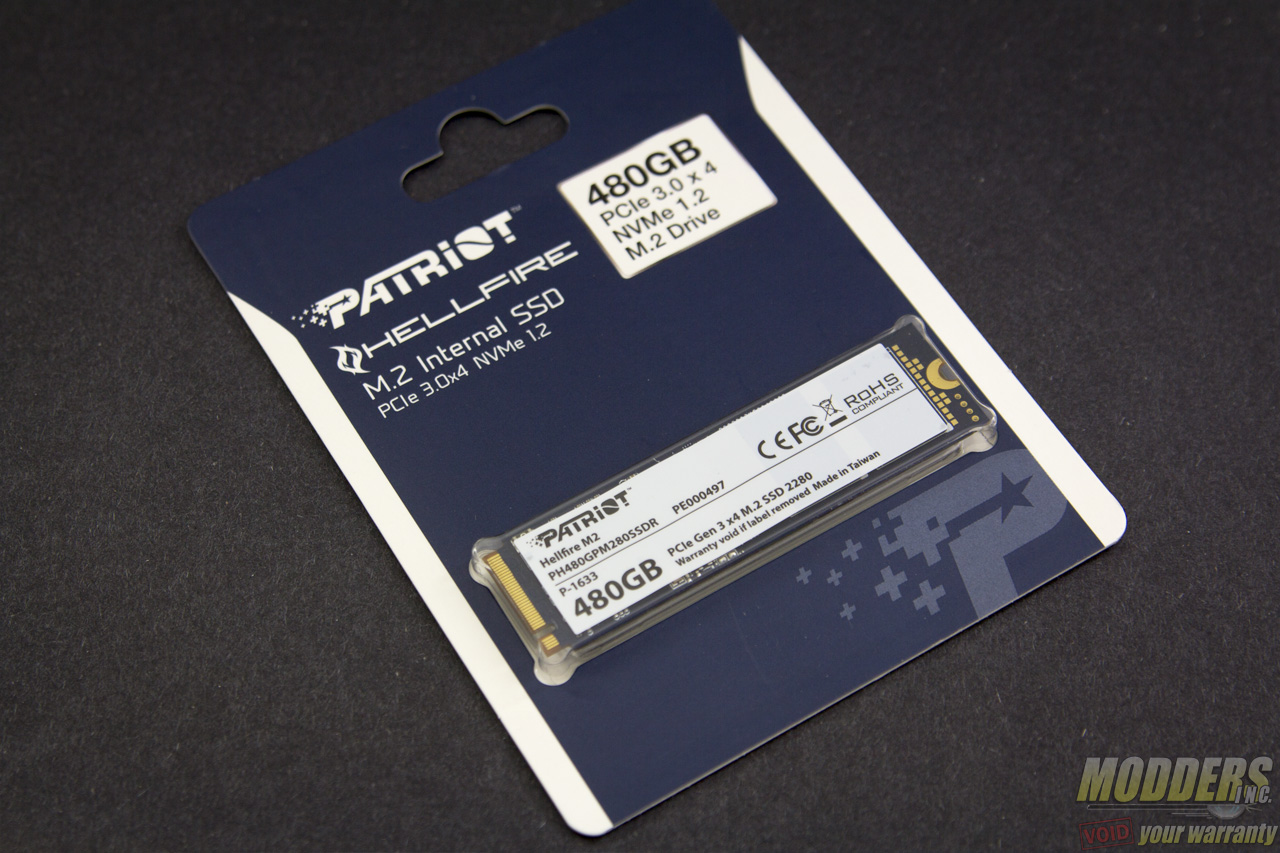 *NVMe is a host-controller interface designed from the ground up for optimal non-volatile memory storage performance compared to legacy AHCI (Advanced Host Controller Interface) devices, having reduced IO overhead, lower latency and more.
[sc:sponsor sponsor="PATRIOT" product_link="https://patriotmemory.com/product/hellfire-m-2-solid-state-drives/" product_name="Hellfire M.2 NVMe SSD" product_price_link="http://amzn.to/2giUrwT" product_price="$279.99 (480GB), $159.99 (240GB)" ]
The Patriot Hellfire M.2 is packed similar to Patriot's USB drives, having a cardboard backed blister pack, although the plastic container can be re-used to store the Hellfire M.2 when not in use. The back of the packaging shows a 3-year warranty on this 480GB model.
Specifications:
Capacity
240GB / 480GB
Form Factor
M.2 2280
NAND Flash
MLC
Controller
Phison E7
Dimensions (L x W x H)
3.8 x 80 x 22mm
Interface
PCI-E 3.0 x4 NVME 1.2
DRAM Cache
256MB DDR3L (240GB version), 512MB DDR3L (480GB version)
Performance(Max)
ATTO: Sequential Read & Write Transfer:
240GB: Up to 3000MB/s Read | Up to 2300MB/s Write
480GB: Up to 3000MB/s Read | Up to 2400MB/s Write
CDM: Sequential Read & Write Transfer:
240GB: Up to 2740MB/s Read | Up to 1090MB/s Write
480GB: Up to 2550MB/s Read | Up to 1260MB/s Write
4K Aligned Random Read
240GB: 170K
480GB: 170K
4K Aligned Random Write
240GB: 185K IOPs
480GB: 210K IOPs
Operating temperature
0~70°C
OS Support
Windows 8.1/10 Natively, Windows 7/8.0 Requires Driver
Shock resistance
1500G/0.5ms
MTBF
2,500,000 hours
Warranty
3 years
The 480GB Patriot Hellfire is a 2280 M.2 meaning it is 80mm long, which is common for its size currently and should fit in most motherboards. While not all motherboards support 110mm long 2210 M.2's, almost all of the current generation Intel motherboards support 80mm drives.
The entire front of the Patriot Hellfire M.2 is covered with the warranty sticker (underneath are two NAND ICs). On most motherboards however, the M.2 is keyed in a position that this sticker will be facing downward.
On the other side, the Phison PS5007-E7 controller is visible as well as the 128GB Toshiba 15nm MLC and the Nanya 512MB DRAM cache. The 240GB version has half that cache at 256MB. The Phison PS5007-E7 features end-to-end data path protection, SmartECC RAID data protection, P-fail protection with additional SmartFlush technology, Advanced read disturb management with SmartRefresh technology, and advanced global wear-leveling. This 480GB version has a stated 230TB total-bytes written while the 240GB version has 115 TBW.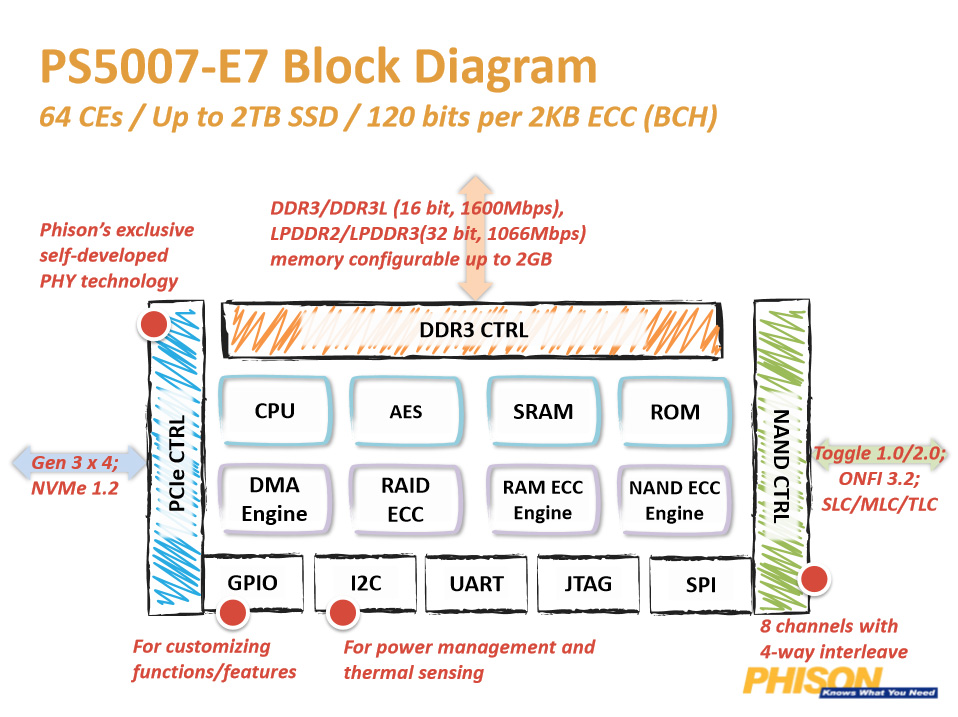 Unlike other NVMe controllers from Samsung, Phison does not have their own drivers in Windows, so the default Microsoft NVMe drivers are utilized in this review.
Patriot PCIe Toolbox Software
Patriot has an PCIe SSD Toolbox software free for download for monitoring, updating firmware and secure erasing a Patriot PCIe SSD. The drive summary page shows a graphical overview of the drive capacity, firmware version, serial number, power-on time, and features. A full S.M.A.R.T. read out page is also available for a more detailed overview of the current state of the Hellfire drive.
Secure erase can be performed directly on Windows 10, as long as the Hellfire M.2 is not being used an OS disk at the time the software is launched.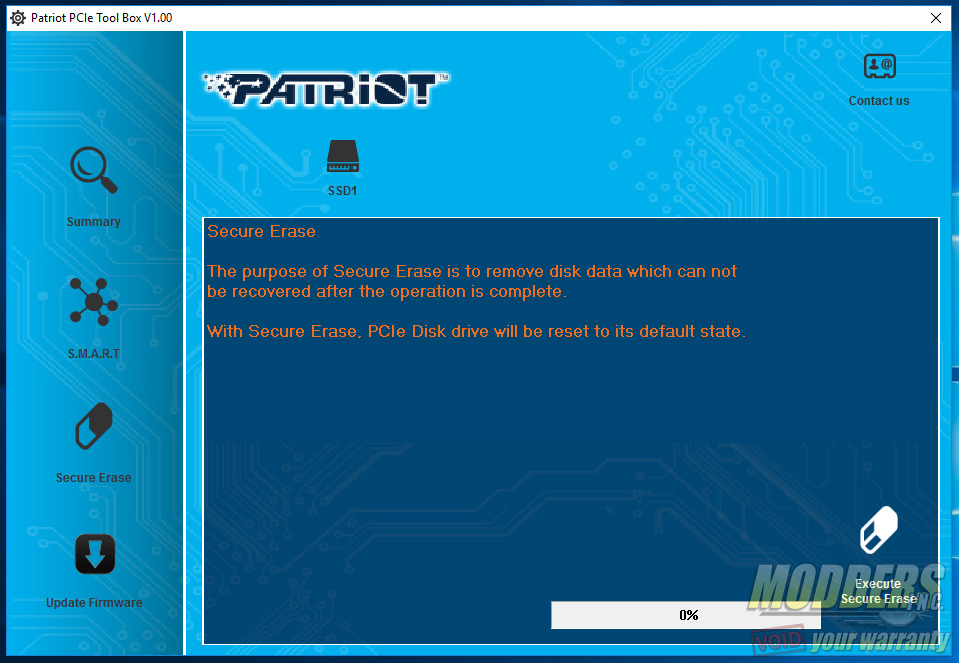 This sample shipped with version 2.0 of the Phison firmware but this can be upgraded to the latest 2.1 version, which improves performance significantly. After updating, the drive must be power cycled (system shut down, not just quick restart) first before it can be used again. Once booted, it should show that it is running E7FM02.1 firmware in the summary page.
Temperature and Throttling
Before running the benchmark, let's do a quick check on thermal performance while under load in Crystal DiskMark, utilizing onboard sensors and a thermal camera:
The NAND IC hits 62.9C while the Phison controller hits 75.5C. The product sheet for the Patriot Hellfire states an operating temperature of 0-70C so this is obviously beyond that. Let's see what the sensors via AIDA64 say under load in CrystalDisk Mark:

Now let us put a fan on top of it and see what the temperatures and the performance is like:

There is quite a bit of throttling in there and there is not even a video card close by that radiates heat since I am using integrated Intel graphics. When temperatures are kept within the stated operating temperature, the performance is significantly better. Although to be fair, the stated CDM speeds on the product sheet for the 480GB version only states 2550MB/s read and 1260 MB/s write, so the throttled numbers are not too far off from claimed performance. Also, this was on the 75% drive with the operating system on it. Still, performance loss due to throttling is unfortunate so if at all possible get some active cooling in that area. The fan used to actively cool the Hellfire M.2 in this test is not a high-RPM fan at all but a Noctua NF-P12 PWM fan set to at only 800 RPM. Inside a laptop or a compact system with nary an airflow, a performance hit is expected.
For the rest of the review, the Patriot Hellfire M.2 will be benchmarked with this active fan cooling it.