« Patriot Memory Hellfire M.2 480GB NVMe SSD Drive, Software and Thermal Overview
Testing Methodology 

Special thanks to Jon Coulter, Storage Editor of TweakTown for his help and whose SSD optimization guide I have utilized in real life use and in this review as well. I highly suggest checking out his articles over at Tweaktown.
Test SSD was connected via Intel SATA with Intel RST iaStorA 15.2.0.1020 drivers installed. C-states and EIST disabled for the Intel Core i7-6700K CPU and Windows power saving set to high-performance. Secure Erase is performed before each set with Parted Magic. Hibernation is disabled.
Write cache enabled, Buffer Flushing is disabled (essential for NVMe drives). If experiencing write speed problems after writing/copying a large batch of files in Windows 10, I highly suggest updating to the latest version which fixes these issues.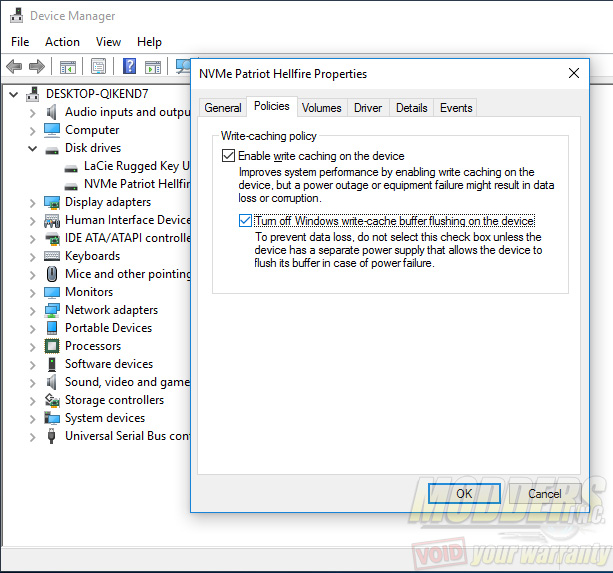 TRIM check is performed with TrimChek 0.7: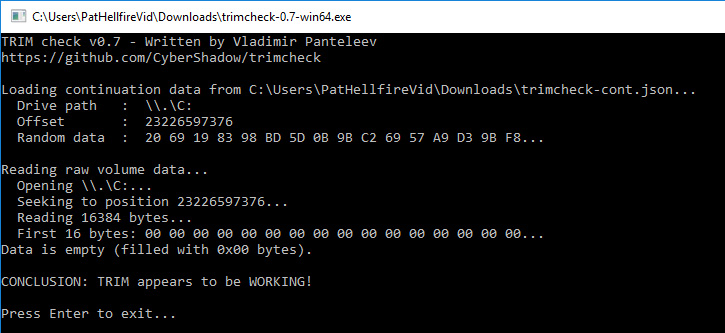 The system is left to idle for 15 minutes after each run. Benchmarks are provided "as-is" in screenshot form for full transparency. As with the rest of our reviews, performance behaviour is the goal instead of simply direct comparisons. All the benchmarks here are easily reproducible and requires no special hardware that cannot be purchased by the public.
To simulate typical consumer drive performance, the operating system was loaded on the test drive and is filled to 75% capacity which will be compared with the fresh out of box/secure erased performance. This is our first NVMe drive review so there are no competitor comparison benchmarks yet. Spoiler alert, it is faster than SATA SSDs. So much so that I won't insult your intelligence by having a graph comparing the two. However, the out of the box performance will be compared to a used drive filled up to 75% capacity to see how it performs when actually filled.
Here is the content breakdown for that drive in addition to the Windows 10 OS install:
Microsoft Office 2016 Suite
Steam Installation folder with 8 games
8528 JPEG files
2988 CR2 files (Canon RAW photo files)
27 MOV files
4 MP4 files
1564 PDF files
235 DOC files
53 XLS files
1705 TXT files
210 PSD file (Photoshop Document)
112 MP3 files
This is an actual productivity set I use to create a review, hence the combination of files to simulate how it would perform had I used it on my system as the main drive.
Another 75% set was used to simulate a Windows 10 OS+ Plex media server content, the breakdown is as follows:
316 MKV
73 MP4
4 AVI
282 TXT file
1,550 JPEG
Test System
Processor
Intel Core i7-6700K
Motherboard
MSI Z170A MPOWER Gaming Titanium
CPU Cooler

Noctua NH-D15S
Memory
2x8GB HyperX Savage 2666MHz DDR4
Video Card
Integrated Intel HD Graphics
Drive
OCZ Vertex 4 (Secondary-Fresh out of box)

Patriot Hellfire M.2 2280 480GB NVMe SSD 2.1 Firmware

Case
DimasTech Mini v1
Power Supply
Corsair HX850W
Operating System
Windows 10 Pro 64-bit (14393)
Crystal Disk Mark benchmark at 1GB test size:
Seq Q32T1: Sequential (Block Size=128KiB) Read/Write with multi Queues & Threads
4K Q32T1: Random 4KiB Read/Write with multi Queues & Threads
Seq: Sequential (Block Size=1MiB) Read/Write with single Thread
4K: Random 4KiB Read Write with single Queue & Thread

AS SSD uses incompressible data for benchmarking and can measure read/write performance in MB/s or in iops. AS SSD also has a Copy Benchmark which simulates ISO, Game and program performance, providing both speed and access time results.


Unlike AS SSD, ATTO disk benchmark is a 32-bit compressible data benchmark that measures read and write speeds across various file transfer sizes from 512B to 64MB to show SSD behaviour.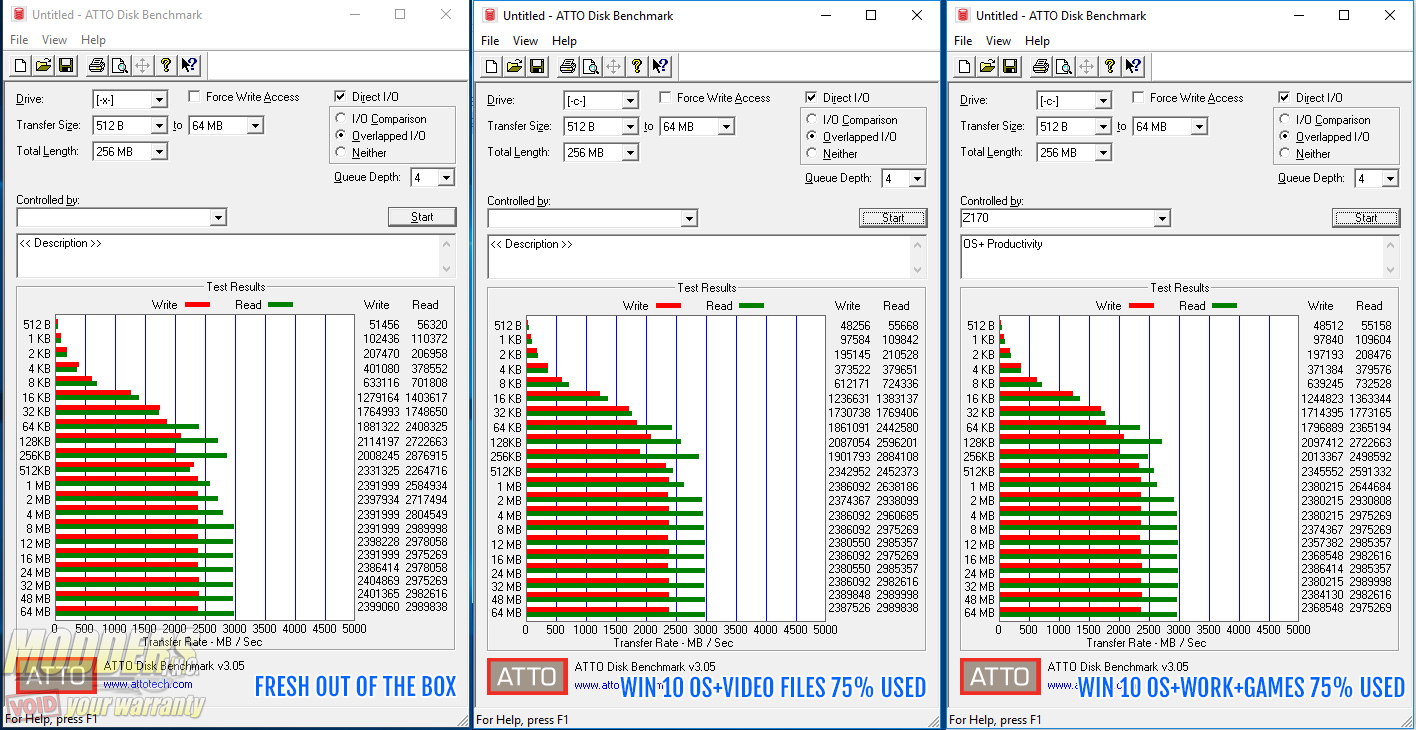 Anvil Storage Utilities is a comprehensive storage testing program that provides plenty of information and option for each test. For this review, 100% incompressible, 46% incompressible (simulating Applications) and 0-fill compression data were used to observe behaviour across.
PCMark 7 and 8 from Futuremark is a semi-synthetic testing suite that has a specialized Storage testing performance feature. It simulates storage performance while playing games, running productivity and creative programs and generates a total score based on how long each test took and the storage device behaviour during its run.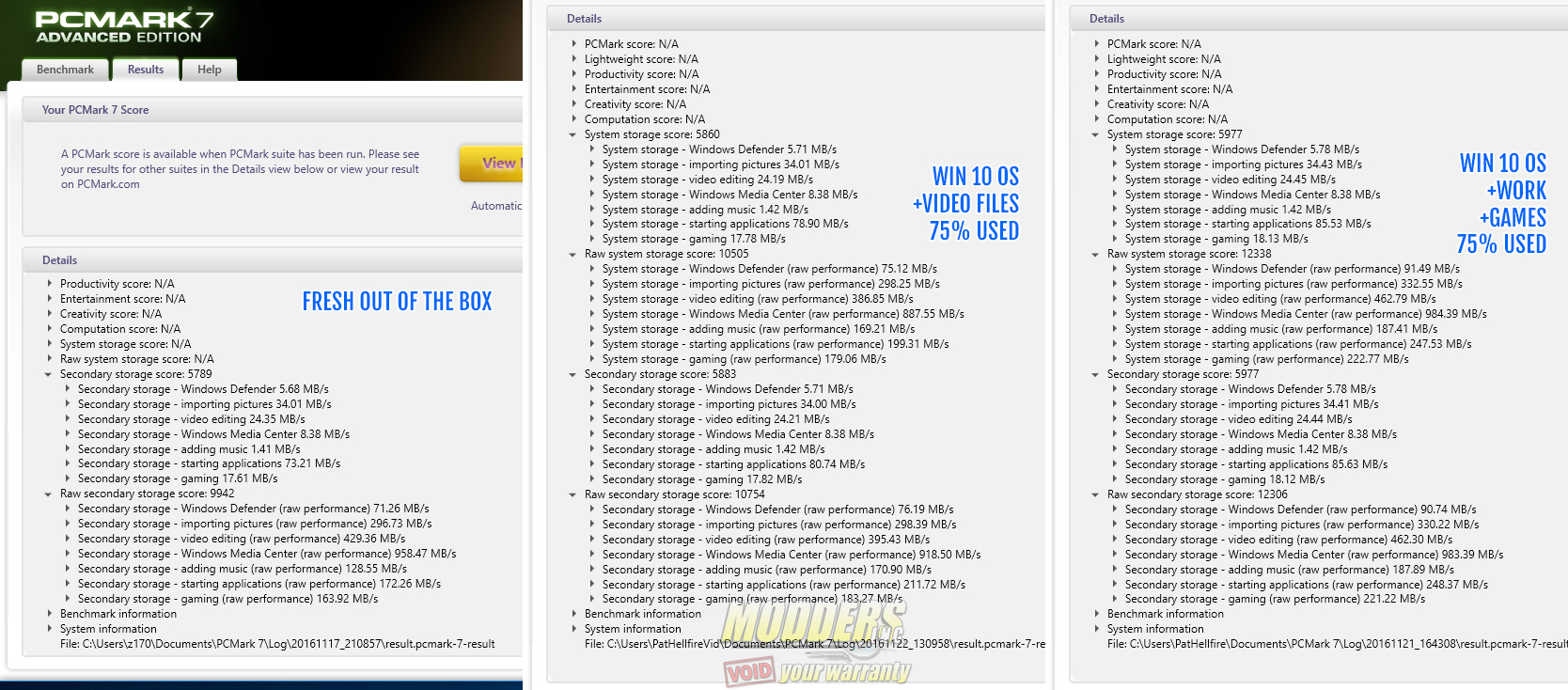 Final Thoughts

While it is always exciting to see new technology, it is even more satisfying once it gets to that price point that is within reach for many users. NVMe as it stands is no longer an exotic drive solution limited to the few as prices have reached affordability. There is also an increasing number of options, even just those utilizing a Phison controller alone so the competition is driving the price further down for the consumers. The Patriot Memory Hellfire M.2 NVMe SSD itself is a very solid option with impressive speeds out of the box and retains fast speeds functionally when loaded as an OS drive. This used to be a luxury available only to enterprise users but now those looking to ditch their SATA SSD main drive for something quite a bit faster have something to look forward to.
Patriot Memory thankfully, has always been very good when it comes to pricing and affordability. At the time of this article the 480GB Patriot Hellfire M.2 is available for only $229 (regular price $279.99) while the 240GB version is available for only $129. The only other M.2 NVMe drive that is priced lower is Intel's new 600p, but that is because that TLC drive's performance quite awful in comparison to a Phison E7 + 15nm Toshiba MLC drive like the Patriot Hellfire. It also outperforms Kingston's Predator M.2 AHCI SSD previously reviewed here by quite a bit at an even lower price.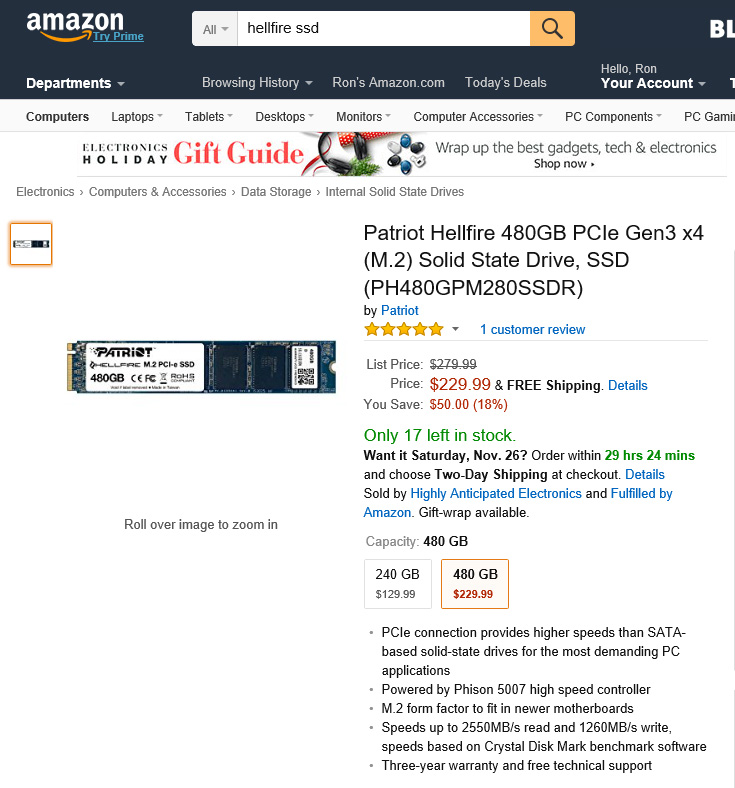 As with most current M.2 SSDs, there is however an issue of performance throttling. In the test, there were no sources of significant heat close to the drive other than the PCH chipset and still, it reached high temperatures beyond stated operating levels. When installed on a motherboard with the slot closer to the CPU socket and close to a video card that radiates heat, these temperatures are going to affect the performance further. To be fair to Patriot, even after the temperatures were close or beyond the 70C threshold, the benchmark numbers were close to the stated on-paper specifications. Still, users would like more performance if they can, especially if it requires something as simple as extra cooling. Cases with a fan blowing nearby, even passively on the side or beside the HDD cage will benefit any M.2 drives installed on the motherboard significantly.