A Closer Look »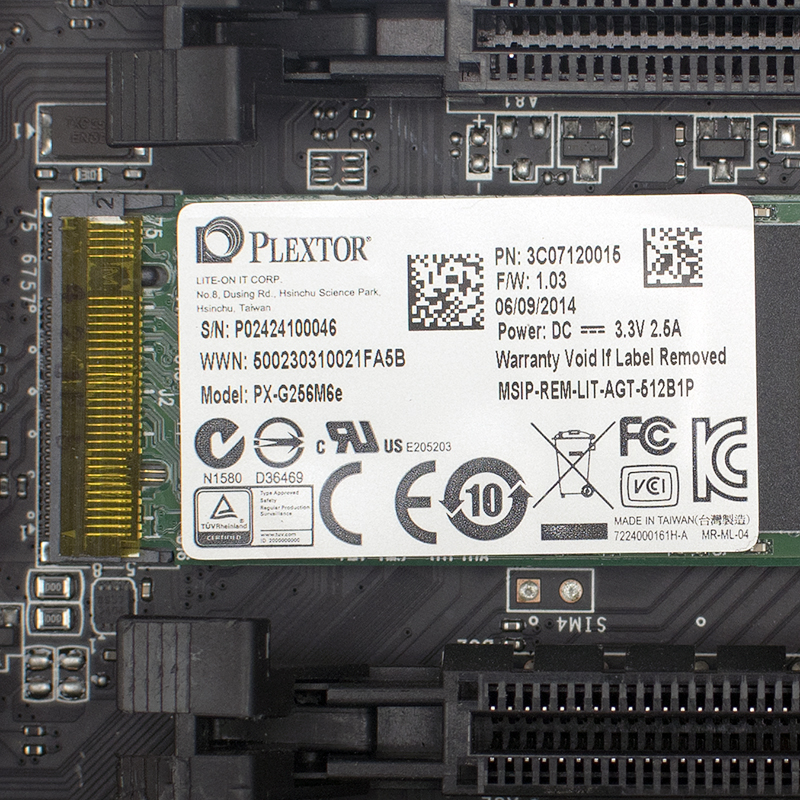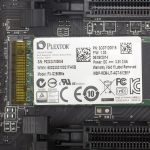 Just a little while ago I had the pleasure of reviewing one of MSI's Z97 motherboards. With the release of the Z97 chipset came M.2 slots and M.2 SSDs. If you haven't heard much on SATA express or M.2 they are essentially the same thing. The interface for the M.2 is simply a small form factor connector for SATA Express. Both SATA express and m.2 are PCI Express storage devices. This means that M.2 bypasses the limitation of the SATA controller on the southbridge and is uses 2 PCIe lanes with a maximum theoretical bandwidth of 1 GB/s surpassing SATA III bandwidth of 600 MB/s. Plextor's M6e comes in three sizes; 128 GB, 256 GB, and 512 GB.
Performance

Model
PX-G128M6e
PX-G256M6e
PX-G512M6e
Capacity
128GB
256GB
512GB
DRAM Cache
256MB DDR3
512MB DDR3
1GB DDR3

Read/Write Speed (Under Windows NTFS)

Sequential Read Speed

**

Up to 770 MB/s

*

Up to 770 MB/s

*

Up to 770 MB/s

*

Sequential Write Speed

**

Up to 335 MB/s

*

Up to 580 MB/s

*

Up to 625 MB/s

*

Random Read Speed
(IOPS 4KB)

**

Up to 96,000

*

Up to 105,000

*

Up to 105,000

*

Random Write Speed
(IOPS 4KB)

**

Up to 83,000

*

Up to 100,000

*

Up to 100,000

*
*Actual performance may vary based on hardware, software and overall system configuration.
**Test Platform: Motherboard: ASUS P14-Z87-PRO / CPU: Intel i5-4570 3.4Ghz / BIOS: ver.1504 / AHCI driver: 6.2.9200.16384 / OS: Windows 7 & 8 x64.
Environment and Reliability

Temperature
0°C ~ 70°C (Operating)
Shock
1500G(Max), At 1 msec half-sine
Vibration
7 ~ 800Hz, 16.3Grms (Non-operation)
MTBF
>2,400,000 hours
Warranty
5 years Plextor's Warranty Service
Compatibility

Operating System Supported
Windows 7 x86 / x64, Windows 8 x86 / x64, Windows Server 2008, Windows Server 2012, Linux series, Fedora, SUSE, Ubuntu, Red Hat 6.5
Agency Approval
BSMI, UL, TUV, C-Tick, CE, KCC, VCCI, FCC, ROHS, CB
Command Set Support
TRIM, S.M.A.R.T., NCQ
DATA Encryption
AES 256
Firmware Upgrade
Supported
Interface
PCIe Gen2 x 2
Features
Plextor's M6e M.2 2280 PCIe Gen2 x2 is an ultra-fast SSD, which uses the latest generation of components and a native PCIe interface for extremely high performance. It is suitable for ultra-thin notebooks and motherboards supporting 2280 sized (80.0mm × 22.0mm) PCIe M.2 SSDs. Gamers and high-power users will appreciate the responsiveness and ultra-fast loading times that the powerful M6e M.2 delivers.
By bypassing the 6Gbps limit of the SATA Rev 3.0 interface, Plextor's M6e M.2 is able to reach maximum sequential read speeds of 770MB/sec and sequential write speeds of 625MB/sec. Its 4K random speeds top out at 105K and random write speeds go up to 100K IOPS. Performance that translates into fast level load, quick boot times, smooth video editing and more.Giving the M6e M.2 its speed is the combination of a multi-core Marvell PCIe 9183 controller, high quality Toshiba Toggle NAND flash memory, a fast onboard DDR3 DRAM Cache, and Plextor's own in-house produced custom firmware. Plextor focuses on reliability, undertaking extensive testing at its own state-of-the-art facilities giving the M6e M.2 a calculated MTBF of 2.4 million hours.
The M6e M.2 supports both UEFI and legacy BIOS booting, providing flexibility and compatibility with a wide range of systems. Full UEFI support allows the system to initiate all storage devices simultaneously, improving efficiency and cutting boot times by half.
Designed for PCI Express
M.2 2280-D5-B-M form factor SSD with dimensions of 80.0mm × 22.0mm × 3.8mm for PCI express (PCIe) M.2 slots. PCI Express 2.0 x2 interface and native PCIe controller chip eliminates the SATA interface bottleneck.
Support AHCI Mode
Driver-free AHCI (Advanced Host Controller Interface) compatibility eliminates the need for additional drivers.
Plextor's Zero-Failure Zero-Error standard during rigorous testing using the world's most advanced SSD testing facilities – FLEXSTAR testing chamber. The M6e M.2 provides extreme reliability with a MTBF calculated at 2.4 million hours after reaching.
48hr Sustained Read and Write Test
Two days continuous 4K file read / write test; zero error pass requirement meaning no BSOD, black screens, or screen freezes.
4000 Times Idle Test – Sleep and Hibernation Test
After 24 hours of sequential read / write, enter S3 sleep for 30 minutes and wake up, and repeat 4000 times; zero error pass requirement meaning no BSOD, black screens, or screen freezes.
250 Times Power Cycle – Cold and Warm Boot Tests
Continuously cold boot and warm boot cycle for 250 times, no units may display errors.
The M6e M.2 is backed by a full five-year Plextor warranty with the reassurance of a network of repair centers and international technical support. An extensive technical support system will provide support throughout the drive's long life and make the M6e M.2 a performance upgrade that you can have total confidence in.
Form Factor and Connectors

Form Factor
M.2 2280-D5-B-M
Power Connector

| | | | |
| --- | --- | --- | --- |
| | 128GB | 256GB | 512GB |
| Voltage | 3.3V | 3.3V | 3.3V |
| Current | 2.0A | 2.5A | 3.5A |

Data Connector
M.2 Connector
Dimension and Weight

Dimension (L x W x H)
80.0mm x 22.0mm x 3.8mm
Weight
13g (Max)
** Features and specifications are provided by Plextor. Specifications may change without notice. For more information please visit http://www.plextoramericas.com/index.php/pcie-ssd/m2/m6e-m2-2280