Page 2 »
 When it comes to flash drives, there is a slew of products to select from. Today we are going to take a look at one of OCZs offerings, the OCZ Rally2 Turbo USB 2.0 Flash Drive. The OCZ Rally2 Turbo allows you to transfer large music, picture, videos, and data files to your laptop or desktop in record times. Lets get with it and see just how quick it really is.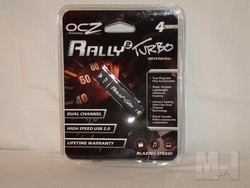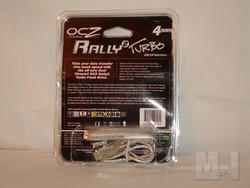 The OCZ Rally2 Turbo comes in a very bold and stylish blister pack. The packaging is very informative, providing the consumer with just about every bit of information they could want. You can also see what you're getting, which will not leave you guessing.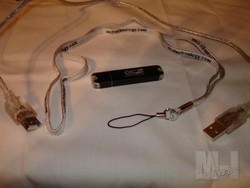 Opening up the package we find the OCZ Rally2 Turbo drive, a handy OCZ branded lanyard to make holding on the the Rally2 Turbo easier, and a short USB extension cable so you don't have to continually stretch behind the computer to gain access to your rear USB ports. 
Quote from OCZ:
"Store and transfer large music, pictures, videos, and data files to your laptop or desktop in record time or simply ?Plug and Play? them instantaneously from the convenience of any USB port. The Rally2 Turbo Drive excels when managing a wide range of media, and is optimized to more rapidly transfer today?s larger files.
 
The ultra durable OCZ Rally2 Turbo stores vital documents, presentations, images, music and more in an ultra sleekpocket-size drive, so you can access your files without having to disconnect other USB ports to make room, a common problem with many oversized competitor drives.
 
Change to the fast lane, and take the incredible OCZ Rally2 Turbo Flash drive for a test drive. Designed to be the fastest most reliable USB flash memory drive on the market, it comes backed with a limited lifetime warranty for the ultimate peace of mind."
Specifications:

High Speed USB 2.0 Certified
True Plug and Play (Compatible with MAC OS X)
Dual Channel Technology
Available in 4GB and 8GB capacities
Dimensions: 2 5/8″(L) x 5/8″(W)
Aluminum Chassis
Orange LED Status Light
Lifetime Warranty

Accessories:
Blazing Speed:

Up to 35MB/s (read), 30MB/s (write)

Part Numbers:

OCZUSBR2TDC-4GB
OCZUSBR2TDC-8GB