One of the things we link to do here at Modders-Inc is to showcase others mastery in case modding. There are so many different styles and process that in each one you can see the personality of the person who creates them. This goes forward with a case mod created by Adam Braithwaite, a scientist by day and mad modder at night.
Project Eris by Darwin PC is the ultimate open frame gaming computer. This monster mini ITX PC features the latest Intel Skylake technology and powerful MSI GTX 980 Ti graphics. The custom build is housed in a limited edition anodized red In Win D-Frame Mini case. Everything is custom in this project – full acrylic watercooling loop, cables and plenty of mods too.
Components:
MSI Z170I Gaming Pro AC
MSI NVIDIA GTX 980Ti Gaming 6G
In Win D-Frame Mini
Intel i5-6600K
16 GB Corsair Vengeance LPX
Corsair HX750
Crucial MX200 M.2 250 GB SSD
Full EK Water Blocks watercooling loop
Mayhems Havoc 240mm radiator
E22 Teleois custom sleeved cables
Mayhems X1 Red coolant
Mods:
Full custom acrylic watercooling loop with Mayhems X1 red
Custom laser cut motherboard tray with vinyl detailing
Custom IO shield with vinyl detailing
Custom PSU compartment cover with vinyl detailing
Under motherboard RGB LED lighting
Coldzero custom GTX 980 Ti backplate
Custom cables featuring E22 Teleios sleeving
Black painted thumb nuts for EK CPU water block
Custom EK logo badge for CPU water block
Black vinyl stickers for motherboard capacitors
Red vinyl pin-striping on GTX 980 Ti PCB edge
Black plexi WLAN card cover
Modder Alias: Darwin PC

Real name: Adam Braithwaite
Age: 30
Live: UK
Occupation: Scientist
Years in Computers: About 24 years since my first Amiga 600!
Length of time Modding: 3 years
Everyone has a story of what got them into Modding. What or whom got you into Modding?
Adam: I have been a computer enthusiast for as long as I can remember – my first computer was an awesome Amiga 600, and I was hooked from that point. Over the years my passion for technology developed into custom gaming computer building and modding. I am privileged to have had the opportunity to work on projects with the support of major technology brands, and to have my work recognised at shows and within the modding community is a real honour. I love building, creating and generally fiddling, so for me, modding is the perfect activity. The modding community is a great thing, and the feedback I get encourages me to push the limits with every new project.
Where do you get your inspiration for your mods?
Adam: I am constantly on the lookout for new ideas. I enjoy looking at other mods and talking to the people who create them. At the same time I try to differentiate my mods as much as possible, so sometimes just try random things to see if they work!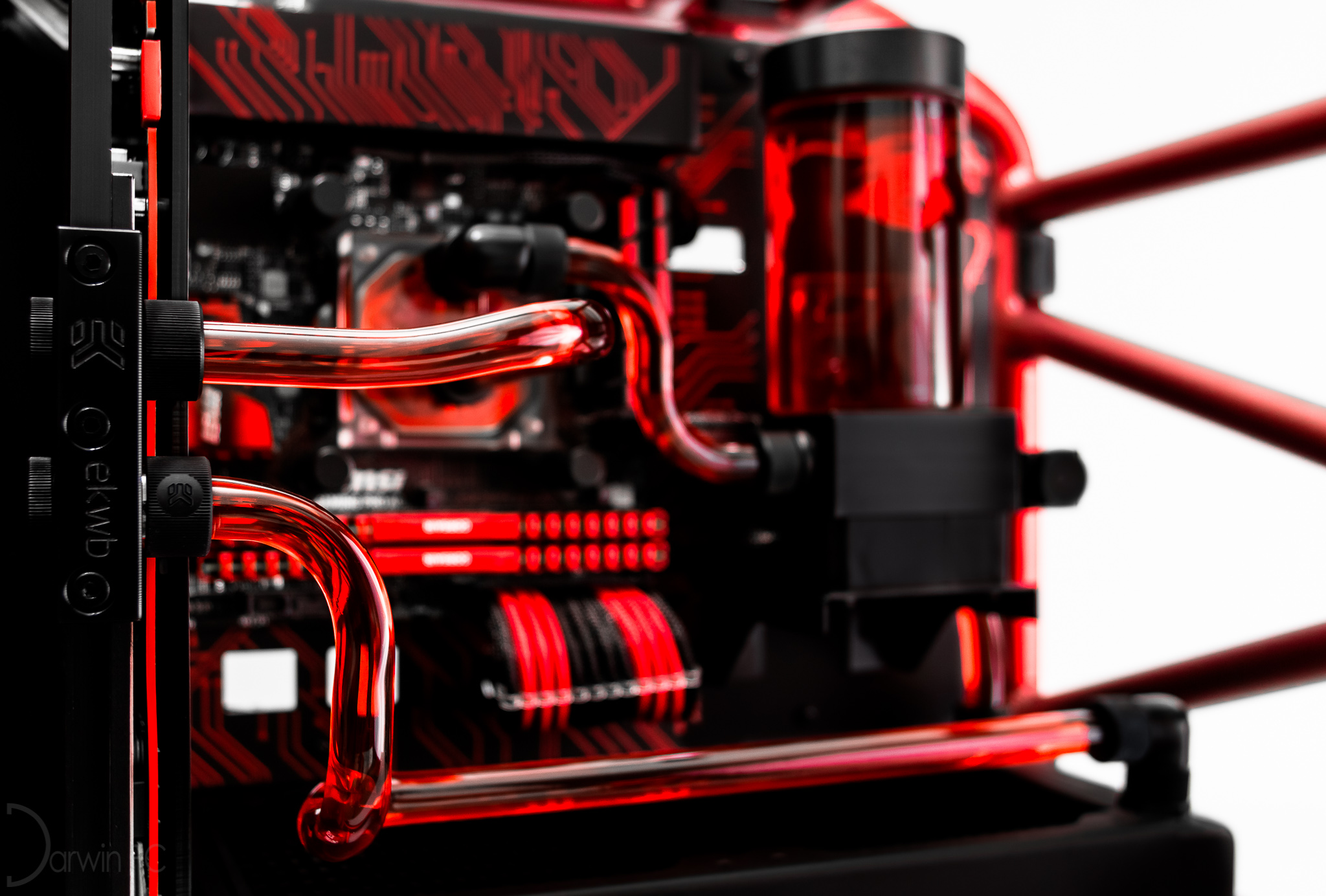 What were the thoughts behind the featured mod?
Adam: I started with this awesome limited edition case from In Win – the finish is just stunning. With the beautiful frame, and the fact it is completely open, I set out to build a mod that was visually interesting, but clean and not overly complicated. For the theme, I wanted to get as close as possible to pure red and black, which meant anything that was not black or red would be removed, covered or painted, as well as the custom cabling and watercooling loop.
Why did you do it the way you did?
Adam: I set out with a vision in mind, but as ideas started to form, the mod evolved over time. The first case mod I did for the build was a custom laser-cut motherboard tray. This black plexi piece was designed to cover the silver backplate of the case, as well as giving a good surface to mount the pump and to add detailing work. After seeing that in place, it inspired me to continue that look throughout the whole project. So every little detail was transformed into red or black – including the custom EK badge and black painted thumb nuts for the CPU water block, black vinyl on the motherboard capacitors, and red vinyl pinstriping on the edge of the GPU PCB.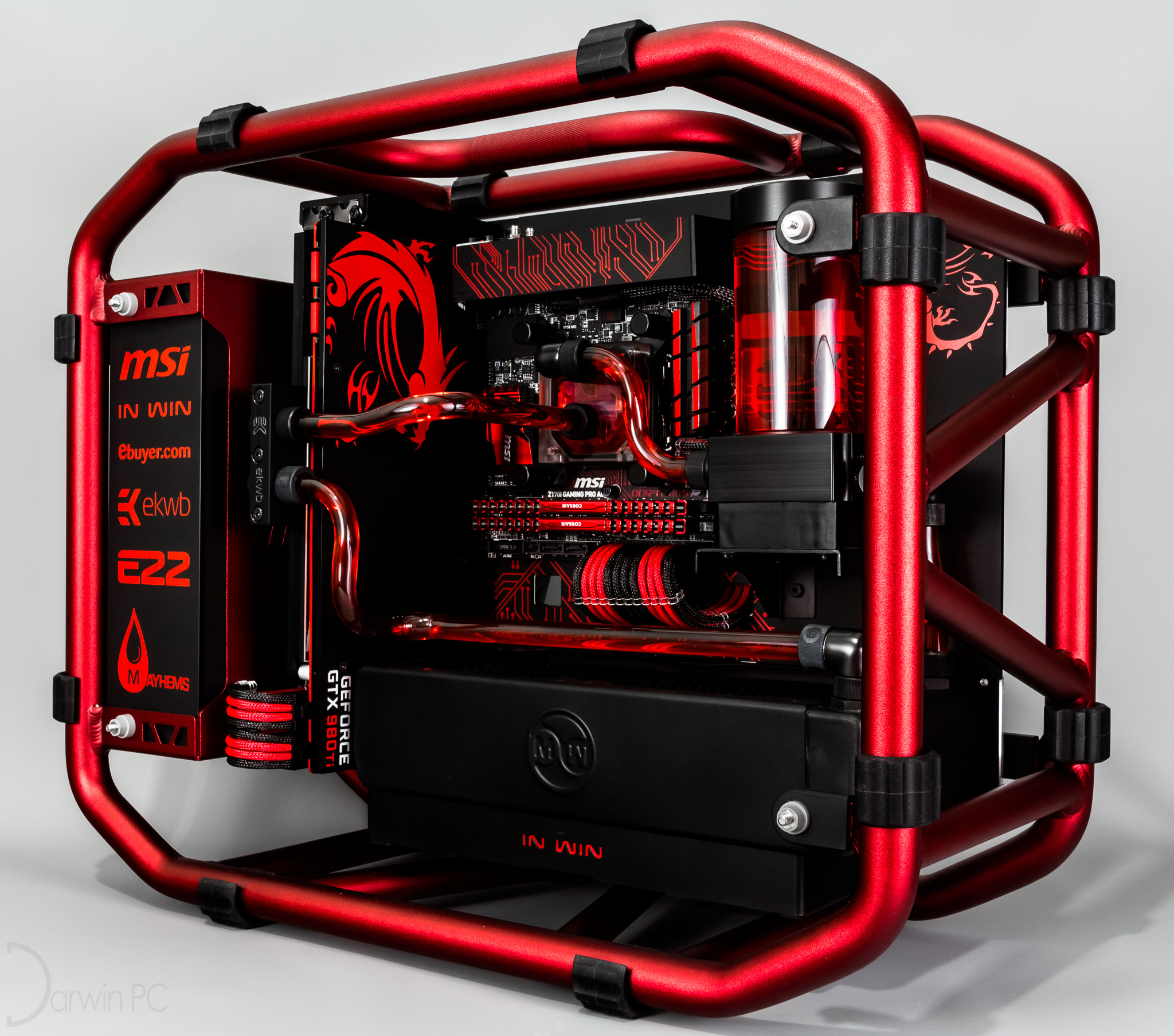 What do you think was the hardest part about doing the mod.
Adam: The hardest part was actually probably learning how to properly use Adobe Illustrator to design the shapes for the vinyl work. I had done some vinyl detailing before, but this mod was a good motivation to get a vinyl cutter and properly learn the techniques involved. It seems like on every new project I learn at least a couple of new techniques, which is great for my skillset, but just means it takes a little longer!
Did it turn out how you thought it would?
Adam: I spent so much time on this build, that when it was finished I could hardly even look at it any more! But now after some time, I am really happy with the outcome. I think the mod came out exactly how I imagined it, and the public reception so far has been really encouraging.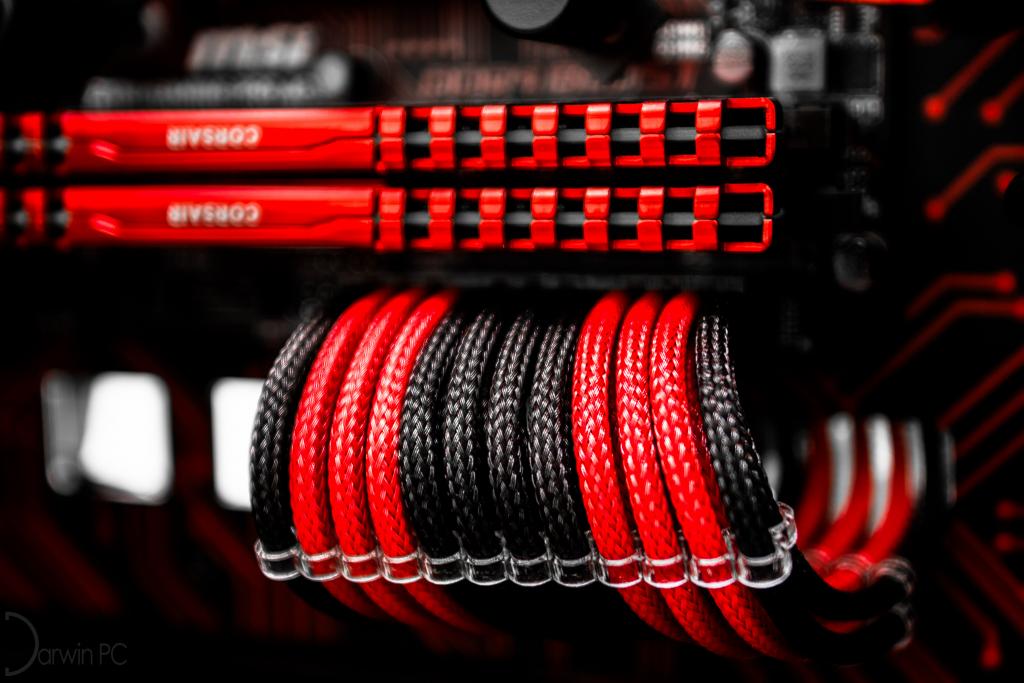 Is there anything you might have wanted to do different?
Adam: I took a long time planning everything out, so I can honestly say in this case I am happy with everything.
How much time did you spend on the mod?
Adam: I spent a long time planning, measuring and designing the custom plexi parts once I had the case and motherboard, and it took a while to get those custom laser cut. In terms of the actual build time, it probably took about a week or two, but this was spread over a couple of months.
Do you have another project in the shop or in the planning?

Adam: I always have projects in planning – it never ends! I am currently proud to be representing the UK in the Thermaltake CaseMOD Invitational 2016. For this I am creating a monster from TWO Thermaltake Core P5 cases.