Skylake CPU's such as the i7-6700K and i5-6600K can get damaged due to strong pressure from some air coolers, German hardware site PCGamesHardware.de reports. This is due to the thinner substrate compared to the previous generation CPUs such as Haswell. See the photo below for comparison: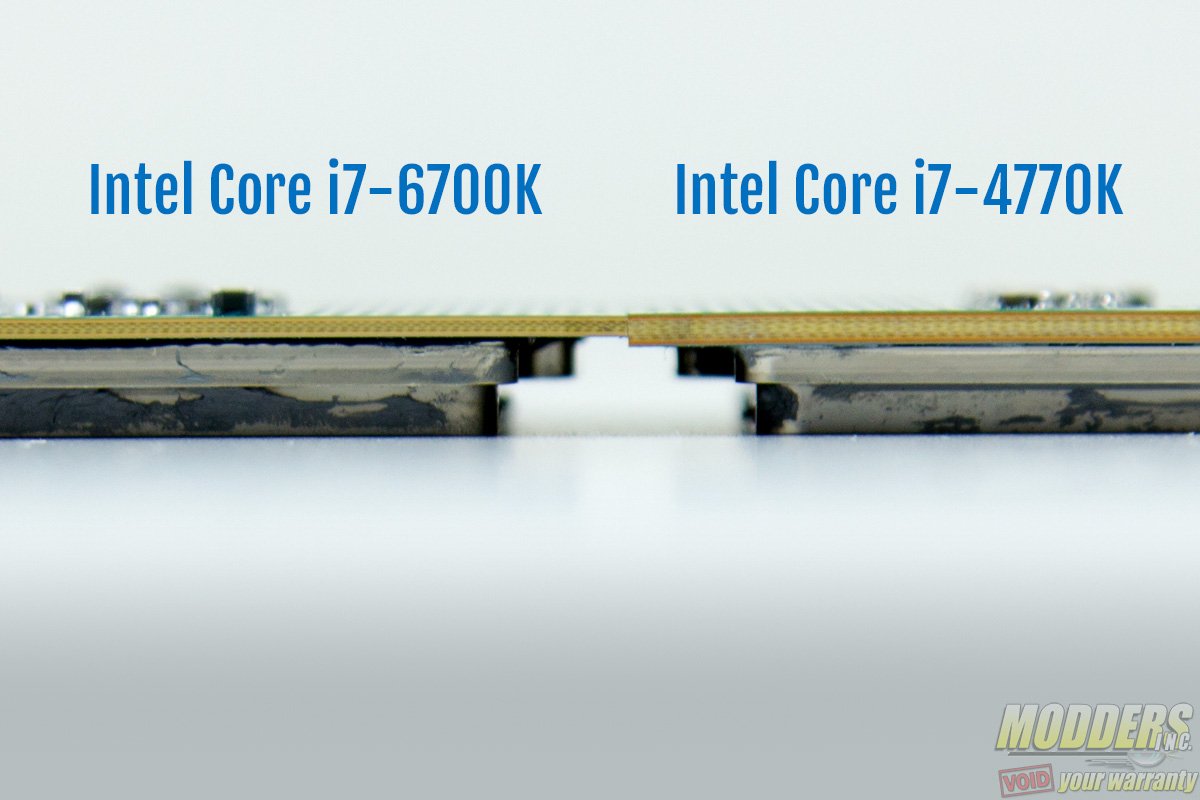 The strong pressure warps the CPU and can further damage the motherboard as well by pushing into the pins. PCGamesHardware points out that specifically coolers from Scythe such as the Ninja 4 CPU cooler recently reviewed here at Modders-Inc as well as their Ashura, Fuma, Grand Kama Cross 3/4, Mugen, and Mugen MAX are affected. Scythe coolers using push-pin mounting are safe however. For their part, Scythe has issued this statement (update: December 7, 2015 official statement):
Japanese cooling expert Scythe announces a change of the mounting system for Skylake / Socket 1151 on several coolers of its portfolio. All coolers are compatible with Skylake sockets in general, but bear the possibility of damage to CPU and motherboard in some cases where the PC is exposed to strong shocks (e.g. during shipping or relocation). This problem particularly involves only coolers which will mounted with the H.P.M.S. mounting system*. To prevent this, the mounting pressure has been reduced by an adjustment of the screw set. Of course, Scythe is going to ship a the new set of screws to every customer completely free of charge! To apply for the free screw set, please send your request via e-mail to support@scythe.com or use the contact form on our website.

Statement from Noctua:
Our SecuFirm2 mounting systems are subjected to prior to the release of new platforms an extensive compatibility testing. It could be determined with reference to the Intel LGA1151 platform ("Skylake") no problems. Also on the part of our customers and our specialist resellers and system integration partners we have no reports of any problems. Our SecuFirm2 mounting systems access (with the exception of some more compact models of the L-series) for generating the necessary contact pressure on coil springs back, which allow a certain degree of flexibility both in terms of tolerances in the height as well as the case of vibrations or other forces. Compared with conventional spring-less installation systems where pressure is produced exclusively by the deformation of the mounting brackets, so can reduce the mechanical load on the CPU, and motherboard socket and any damage can be prevented by excessive force. As the transportation of a system (eg by shipping service providers) acting forces but not reliably calculate or blank check, we recommend for security in general, cooler with a total weight of about 700g (incl. Fan) take before transporting.
Statement from EKWB:
All EK Water Blocks EK-Supremacy Series CPU Water Blocks – Including the latest -MX and -EVO variants – are fully Complying with Intel Socket imposed H3 (LGA-1151) Mechanical force limitation. The clamping force, created by our PreciseMount spring loaded mounting mechanism, is well within the allowed mechanical limitations. The design of PreciseMount itself Prevents over-tightening and damage to mechanical Possible Either socket or the CPU packaging.
Older generation of (physically) compatible LGA-1151 Water Blocks with classic, undefined clamping ForceType mounting mechanism -: such as Supreme LTX – requires special attention When attaching the water block. As a result the use of search Waterblocks is not recommended with the LGA-1151 socket CPUs.
UPDATE: 12/7/2015: Thermaltake, Silverstone, Enermax

Modders-Inc has reached out to other manufacturers about the issue and and so far here are their official responses:
Statement from Thermaltake:
As always we are testing as we see new issues arise, but as of this time we have not seen any issues arise from our coolers and new chipset applications. We work closely with Intel to make sure proper keep out zones around the socket and clearances are met or exceeded to ensure the best user experience. We have seen the reports of some enthusiasts users and will continue to test to see if in any way a possible change in substrate for the processor has any effect on performance or functionality of our cooling solutions.
The one thing to note is that we build many of our coolers with a stop in the mounting screws to avoid over tightening and avoid issues we have all seen before such as board flex and dropping of memory channels which was first widely noticed in LGA1366. After that we were able to show something we have always tried to explain which is that massive clamping force while it may be good for a couple degrees of cooling can be hazardous to sensitive PCB and trace components.
Statement from Silverstone:
All current SilverStone CPU coolers are designed to Intel's standard for CPU cooler mounting pressure.  However, we are currently double checking to see if our older models (released in 2012 or older) are still within Intel's current CPU generation's limit (each CPU generation may have different rated pressure and depending on socket design, they will also be different).  Since Skylake CPUs debut, we have not received any reports from SilverStone users or customers that our coolers have bended their CPUs.
(After testing) Silverstone has confirmed that all of our coolers, even once introduced in 2012 and earlier are all within Intel's current specified mounting pressure limit for Skylake CPU.
Statement from Enermax:
Enermax coolers are fully compatible with Skylake processors. In response to the recent reports concerning certain CPU coolers might damage the Intel Skylake processors; Enermax Technology Corporation would like to inform all of our customers that there is no evidence shows how cooler installation has any relations to the damage of the Skylake processors when users read and followed our installation manual. Nor would our brackets could harm the CPU during the PC system transportation, when system integrators have followed their own installation and transportation code of practice. For every cooler product, Enermax has taken a compulsory standard testing procedure for quality control, including mechanical load, vibration, aging, and compatibility fittings on various platforms. Once more, Enermax would like to reassure our customers that our coolers are fully Skylake compatible and thank you for your continuous supports.
ENERMAX Coolers:
Compatiable with Intel®-SkylakeTM CPUs
RUNNING MODELS:
LIQUID COOLER- Liqmax II Series, LIQMAX II 240, LIQMAX II 120S, Liqtech Series, LIQTECH 240, LIQTECH 120X,
AIR COOLER- T40 Fit Series, ETS-T40F-TB, ETS-T40F-BK, ETS-T40F-W, ETS-T40F-RF
Cryorig has a much longer response:
We at CRYORIG have the following information and statement to make, regarding the recent news and discussion regarding damaged PCB's on Skylake CPU's, which many in the industry believe is caused by abnormal heatsink mounting pressure during transportation of the PC system. First of all we want to assure users of CRYORIG products that currently no CRYORIG heatsinks have displayed this problem, either through media reports, third party sales channels or internal testing. CRYORIG heatsinks are fully compatible with socket 1151 processors, and follow specifications set forth by CPU manufacturers. But as a note of precaution we suggest users to lay their PC system flat (with the heatsink in a vertical position) whenever they are transporting their PC system.

Based on the information and testing reports we currently have at hand, although CRYORIG's own products did not show this problem, we have derived the following suggestions and insight into the Skylake PCB damage problem. From our observation the cause of the bent/damaged PCB is caused by the combination of two factors.
A) High mounting pressure from the CPU heatsink mounting system, with no flexibility in the system.
B) Increased directional force created by the weight of the heatsink and movement of the PC chassis.
In the cases that have been reported by media, it holds true that these issues have only been observed in "Pre-Built" systems. These systems have the heatsink installed before shipping, which are subjective to both point A+B. Thus if a heatsink already has high mounting pressure with no system of flexibility, heavy weight and is tossed around during shipping, then the force of the heatsink is possible to bend at the softest point. In this case the softest point is the Skylake PCB.
According to our hypothesis, then what makes CRYORIG heatsinks safe? In our own product line we have two different mounting systems. First is the MultiSeg on our heavier products, then there is the X-Bar and MultiSeg Light. The MultiSeg Quick Mount System uses a sturdy Medium Carbon Steel backplate. We chose the Medium Carbon Steel for it's high tensile strength, which protects the mainboard from bending when using heavier heatsinks like the R1 or H5. In combination with a highly rigid backplate, the spring screw system is what provides the downwards-clamping mounting force. This combination of a tough frame and a relatively softer point of flexibility is the key to why CRYORIG products are not seen damaging the CPU PCB. When extra vector/directional force is exhibited on the heatsink (such as during transport), the softest point in the system always gives. In this case the spring screws will deform to absorb the extra external force, much like a suspension system.
In our lighter products, the X-Bar and MultiSeg Light mounting systems omit the rigid steel backplate for a 30% Fiber Glass PBT. The lighter weight of our H7/M9 and C7 heatsinks creates less stress on the mainboard, which is why the steel backplate is not needed. Also, using a Fiber Glass filled PBT has multiple benefits.
Material Modulus of Elasticity (The Higher the more Rigid)
30% Fiber Glass PBT 15.0 GPa Max
Medium Carbon Steel 213.0 GPa Max
The Modulus of Elasticity for 30% Fiber Glass PBT is 15.0 GPa, while Medium Carbon Steel is 213 GPa. The combination of structural support and elasticity, allows these backplate system to still have a point of flexibility when extra force is exerted. The lighter weight of the product itself also makes it safer when directional force is exhibited.
In all, although caution should always be exhibited when transporting delicate electronics, we want our consumers to feel safe about their CRYORIG product. Our finely tuned mounting kits are safe to use. Moreover, stationary PC's do not have anything to worry about either.
More statements from other CPU cooler manufacturers and in depth report are available at PCGamesHardware.de (German): http://www.pcgameshardware.de/Luftkuehlung-Hardware-217993/News/Skylakegate-Kuehler-zerstoeren-Sockel-1151-CPUs-1179237/