« Introduction
|
QNAP QTS 4.2 User Interface »
A Closer Look At The QNAP TAS-268 NAS
The QNAP TAS-268 doesn't really look like a NAS at all. There are no visible hard drive bays. Honestly, to me it looks like a small form-factor or a novelty PC. The design hides the fact that it is a storage device very well. The NAS is just slightly taller than a 3.5″ hard drive and measures in at 7.36″ (H) x 3.54″ (W) x 4.92″ (D).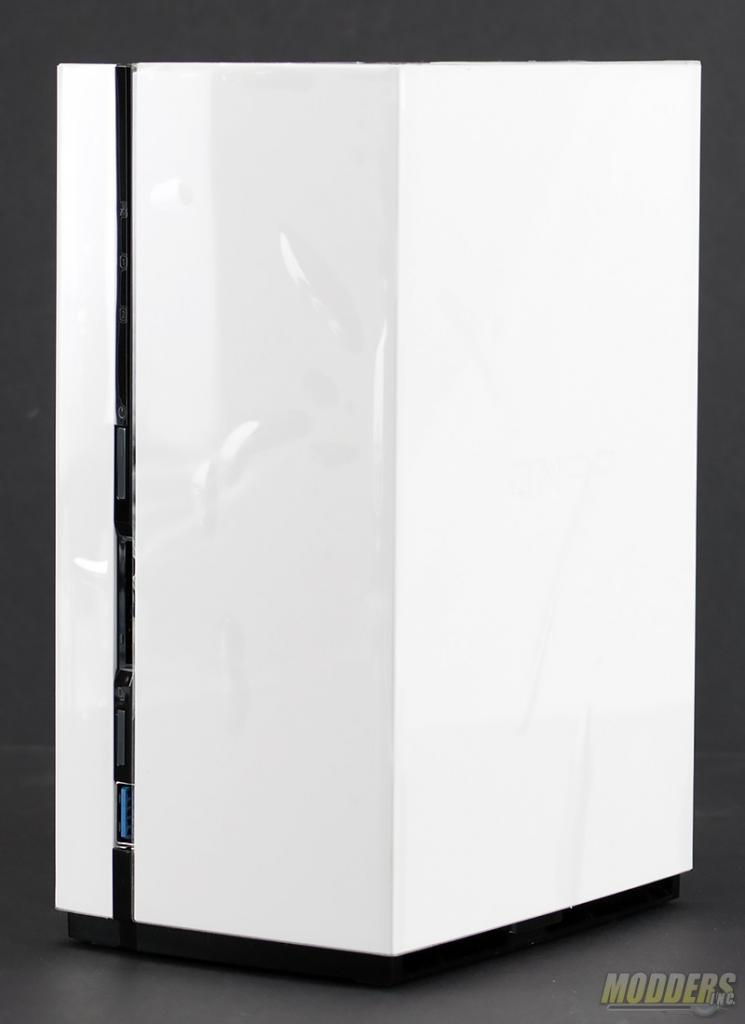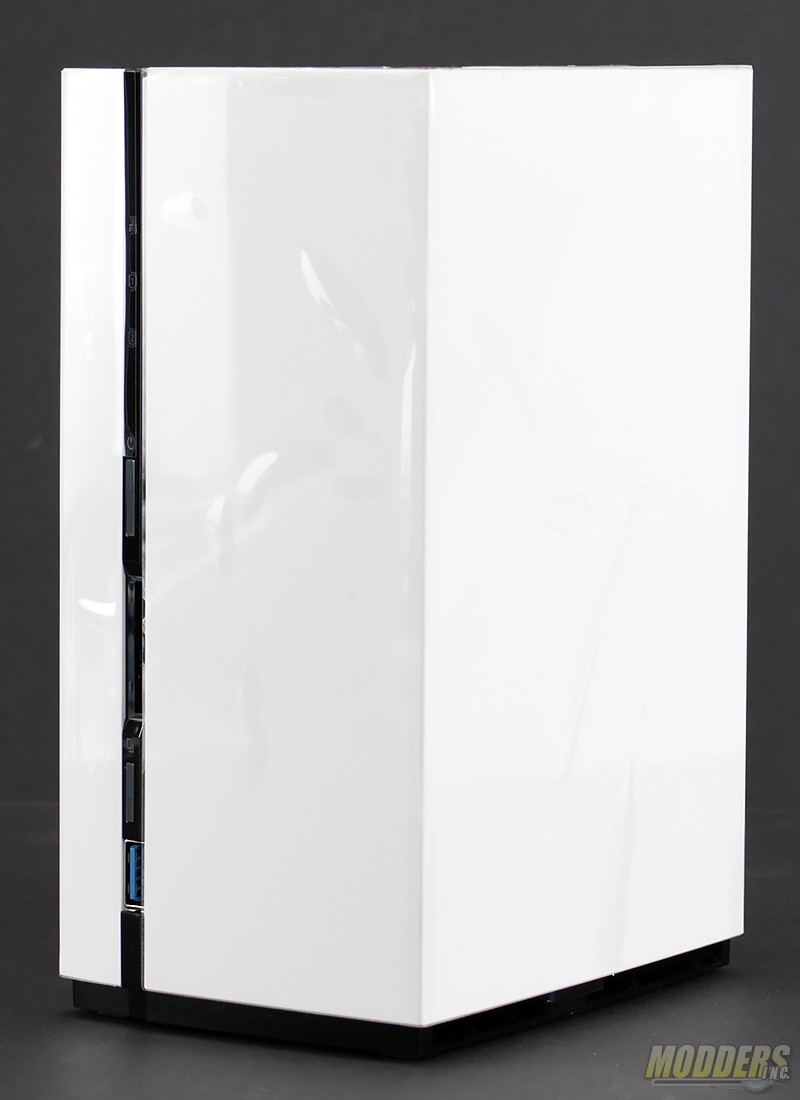 The front of the TAS-268 features a LAN, HDD, Status, and USB LED indicators, a power button, SD card reader, a One-touch-copy button, and a single USB 3.0 port. Ventilation exhaust is at the bottom of the NAS.

On the back of the QNAP TAS-268 is the I/O and includes 4 USB 2.0 ports, HDMI port, Gigabit RJ45 LAN port, and the 12v DC power connector.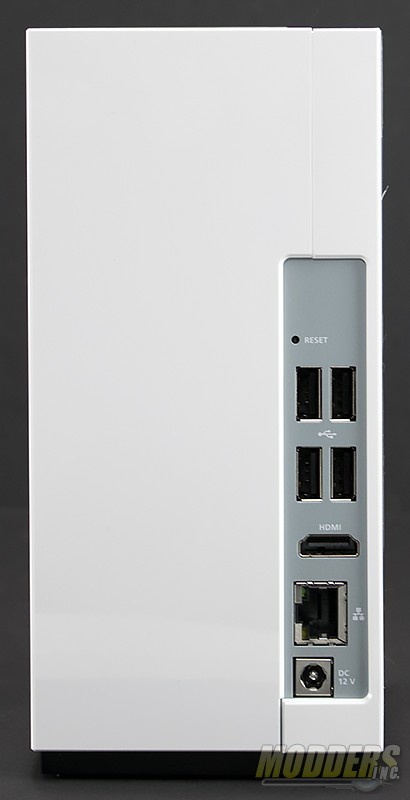 In order to open the NAS, you will need to lay it on its side and remove the screw on the bottom of the NAS. After the screw is removed, slide the larger cover up to access the internals.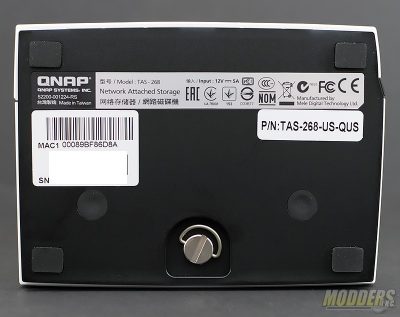 With the cover removed, you get a good idea how the drives will sit inside. The drives sit in the vertical position. The QNAP TAS-268 is designed to be tool-less as long as you're using 3.5″ hard drives.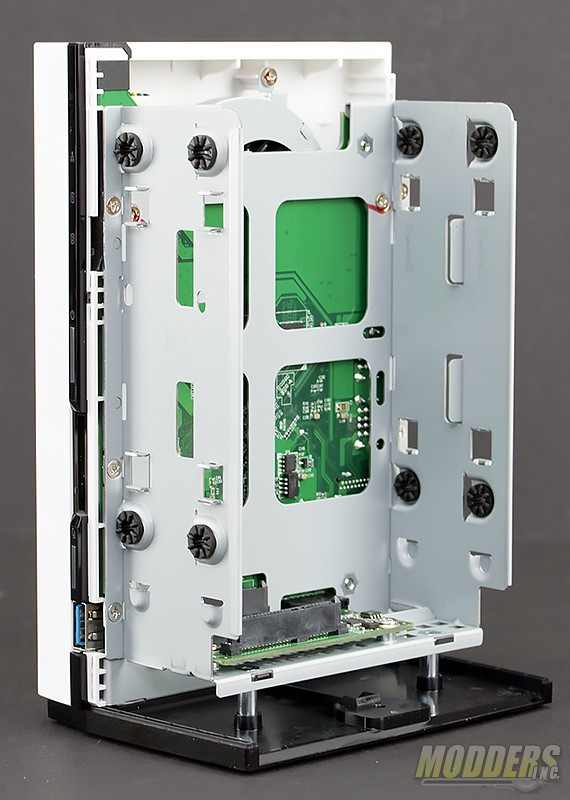 Installation of the drives is quite simple. Simply slide the drives into place with the SATA and power connectors facing down and use the included retainers to lock the drives in place. After the drives are installed, simply slide the cover back in place and secure using the previously removed screw.
Internally, 2 gigabytes of DDR3 is provided by ProMOS V73CAg04808RAJJ11 . Ram is 800 MHz @ CL 11-11-11. 4 GB of flash is provided by SKhynic e-nand.
USB 2.0 and 3.0 are handled by the ASMedia ASM1074L and ASM1153E respectively.
A
The ASMedia ASM1153E also handles SATA on the daughter card. The chip is capable of SATA 1.5, 3.0, and 6.0 speeds.