« Introduction
|
QNAP QTS 4.2 Smart Start »
A Closer Look at the QNAP TS-251+
The QNAP TS-251+ is a dual bay NAS and has a considerably smaller footprint than its 4 & 5 bay cousins. The NAS measures 168.5(H) x 102(W) x 225(D) mm (6.63(H) x 4.02(W) x 8.86(D) inch) and weighs in at about 5 lbs without the drives. The drive trays are removed by pulling up on the locking handle and sliding them out. These trays do not feature any type of key and lock assembly to prevent the drives from being removed.
The status indicators are located on the left front side of the NAS.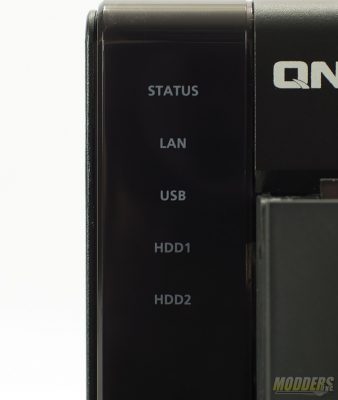 Just below the status indicators, are the power, copy, and a single USB 3.0 port.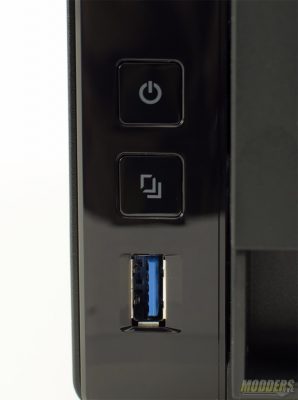 On the back of the NAS there is a 120mm fan, dual Gigabit Ethernet ports, a single HDMI port, two USB 2.0 ports and a USB 3.0 port.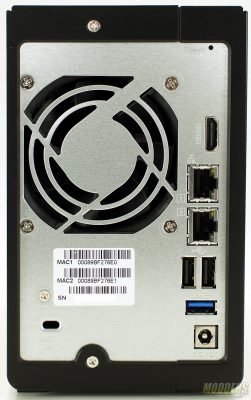 The TS-251+ is designed to be a media center and with that QNAP has included a remote control. The remote gives you the ability to interact with the NAS and navigate the applications and menus without a keyboard and mouse if you decide to use it as a media center.

The motherboard is easy to access and both memory slots are easy to access without having to remove the motherboard. To access the motherboard, two screws on the back of the case and slide the two halves of the case apart. The Intel CPU on the motherboard is passively cooled and relies on the fan at the back of the case for airflow. Two SO-DIMM slots surround the motherboard. 8 GB of DDR3-1600 was included with our review sample. Take note, the RAM is DDR3L which has a lower voltage than standard DDR3.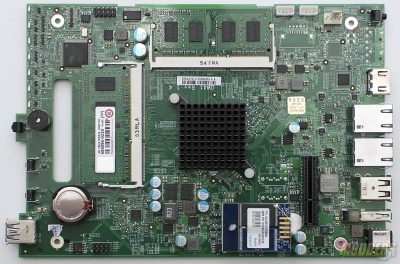 Networking is controlled by two Intel i210AT networking chips. These provide 10/100/1000 mbps connectivity. The i210AT chips also support advanced networking protocols such as 802.1q (VLAN), Wake-On-LAN (WOL) and jumbo frames.
The Fintek F71869AD is the super I/O controller for the TS-251+ and is responsible for the hardware monitoring of the NAS.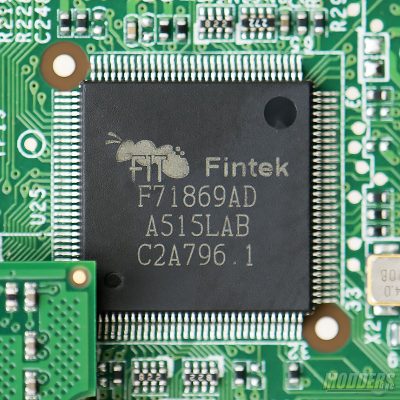 The disk-on-module (DOM) is flash based and is used to house the operating system of the TS-251+. The DOM module plugs directly into a SATA port on the motherboard. .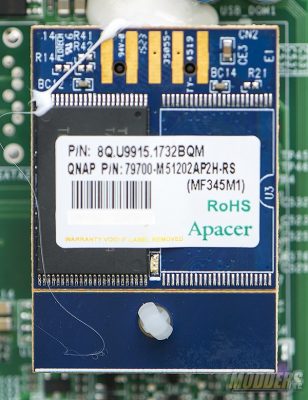 The drive trays support both 3.5″ and 2.5″ drives. To install the drive, use the included screws to secure to the drive under the tray. The 2.5″ drive mounts are marked on the underside of the tray.