A Closer Look at the QNAP TS-251+ »
Much like in a business environment but on a smaller scale, we as home users, have an insatiable appetite for data. Our internet connection bandwidth has increased to the point where some can get speeds of 1 gigabit per second. Application sizes have increased. Some game installs reach 50 GB in size. Digital cameras allow us to snap hundreds of pictures in a single session. Not only have our data needs changed, but our networking needs have too. Homes now have multiple PCs, phones, and tablets. How can you share your data with your family? A NAS or network attached storage device could very well be the answer. A NAS not only allows you to share you data with multiple users but can also help keep your data safe. QNAP very recently introduced their newest dual bay NAS; the QNAP TS-251+. This NAS features an Intel Celeron Quad-Core 2.0 GHz CPU and supports up to 16 GB of RAM and 8 Terabyte drives. The NAS has the ability to connect to a TV or monitor and act as a media center/player or a light use PC for browsing the web.
[sc:sponsor sponsor="QNAP" product_link="https://www.qnap.com/i/useng/product/model.php?II=195″ product_name="QNAP TS-251+-8G" product_price_link="http://amzn.to/1YVoSGP" product_price="499″ ]
Packaging
Much like other QNAP products, the TS-251+ packaging is very simple. There is a small product sticker on the front of the NAS that details the specifications and features.
Inside, the TS-251+ is tucked away in a foam shell. The accessories are packaged away in an additional cardboard box.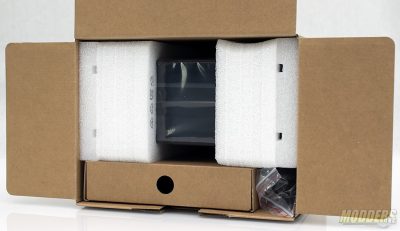 Except for the hard drives, the included accessories are all you will need to get the TS-251+ up and running. The included accessories include, dual Ethernet cables, power supply, screws for SSDs and hard drives, a quick start guide, and a media center remote.
Hardware Specifications
CPU
Quad-Core Intel® Celeron® 2.0GHz (burst up to 2.42GHz)

Floating Point Unit

V
GPU
Intel® HD Graphics
Hardware-Acclerated Transcoding
V
Memory
System memory:

TS-251+-2G: 2GB DDR3L RAM (1 x 2GB)
TS-251+-8G: 8GB DDR3L RAM (2 x 4GB)

Total memory slots: 2 SODIMM
Expandable up to: 8 GB

NOTE:
1. When installing two memory modules, please ensure that they are the same size and ideally use the same type of RAM for both memory slots.
2. For the information of RAM module installation and compatible NAS models, please refer to the QNAP RAM Module Installation Guide

Flash Memory
512MB
Drive
2 x 2.5″ or 3.5″ SATA 6Gb/s, 3Gb/s HDD or SSD; hot swappable trays

NOTE:
For the HDD compatibility list, please visit https://www.qnap.com/compatibility

Expansion Unit
Max. 1 (UX-800P, UX-500P)
Gigabit LAN Ports
2
USB
2 x USB 3.0 (Front: 1, Rear: 1)
2 x USB 2.0 (Rear)
IR Receiver
Yes (QNAP RM-IR002 remote control)
HDMI
1
LED Indicators
Power/Status, LAN, USB, HDD1-2
Buttons
Power, Reset, USB Auto Copy
Alarm Buzzer
System warning
Form Factor
Tower
Dimensions (HxWxD)
168.5 x 102 x 225 mm
6.63 x 4.02 x 8.86 inch
Weight (Net / Gross)
1.28 kg (2.82 lbs) / 2.32 kg (5.11 lbs)
System Fan
1 x 7cm, 12V DC
Kensington Security Slot
1
Power Supply
External Power Adapter, 60W, 100-240V
Power Consumption (W)
S3 sleep: 0.57
HDD standby: 10.56
In operation (typical): 18.09
Temperature
0 – 40 °C
Humidity
5~95% RH non-condensing, wet bulb: 27˚C
Software Specifications
Operating System
QTS 4.2 (embedded Linux)

File System

Internal Hard Drive: EXT4
External Hard Drive: EXT3, EXT4, NTFS, FAT32, HFS+

Supported Client OS

Windows 7 (32/64-bit), Windows 8 (32/64-bit), Windows Server 2003/2008 R2/2012/2012 R2
Apple Mac OS X
Linux & UNIX

Power Management

Wake on LAN
Internal hard drive standby mode
Scheduled power on/off
Automatic power on after power recovery
USB and network UPS support with SNMP management
System sleep mode (S3)

Supported Browsers

Microsoft Internet Explorer 10+
Mozilla Firefox 8+
Apple Safari 4+
Google Chrome

Access Right Management

Batch users creation
Import/Export users
User quota management
Local user access control for CIFS, AFP, FTP, and WebDAV
Application access control for Photo Station, Music Station, Video Station, and File Station
Subfolder permissions support for CIFS/SMB, AFP, FTP, and File Station

Multilingual Support

Chinese (Traditional & Simplified), Czech, Danish, Dutch, English, Finnish, French, German, Greek, Hungarian, Italian, Japanese, Korean, Norwegian, Polish, Portuguese (Brazil), Romanian, Russian, Spanish, Swedish, Thai, Turkish

Domain Authentication Integration

Microsoft Active Directory (AD) & Domain Controller support
LDAP server, LDAP client
Domain users login via CIFS/SMB, AFP, FTP, and File Station

Storage Management

QNAP flexible Volume/LUN with thin provisioning and space reclaim
RAID 0 / 1, JBOD
Supports storage pools
Supports snapshots (4GB System RAM required)

Supports Volume/LUN snapshot (Max 256 snapshots)
Snapshot manager
Snapshot clone
Snapshot vault
Snapshot replica
Snapshot agent for Windows VSS and VMware

Online volume expansion
Online storage pool expansion
Online RAID capacity expansion and online RAID level migration
SMART data migration
Storage expansion via a QNAP UX-500P/UX-800P expansion unit
JBOD enclosure roaming
SSD read-only/read-write cache
Bad block scan and hard drive S.M.A.R.T.
Bad block recovery
RAID recovery
Bitmap support

myQNAPcloud Service

Private cloud storage and sharing
Free host name registration (DDNS)
Supports myQNAPcloud SSL certificates (DDNS)
Auto router configuration (via UPnP)
Web-based file manager with HTTPS 2048-bit encryption
CloudLink for remote access without any complicated router setup
myQNAPcloud connect for easy VPN connection (Windows VPN utility)

Networking

TCP/IP (IPv4 & IPv6: Dual Stack)
Dual Gigabit NICs with jumbo frame (failover, multi-IP settings, port trunking/NIC teaming)
Service binding based on network interfaces
Proxy server (Squid Proxy Server via App Center)
Proxy client
DHCP client, DHCP server
Protocols: CIFS/SMB, AFP (v3.3), NFS(v3), FTP, FTPS, SFTP, TFTP, HTTP(S), Telnet, SSH, iSCSI, SNMP, SMTP, and SMSC
UPnP & Bonjour Discovery
USB Wi-Fi Adapter Support

* Not all services supports IPv6.

Qsync

Syncs files across multiple devices with SSL support
Selective synchronization for only syncing specific folders
Use team folders as a file center for greater team collaboration (maximum sync tasks:32)
Shares files by links via e-mail
Policy settings for conflicting files and file type filter support
Version control: up to 64 versions.
Incremental synchronization for HDD space saving
Unified privilege management
Unified configuration management
Supports central configuration mode
Supports remote erase / restore
Supports shared folders sync
Supports Windows & Mac OS

Security

Network access protection with auto-blocking: SSH, Telnet, HTTP(S), FTP, CIFS/SMB, AFP
CIFS host access control for shared folders
FIPS 140-2 validated AES 256-bit volume-based and shared folder data encryption*
AES 256-bit external drive encryption*
Importable SSL certificates
Instant alert via E-mail, SMS, beep, and push notification service
2-step verification

* The data encryption functions may be unavailablenot available in accordance with the legislative restrictions of some countries.

Web Administration

Movable Icons and personalized desktop
Smart toolbar and dashboard for neat system status display
Smart fan Control
Dynamic DNS (DDNS)
SNMP (v2 & v3)
Resource monitor
Network recycle bin for file deletion via CIFS/SMB, AFP, and File Station

Automatic Cleanup
File Type Filter

Comprehensive logs (events & connection)
Syslog client/server
System settings backup and restore
Restore to factory default
Mobile app: Qmanager for remote system monitoring & management

Powerful All-in-one server

File Server

File sharing across Windows, Mac, and Linux/UNIX
Windows ACL
Advanced folder permissions for CIFS/SMB, AFP, FTP
Shared folder aggregation (CIFS/SMB)

Download Station

PC-less BT, FTP/FTPS, and HTTP/HTTPS, Thunder, FlashGet and qqdl download (up to 500 Tasks)
BT download with Magnet Link and PT support
Scheduled download and bandwidth control
RSS subscription and download (broadcatching)
BT search
Proxy support for BT download

FTP Server

FTP over SSL/TLS (Explicit)
FXP support
Passive ftp port range control

Notes Station

A handy note-taking tool for everywhere you go via your private cloud
Direct and quick backup from Evernote with re-editing availability
Supports Google Calendar
Import/Export PDF file
RSS live feed and auto update
Online quick preview of multimedia attachments
Notes encrypt/decrypt
Smart snapshot for version control
Collaborate on notes with multiple users
Provides Chrome Extension: Notes Station Clipper (Clip web page content to your notes)

File Station

Supports mounting a Cloud Drive (such as Google Drive, Dropbox, Microsoft OneDrive, Amazon Cloud Drive, Yandex Disk and Box)
Supports mounting remote shared folders through FTP, WebDAV or Microsoft networking (SMB/CIFS)
Supports opening documents via Office Online, Google Docs or Chrome Extension (Edit Office files in Google Docs, Sheets, and Slides)
Supports ISO Mounting (Up to 256 ISO Files)
Supports thumbnail display of multimedia files
Supports sharing download links and upload links
Supports sharing to other NAS users
Drag-n-drop Files via Chrome and Firefox Browsers
Photo, music, and video preview and playback with hardware-accelerated transcoding
File Compression (ZIP or 7z)
Creation of and sending download links for sharing public files with expiration date and password protection
Supports displaying subtitles (*.SRT, UTF-8 format)

Video seeking support for video playback during on-the-fly transcoding
Supports slideshow playback in media viewer

Mobile App: Qfile for file browsing and management

HD (HybridDesk) Station 3.0

Playback videos, music, photos on TV with KODI via HDMI
Watch various online content such as YouTube, Flickr, Picasa, Shoutcast, etc.
Web browsers (Chrome, Firefox)
Supports multi-lingual keyboard, input and mouse
Supports QNAP Qremote app and the official KODI remote app
Supports user login permissions
A variety of applications are available including Skype, Plex, and more

Note:
– The playback and quality of some video files may be affected by the system's CPU and GPU decoding abilities.
– Up to 7.1 channel audio passthrough is supported

Transcode Management

Transcode video files to 240p, 360p, 480p, 720p and 1080p resolution
Automatic video transcoding for watched folders
Hardware accelerated transcoding support
Embed subtitles into videos for background transcoding

Virtualization Station

Supports Virtual Machine (VM) creation to run operating systems such as Windows, Linux, Unix and Android
Supports VM import and export
Supports VM cloning
Supports VM snapshots
Supports VM backup and restore
Support three different networking modes: Isolated, External-only and Bridged
VM console can be displayed via HDMI output – QVM
HTML5-based shared remote console

Backup Station

Remote replication server (over rsync)
Real-time remote replication (RTRR) to another QNAP NAS or FTP server
Works as both RTRR server & client with bandwidth control
Real-time & scheduled backup
Backup versioning for RTRR
Snapshot support for RTRR/Rsync
Encryption, compression, file filter, and transfer rate limitation
Encrypted replication between QNAP NAS servers
Desktop backup with QNAP NetBak Replicator for Windows
Apple Time Machine backup support
Data backup to multiple external storage devices
Third party backup software support: Veeam backup & replication, Acronis True Image, Arcserve backup, emc retrospect, Symantec Backup Exec, etc.

Signage Station

Supports dynamic content including videos, images, music, and text
Supports multi-user collaboration
Supports searching using keywords
Supports sharing by email and social network
Supports design software: iArtist Lite
Supports account authority management
Supports playback on various browsers (Chrome, Firefox, IE, Safari)
Supports most viewed, latest released and different categories content list

Print Server

Max number of printers: 3
Supports Internet Printing Protocol
Print job display and management
IP-based and domain name-based privilege control

Storage Plug & Connect

Creating and mapping shared folders by QNAP Windows Qfinder
Creation of and connection to iSCSI target/LUN

Photo Station

Show photos by thumbnails, list, timeline, or folder view
Supports virtual/smart albums
Validity control for sharing albums
Tag photos with text, colors, and ratings
Slideshows with background music and different transition effects
Animated thumbnails for videos
Geotag photos and display them on Google maps
Advanced search by tags, metadata, etc
Supports uploading photos/videos to Picasa, Flickr, Weibo, YouTube
Supports face detection (with the Photo Station Extension)
Supports PDF to image conversion (with the Photo Station Extension)
Share slideshows links to social websites or by email
Supports Facebook friends login
Backup/Restore album configuration

iSCSI (IP SAN)

iSCSI target with multi-LUNs per target (Up to 256 targets/LUNs combined)
Supports LUN mapping & masking
Online LUN capacity expansion
iSCSI LUN backup, one-time snapshot, and restoration
iSCSI connection and management by QNAP Windows Qfinder
Virtual disk drive (via iSCSI initiator)
Stack chaining master
Max No. of virtual disk drives: 8

Music Station

Play or share music via web browser*
Automatic classification via Media Library
Supports streaming music to multiple devices.
Supports changing album covers via Google search or uploading photos.
Internet radio (MP3)
Up to 8 music alarms
Mobile app: Qmusic for music streaming and management

* DRM-protected content is not supported.

Surveillance Station

Supports over 3,000 IP cameras
Includes 2 free camera licenses, up to 40 camera channels via additional license purchase
Instant playback to check recent events
Online editing to edit cameras during live view
Visual aid by e-map
Playback and speed control using the shuttle bar
Video preview on playback timeline
Intelligent video analytics (IVA) for advanced video searching
Surveillance client for Mac
Mobile surveillance app: Vmobile (iOS and Android)
Mobile recording app: Vcam (iOS and Android)

iTunes Server

Audio and video sharing for Windows & Mac iTunes

VPN Server

Secure remote access: PPTP、L2TP/IPsec & OpenVPN VPN services
Max number of clients: 30

Video Station

Show photos by thumbnails, list, timeline, or folder view
Supports virtual/smart collections
Validity control for sharing collections
Tag videos with text, color, and ratings
Animated thumbnails for videos
Share video links to social websites or through email
Sort videos automatically into defined classifications
Display movie information from IMDB
Display movie posters from IMDB or user upload
Supports displaying subtitles (*.SRT,*.ASS, *.SSA)
Supports searching for subtitles online
Supports importing subtitles
Supports Facebook friends login
Supports custom video classification
Supports multi-zone video display
Video seeking support for video playback during on-the-fly transcoding
Mobile app: Qvideo for online video browsing and management

VPN Client

Supported VPN protocols: PPTP & OpenVPN services
PPTP Authentication: PAP, CHAP, MS-CHAP, MS-CHAPv2
PPTP Encryption: None, AES 40/128 bit, AES 256 bit
OpenVPN Encryption: None, AES 40/128 bit, AES 256 bit
Transmission package monitor
OpenVPN port control
OpenVPN link compression

Cloud Backup Station

Amazon S3
Amazon Glacier
WebDAV-based cloud storage
Microsoft Azure
OpenStack

DLNA Server

Supports DLNA/UPnP TVs and players such as PlayStation 3/4 and Xbox 360/One
Supported audio formats: AIFF, APE, DSD (DSF, DFF), FLAC, M4A, M4A Apple Lossless (ALAC), MP3, Ogg Vorbis, WAV (PCM, LPCM), WMA, WMA PRO, WMA VBR*
Support CUE indexing file for APE, FLAC audio format.
Video and Audio On-the-fly Transcoding

*DRM-protected content is not supported.

AirPlay & Chromecast

Streams videos, photos and music from NAS to Apple TV via Qfile or QAirPlay&Chromecast
Streams videos, photos and music from NAS to TV with Chromecast via Qfile , Qvideo or QAirPlay&Chromecast

Q'center (NAS CMS)

Multiple NAS monitoring
Utilization history reports
Unified configuration management
Visual display reports
Monitor NAS behind NAT router with Q'center Assistant
Virtual appliances supported for Hyper-V and VMware

App Center

Over 100 official and community software add-ons

Designs and specifications are subject to change without notice.