Network Hardware
QNAP QSW-1208-8C-US 12-Port Unmanaged 10GbE Switch
Affordable 10G and multi-gig networking
A Closer Look at the QNAP QSW-1208-8C »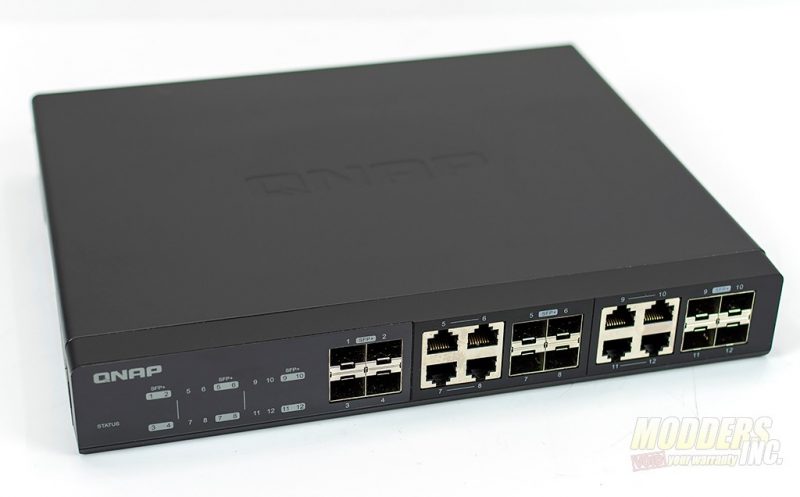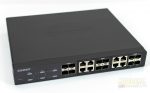 Gigabit Ethernet is starting to show it's age. With storage devices such as NVMe drives able to transfer data at over 1 gigabyte per second, it's easy to saturate a single gigabit link. 10 Gb/s has been the solution to faster data rates but until recently was cost prohibitive for most consumers. Multi-gigabit networking, which was announced in 2016, is a new networking standard that supports speeds of 2.5 gigabit per second, 5 gigabit per second and is backward compatible with both 1 gigabit and 100 megabit per second speeds. Personally, I've been waiting on consumer multi-gig networking gear since the standard was announced. A few manufacturers have jumped on the 10 Gb/s bandwagon as well, Asus and Netgear both offer consumer level switches with two 10 Gb/s ports and cost right around $200.00. QNAP recently announced their new unmanaged 10 gigabit switch which is also multi-gig capable. This switch will run at 100 Mb/s, 1 Gb/s, 2.5 Gb/s 5 Gb/s and 10 Gb/s. The QSW-1208 unmanaged series of switches come in two options, 8 and 12 ports.  The switch we will be reviewing is the 12 port version. The switches have a mixture of SFP+ (small form-factor pluggable transceiver) ports and ethernet ports, some of which are dedicated and some are combination SFP/Ethernet ports. Simply plug in the devices and you're good to go. The unmanaged switch means there is nothing for you to configure to get the switch up and running.
I can't wait for a faster switching network as I have fiber runs for long distances and I do have a lot of devices that are plugged in. I also tend to create large files for some of the projects that I do. However, most people will see a limited benefit depending on their network layout.  I'm going to go out on a limb and say that most networks are going to have a few devices on them. Things like tablets, cell phones, a PC or two as well as a console. For most home networks a 1G network is fine. As more wireless devices become available and new wireless protocols get ratified, moving to multi-gig will help with the congestion. The limiting factor in these particular networks is going to the connection to the internet. Having a multi-gig or 10G switch in your home will not make the internet faster unless you have an internet connection faster than 1G.  The bandwidth increase is all internally. Then you have content creators, photographers, videographers,  and other users that may need to transfer very large files from their PCs to their networks.  These power users need something that's faster than 1g. Some may be able to utilize the benefits of going to a full 10G network.
Packaging
Most of QNAP's products ship in a plain box and don't need the artwork that adorns other products that we review. Typically, these products won't be on a retail shelf. The box shows a graphic of the QSW-1208-8C. Near the bottom of the box, the features are called out as well as a sticker showing that 10G/5G/2.5G/1G are all supported.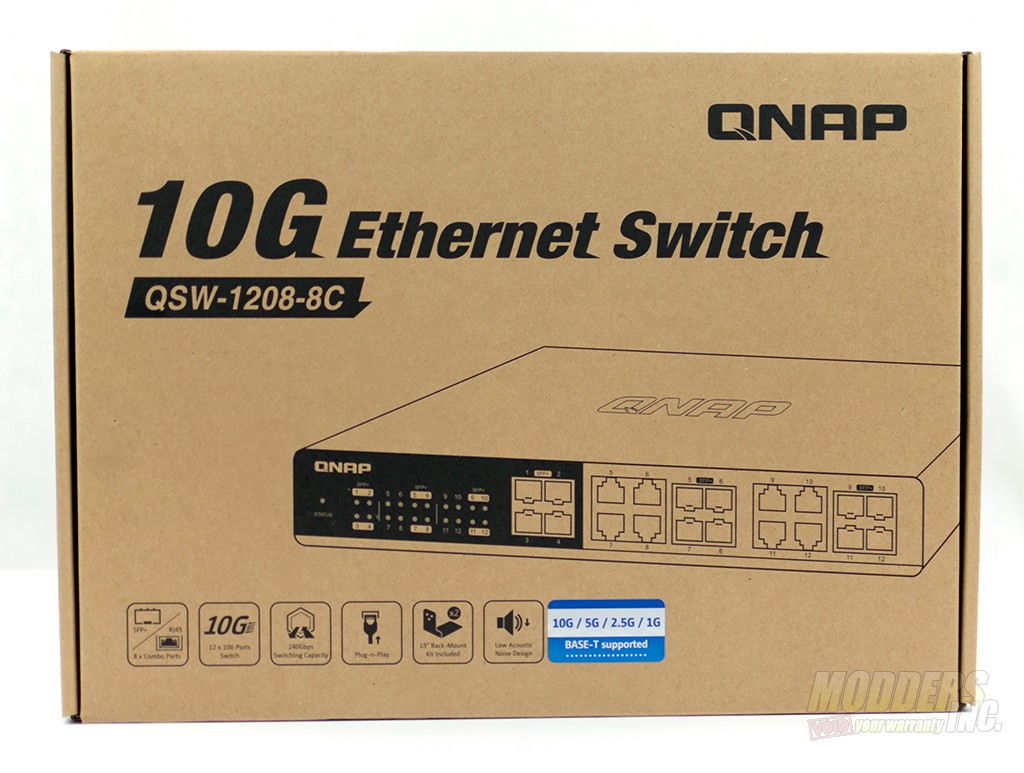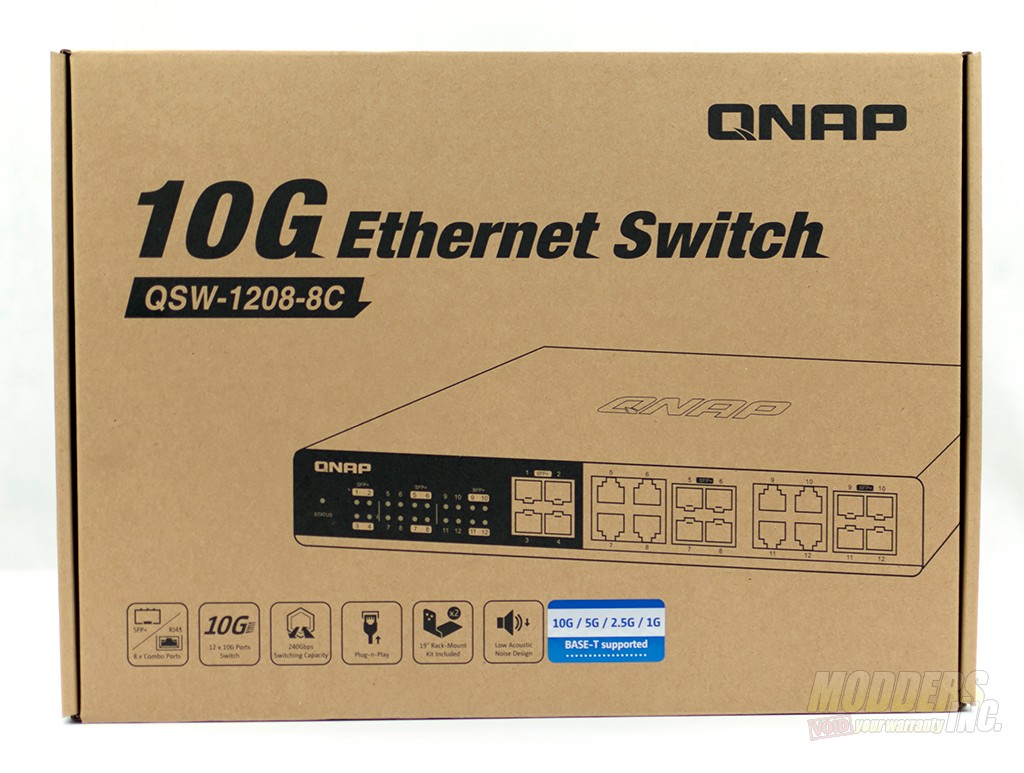 Internally, the QSW-1208-8C is protected by a rigid foam insert. On the left side of the box are the accessories. A multi-language quick start guide is included as well.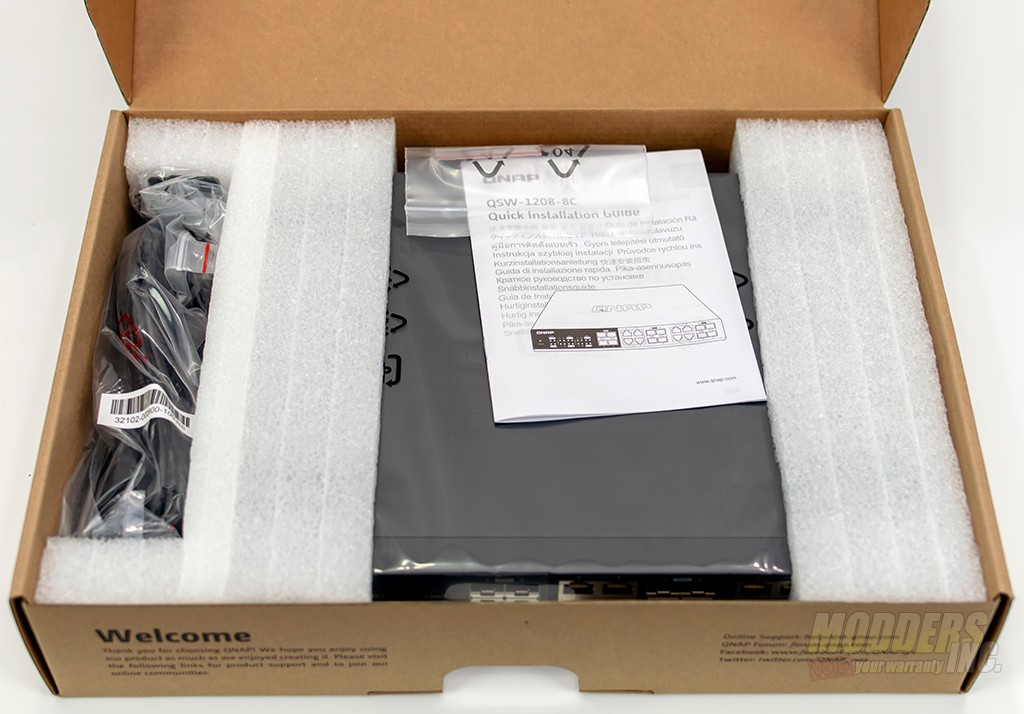 The accessories for the QSW-1208-8C include a power cable, a quick installation guide, 19-inch rackmount ears and screws, and rubber feet. This switch can be installed as either a desktop switch using the rubber feet or can be installed in a standard 19-inch rack.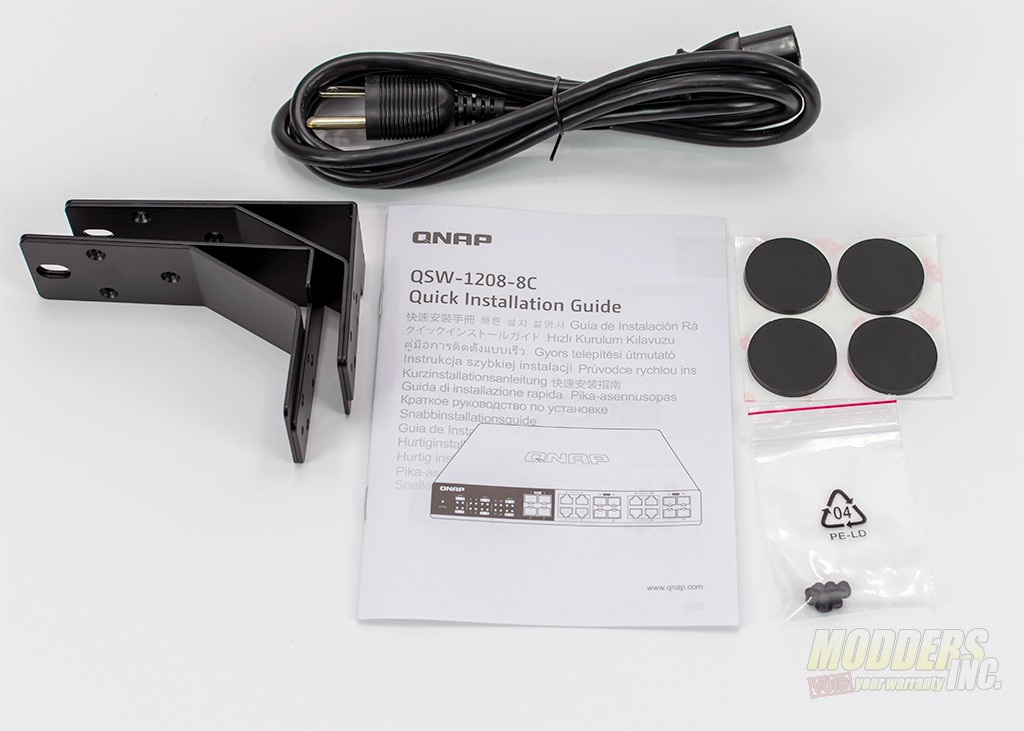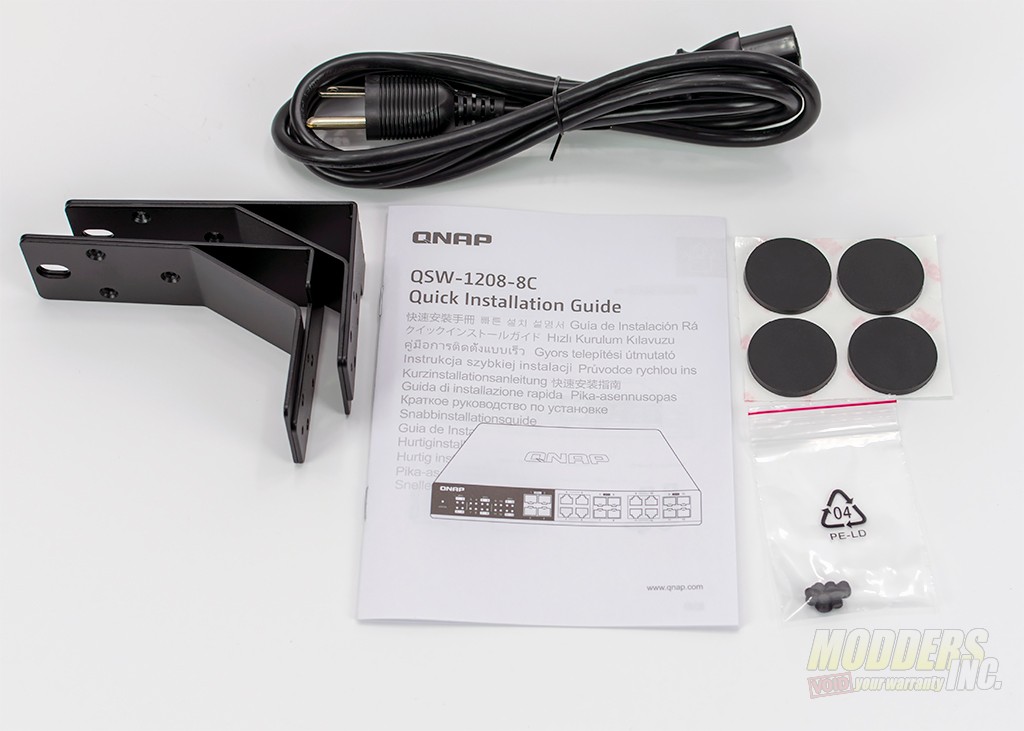 Specifications
10G SFP+ (fiber) ports
4
10G SFP+ (fiber) and RJ-45 (copper) ports (combo)
8
Form Factor
Desktop/rackmount
Switching capacity
240 Gbps
MAC address caching capacity
27K
Number of priority queues
8
Jumbo frame support
Up to 9K packet size
Power Supply Unit
100 – 240 V AC, 50 -60 Hz, max. 2.5 A
Power Consumption (W)
All ports used, line-rate traffic: 49 W
Link-down standby: 21W
Fan
2 low-noise smart fans
Sound Level
@ 25°C: 18.7 dB(A)
Operating Temperature & Relative Humidity
0 – 40 ̊ C / 32 – 104° F
10 – 85%, non-condensing
Electromagnetic compliance
Class A
LED Indicators
Per switch: Power
Per port: Speed, link, activity
Dimensions (H x W x D)
43 x 285 x 233 mm
Weight
2.15 kg
Limited warranty
2 years
Supported standards
• IEEE 802.3 Ethernet
• IEEE 802.3u 100BASE-TX
• IEEE 802.3ab 1000BASE-T
• IEEE 802.3x Full-Duplex Flow Control
• IEEE 802.1p Class of Service
• IEEE 802.3az Energy Efficient Ethernet (EEE)
• IEEE 802.3an 10GBASE-T
• IEEE 802.3bz 5Gbps and 2.5Gbps Ethernet Over Copper Twisted Pair Cable
• IEEE 802.3ae 10-Gigabit Ethernet Over Fiber
• IEEE 802.3aq 10-Gigabit over Fiber (10GBASE-LRM)
• IEEE 802.3z Gigabit Ethernet 1000BASE-SX/LX