German manufacturer Be Quiet! is well known for their dedication to silence reflected in their power supply offerings, heatsinks and fans. They were present at CES 2015 to unveil two of their brand new CPU coolers: the Shadow Rock LP and Dark Rock TF. At only 76mm (110mm with fan), the Shadow Rock LP stands for "low profile" but could also mean "low price" with the 39.90 USD MSRP. Memory clearance on the Shadow Rock LP is up to 32mm and comes equipped with a 120mm Pure Wings 2 PWM fan using the Pure Rock mounting kit so it can be replaced with any aftermarket fan if desired. This value low-profile solution from Be Quiet! has four copper heatpipes for the primary fin array and two for the secondary fin array below it, capable of handling thermal loads up to 130W.
Their second offering is the high-end Dark Rock TF which stands for "Top Flow", a gorgeous black nickel finished heatsink that is slightly taller at 110mm (130mm with fan) and comes equipped with a pair of SilentWings PWM 135mm fans. The primary fin array has six heatpipes while the secondary find array at the bottom has four (the second SilentWings PWM 135mm fan fits between them) and is rated for 220W CPUs (max of 250W). Since it is a higher-end heatsink, memory clearance allows room for up to 70mm without the lower fan and up to 51mm with both fans installed. Both CPU coolers are extremely quiet with noise up to only 25dBA. Both should be available by Q2 2015.
On display also was BeQuiet's first chassis, the Be Quiet! Silent Base 800, a full tower case that is available in three optional trim colors: orange, silver and black. Stay tuned for a water-cooling guide on this chassis soon from our very own Nick Blackwell.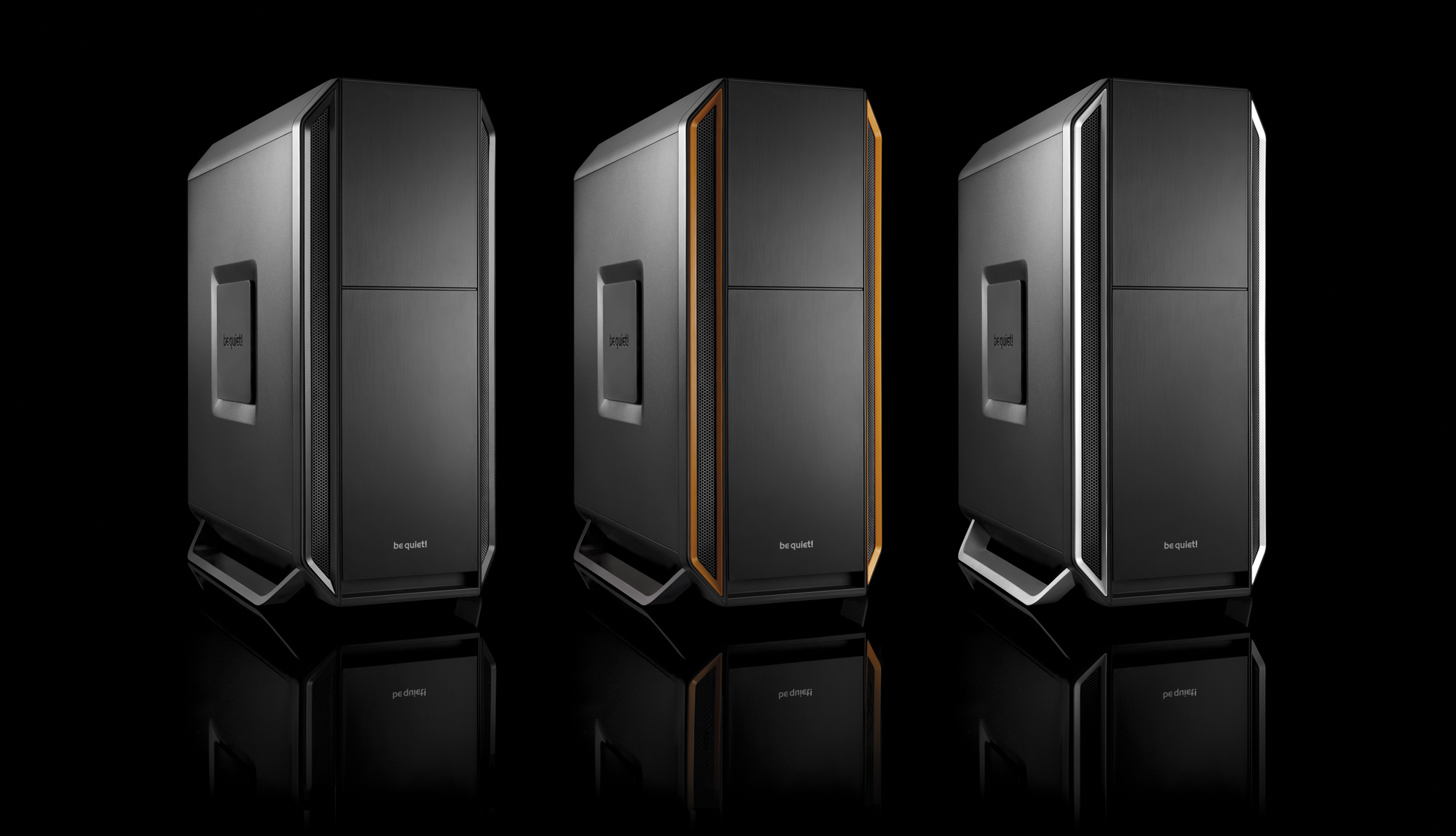 For more Information visit, http://www.bequiet.com