Closer Look at the RAIDMAX Hyperion Case »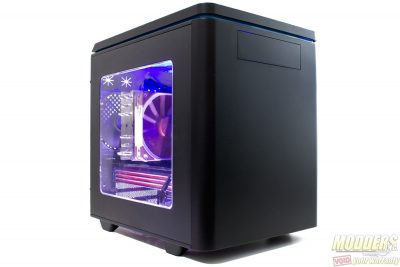 The Hyperion is in many ways a departure from what is typically expected from a RAIDMAX chassis. While many companies now try to cater to the gaming crowd, RAIDMAX who has almost exclusively been catering to the gamer market for years with perennial cases such as the Smilodon has taken a different route and expanded their offering with a conservative contemporary case design.
The RAIDMAX Hyperion is a cubic enclosure supporting mini-ITX and micro-ATX motherboards. The case is bisected vertically in the middle with the left chamber housing the motherboard and main components while the secondary chamber on the right houses the ATX power supply and has room for radiators and storage mounts. This dual-chamber design has gained popularity over the last few years as an alternative to mid-towers to provide more room for cable management and liquid cooling components. The Hyperion is available in white, black, pink or titanium and has an acrylic side-panel window to show off the PC assembly.
[sc:sponsor sponsor="RAIDMAX" product_link="http://www.raidmax.com/chassis_hyperion.html" product_name="Hyperion mATX Case" product_price_link="http://www.newegg.com/Product/Product.aspx?Item=N82E16811156320&cm_re=raidmax_hyperion-_-11-156-320-_-Product" product_price="$64.99″ ]
Despite the budget pricing, the box has a glossy, full-color exterior unlike the usual utilitarian brown used by other manufacturers. Inside, the Hyperion is well protected, sandwiched by two pieces of foam padding on top and bottom with the side window having anti-scratch film on both inside and out.
The accessories are also pre-sorted which is another big surprise for a budget priced case. There are seven different screws included with a stand-off hex adapter for easier mounting with a screw driver. A debug speaker, zip ties for cable management and an illustrated user manual booklet is also included.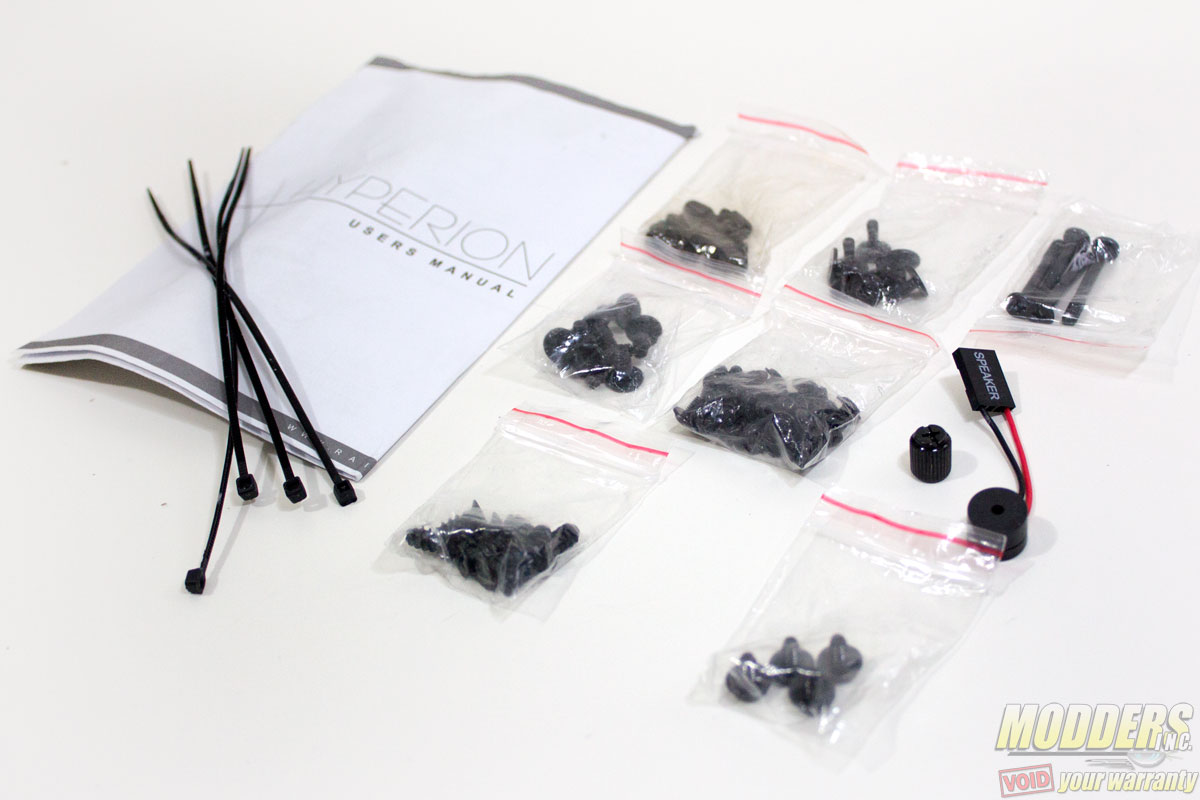 Specifications
| | |
| --- | --- |
| External 5.25″ Drive Bays | 1 x 5.25″ (removable) |
| Internal 3.5″ Drive Bays | 5 (2 + 3) |
| Internal 2.5″ Drive Bays | 7 (2+5) |
| System Board | Micro ATX/Mini ITX |
| Expansion Slots | 5 Slots |
| IO Ports | 2 x USB 3.0 + 1 x USB 2.0 / 2 x HD AUDIO |
| Dimensions (L x W x H) | 373 x 275 x 368mm |
| Front Cooling | 2 x 120mm or 1 x 140mm or 1 x 200mm (optional) |
| Right Side Cooling | 2 x 120mm (optional) |
| Back Cooling | 1 x 120mm |
| Top Cooling | 2 x 120mm or 2 x 140mm or 1 x 200mm (2 x 120mm included) |
| Bottom Cooling | 2 x 120mm (optional) |
| Colors | White, Pink, Titanium, Black |