Page 2 »
   For the year 2012 Cooler Master is furthering it's endeavor to create the ultimate High Air Flow chassis for all gaming and computer enthusiasts alike. Yes, I am talking about the Cooler Master HAF series of computer cases. From the beginning the Cooler Master HAF series has proven to be a very popular case amongst gaming and computer enthusiasts. Personally, the HAF X was my favorite of the HAF series, and as luck would have it, the HAF X has spawned forth a new mid tower in 2012, the Cooler Master HAF XM Computer Case. We have the pleasure of giving you a good look at the newest member of the Cooler Master HAF series cases. So, let's get to it, shall we?

Sponsor: Cooler Master
[hr]
First Look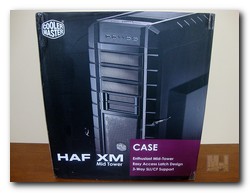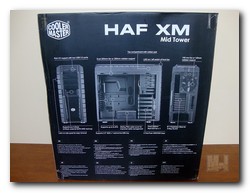 Cooler Master always does a great job of showcasing it's products on the retail package that is designs for each enclosure and the HAF XM retail box is no exception. You can get plenty of details straight from the box. However, the box is not just for pretty pictures or specifications, it is also very well made and fairly thick to protect the treasure that it contains inside. Inside the box the case is wrapped with a thick plastic bag to protect the finish and then packed in thick styrofoam end caps to keep it from moving around any to prevent damage from the outside. 
Features
 Rich I/O support (USB 3.0 x2 , USB 2.0 x 2, audio in/out); Intelligent fan LED control on the top
 Supports high-end hardware i.e.; E-ATX motherboards, 3-Way SLI or CrossFire (8+1 expansion slots)
 Room for future upgrades with support for up to 6 tool-free HDD or SSD
 Hidden 2.5" SSD/HDD mount behind motherboard tray
 Dust filters on every intake are removable to allow easy cleaning
 Support for a 2 x140mm fan radiator up top and a 140mm fan radiator in the rear
 Easy cable management and routing
 Sliding power supply cable cover
 Supports large 140mm case exhaust fan
 Supports long graphics cards (up to 13.9" or 354mm)
 Two external hot-swap X-Docks
Specifications
Model

HAF XM

Available Color

Black

Materials

Outer body: coated steel mesh and Synthetic compounds;

Inner body: coated enforced steel alloy 

Dimensions

252.0(W) x 530.5(H) x 579.0(D)mm / 9.9 x 20.9 x 22.8 inch

Weight

10.5 kg / 23.1 lb   

M/B Type   

Micro-ATX, ATX, E-ATX

5.25″ Drive Bays   

3

3.5″ Drive Bays   

8 (hidden x 6, X-Dock x 2)

2.5″ Drive Bays

9 (6 are converted from 3.5" bays, X-Dock x 2, 1 is behind M/B tray)

I/O Panel   

USB 3.0 x 2 (int.), USB 2.0 x 2, Audio In & Out x 1 (supports HD Audio),  LED switch for the front fan

Expansion Slots

8+1

Cooling System

Front: 200mm Red LED fan x 1

(converted to 120mm fan x 2 / 140mm fan x 1) 

Top: 200mm fan x 2

(one is optional; converted to 120/140mm fan x 2) 

Rear: 140mm fan x 1

(converted to 120mm fan x 1) 

Side: 200mm fan x 1

(optional; converted to 140mm fan x 2) 

HDD: 120 x 25mm fan x 2 (optional) 

Power Supply Type

Standard ATX PS2 / EPS   

Maximum Compatibility

VGA card length:

354.0mm / 13.9 inch (with HDD cage) 

463.0mm / 18.2 inch (without HDD cage)

(*AMD Radeon HD 6990: 304.8mm / 11.9"; NVIDIA GTX 590: 279.4mm / 10.9")   

CPU cooler height: 196.0mm / 7.7 inch 

(*Can accommodate Cooler Master CPU cooler <TPC 812>: 163.0mm / 6.4")