PC News, Hardware, Software
Razer Announces Base Station Chroma
The Razer Base Station Chroma was created to fit functionality into a small space.
Just when you thought there was nothing left to put RGB lights on (keyboards, mice, headphones, mousepads, and even drink holders), Razer has now introduced the Razer Base Station Chroma headset stand.
The Razer Base Station Chroma adds another element of customizable Chroma lighting to gaming setups, and provides the added versatility of acting as a desktop headset stand. Designed for convenience, this base station includes a headset stand, a 3-port USB hub, and Razer Chroma lighting for notifications.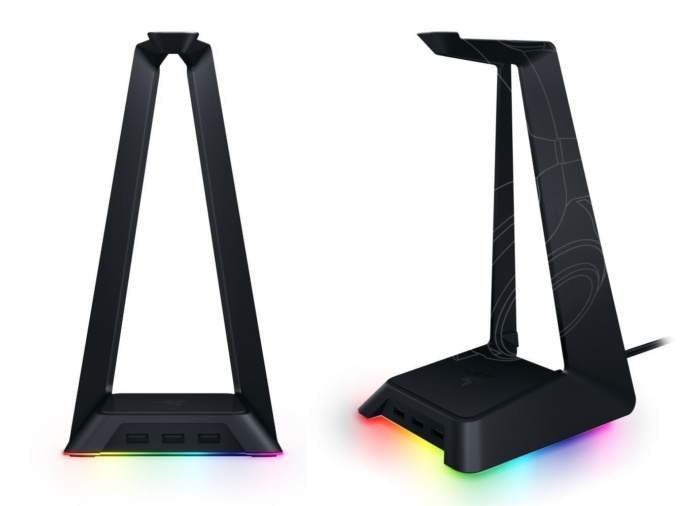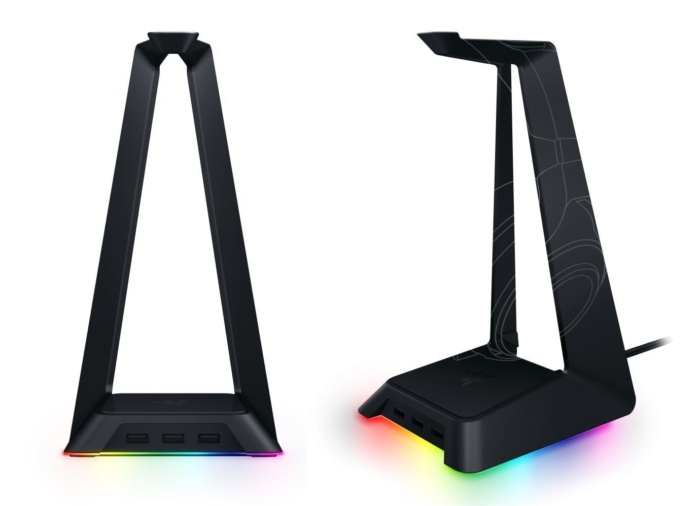 GET ORGANIZED
When you've got a killer gaming setup, the last thing you need is your gear in a mess. The Razer Base Station Chroma provides a perfectly balanced headphone stand to store and display your headphones when not in use. Easy on the eyes and ready for use whenever you need it.
STAY CONNECTED WITH MORE PORTS
With a 3-port USB 3.0 hub, you can directly connect your devices to the stand. It's an effortless way to maximize efficiency while keeping wires minimal.
POWERED BY RAZER CHROMA
Choose from preloaded lighting effects or create your own unique palette from 16.8 million colors for a gaming experience that's truly yours – all easily set through Razer Synapse.
Razer Chroma is the leading intelligent lighting ecosystem for gamers. Through the Razer Chroma Software Development Kit (SDK), Razer brings games to life with official and user-generated lighting integrations. With the latest updates to Razer Synapse, Razer brings a plethora of control for developers to create and customize Razer Chroma to deliver unique lighting elements that add immersion to basic gameplay.
Razer Base Station Chroma Availability and Price
These units are expected to ship in the 3rd Quarter of 2017 and retail for $59.99 USD.
AT A GLANCE:
Detachable headphone stand
3-port USB 3.0 Hub
Razer Chroma enabled
Chroma SDK compatibility
Fully programmable with Razer Synapse
Anti-slip feet
Made from lightweight high-grade plastic
Razer is the world's leading lifestyle brand for gamers.
The triple-headed snake logo trademark of Razer is one of the most recognized icons in the global gaming community, and the company has a fan base that spans every continent. Razer has designed and built the world's largest independent gamer ecosystem of hardware, software and services with over 35 million users.
Razer's award-winning products include hardware such as high-performance gaming peripherals (for the PC and console platforms), the Razer Blade line of gaming laptops; software such as Razer Cortex (a game optimizer and launcher); and services such as Razer zGold (a virtual credit service and payment engine for gamers). The company additionally provides audio-visual certification through its subsidiary THX Ltd.
The company has a global footprint with 9 offices worldwide and is recognized as the leading gaming brand in the US, Europe and China.
Founded in 2005 and dual-headquartered in San Francisco and Singapore, Razer is backed by institutional investors such as IDG-Accel, Intel Capital, Digital Grid and Horizons Ventures.