PC Case Fan
Reeven Six Eyes II Fan Controller Review: Rediscovering the Joys of Analog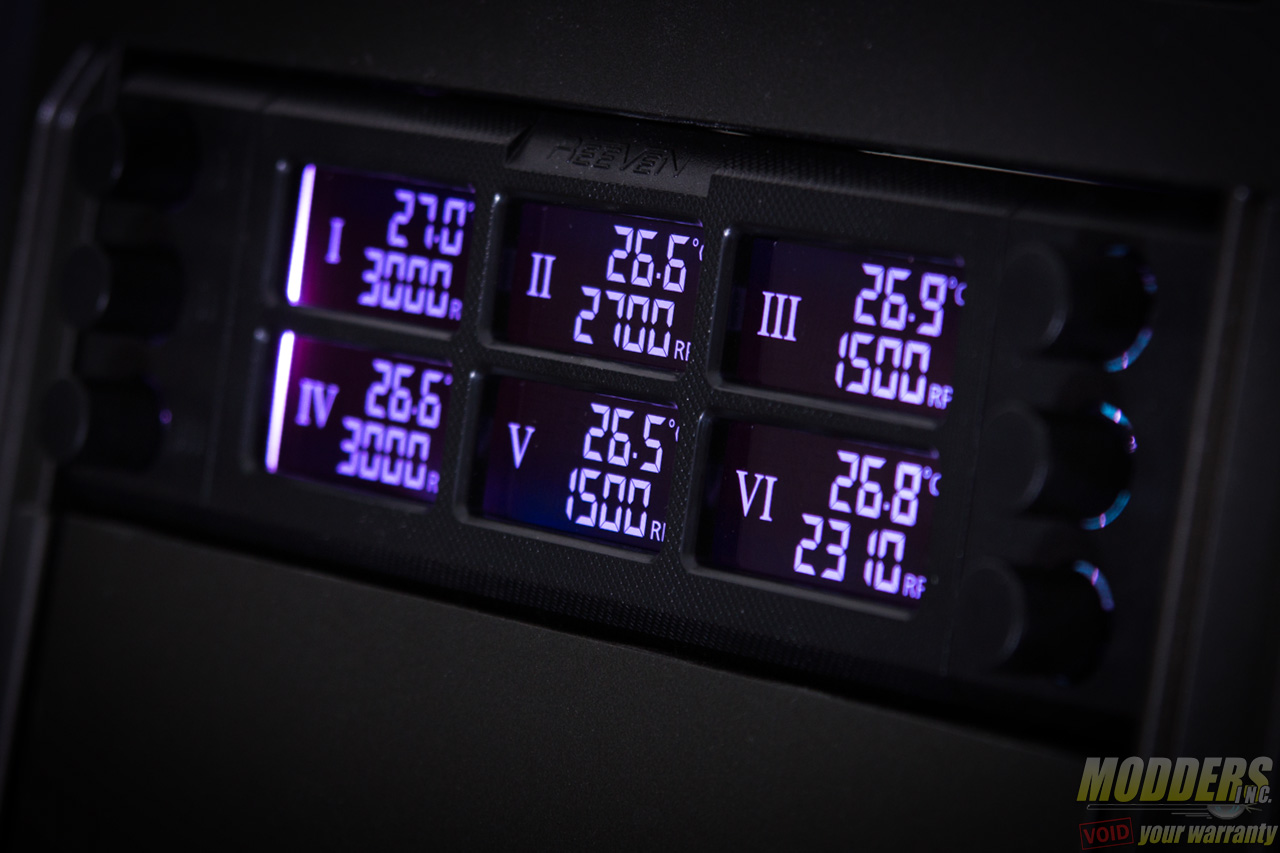 Fan control is a feature integrated in some PC cases but that is not quite an accurate word to use considering these are mostly two or three-step voltage presets with fan hubs. Control should only apply if there is nuance present and a certain level of accuracy can be met. That is why there are aftermarket products that are dedicated for such a task such as the Reeven Six Eyes II fan controller.
The Reeven Six Eyes II mounts right up front inside a 5.25″ drive bay, supporting up to six fan channels and allows for incremental adjustment via an analog control knob. While digital control sounds fancy, it is not quite as tactile or convenient as a tried and trusty analog dial. The Reeven Six Eyes II also has a thermal probe feature which serves as a handy tool for use when managing system airflow in addition to the the dialed controls. The LED display can the changed between seven colors and the controls can be hidden when not in use.
[sc:sponsor sponsor="Reeven" product_link="http://www.reeven.com/fancontroller_six-eyes2/" product_name="Six Eyes II (RFC-02)" product_price_link="http://amzn.to/2a9j08o" product_price="$49.95″ ]
The Reeven Six Eyes II fan controller packaging is similar to the previously reviewed Four-Eyes Touch, except with different graphics outside. Inside, there are padding on all four sides and the Six Eyes II fan controller unit itself is isolated inside a plastic bag from the rest of the accessories.
In addition to the fold-out user guide, bundled accessories include:
Six thermal probe wires measuring 700mm long and stickers to mount them
Installation screws for mounting the Six Eyes II inside a case
Six 3-pin to 3-pin/4-pin fan cables measuring 700mm long
4-pin MOLEX power cable measuring 550mm long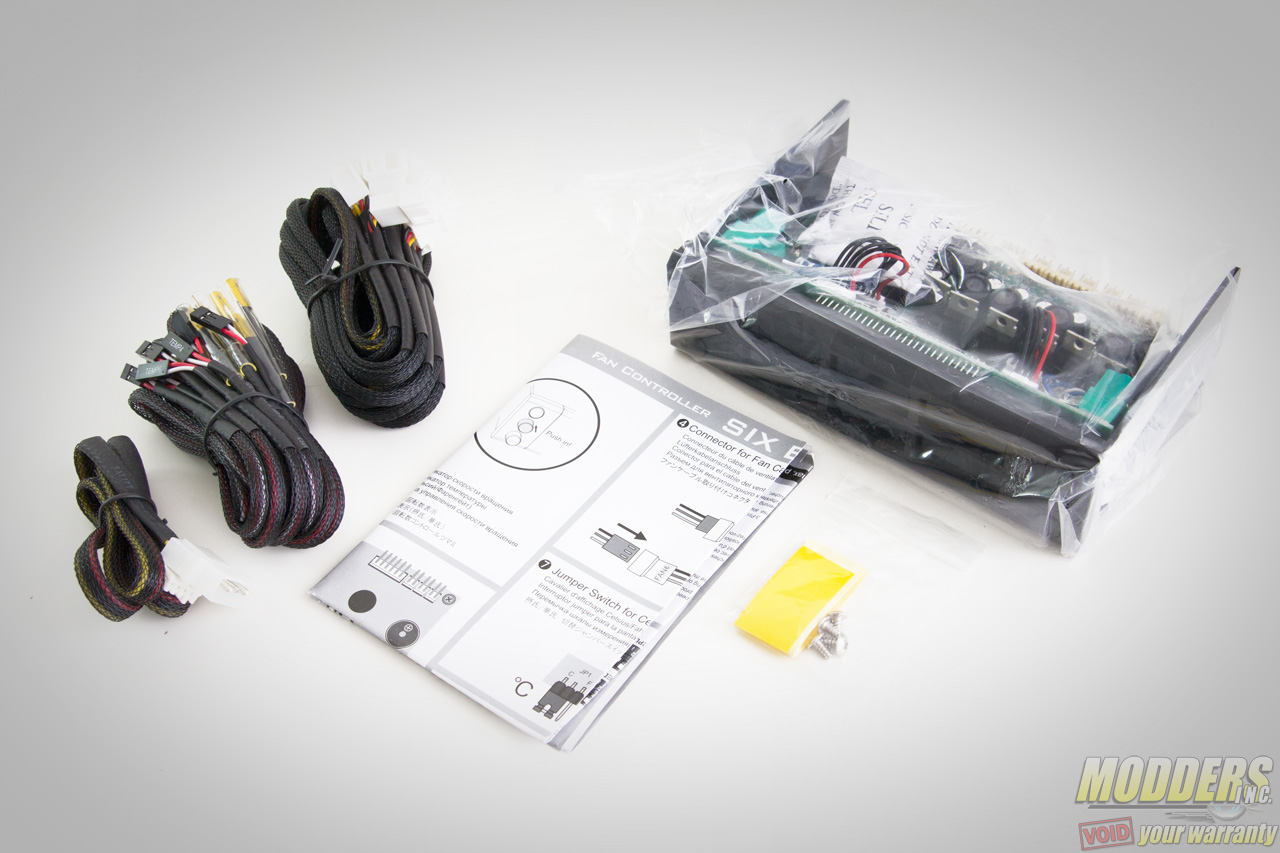 Specifications:
| | |
| --- | --- |
| Model Number | RFC-02 |
| Dimensions | (W)148 x (H)42 x (D)100mm |
| DC Input | DC5V & DC12V |
| DC Output | 3.7V ~ 12V(±10%) |
| Output Ampere | 2.5A per Channel |
| Temperature Range | 0~99oC |
| Fan Speed Range | 0~9990rpm |
| Weight | 240g |
Like any standard 5.25″ device, the Reeven Six-Eyes measures 148mm wide by 42mm tall, fitting on a single external drive bay. Its total length is only 100mm, hence the requirement for mounting screws as it only extends into half-length mounting position on cases with tool-less installation.
The build and construction is similar to the Reeven Four Eyes Touch fan controller previously reviewed with an obvious difference in layout. There are six LED displays now (hence the name) and six analog controls flank on each side.
These analog knobs are in "stealth" mode by default, sitting flush to the rest of the fan controller front but can be toggled out when pushed. Pushing it back in again will hide it.
Like the Four Eyes fan controller, each channel has a Fairchild Semiconductor FQP series 50N06 N-channel TO-220 MOSFET with four chokes and 330uF ChengX electrolytic capacitors. Unlike the Four Eyes however, power is provided via MOLEX and the Six Eyes II can be installed/uninstalled while the system is running. Fan settings start at OFF (turning the knob left until no longer possible), although not completely 0V under a multi-meter, but rather 1.0V when measured. Most fans require at least 5V or 7V to start so this is will leave them turned off. Once the knob is turned away from the OFF position, the Reeven Six Eyes start at 3.7V and turning the knob as far away to the right until no longer possible is for the 12V maximum voltage setting.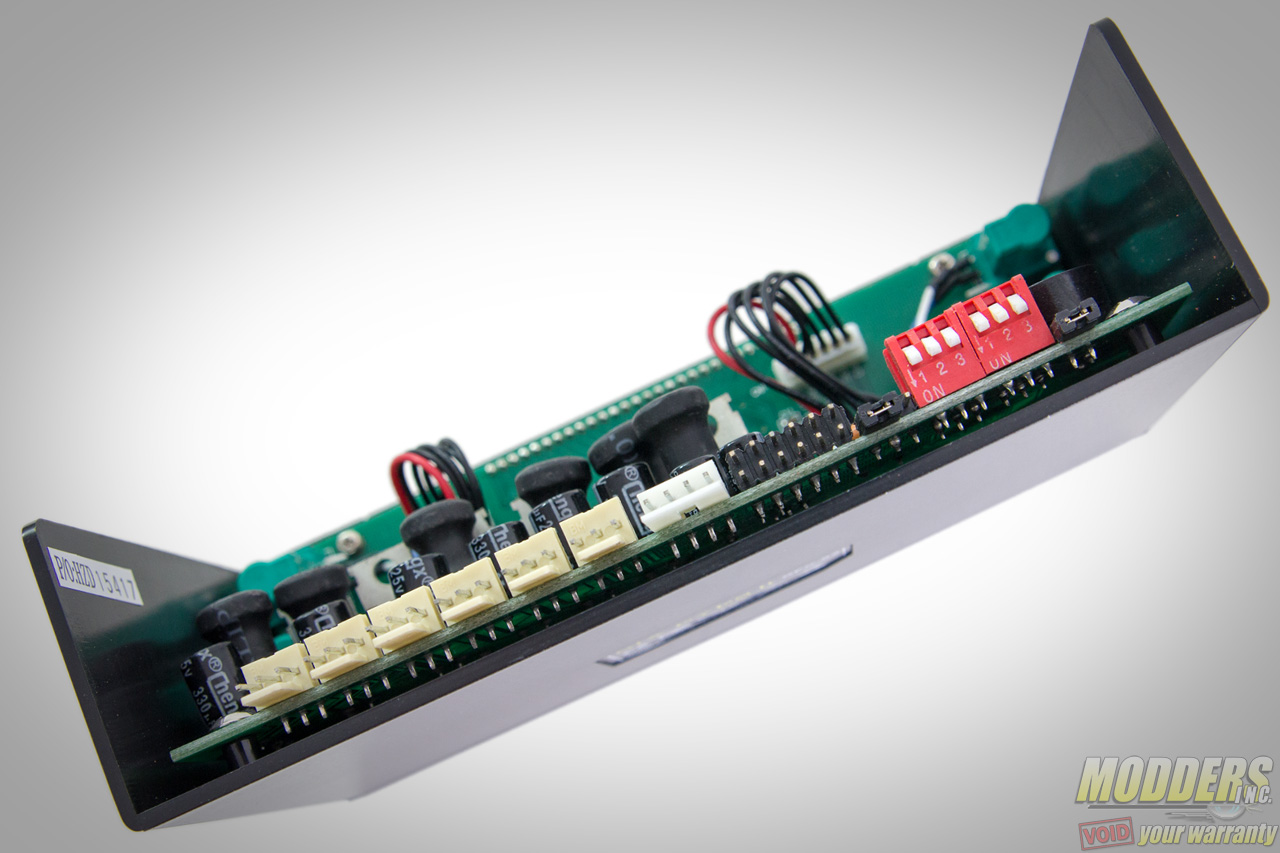 Using jumpers, users can toggle between celcius and Fahrenheit by moving between 3-pins. The jumper for the buzzer on the other hand, must be removed in order to disable the feature. The LED colors and temperature alarm settings are adjusted via a set dip switches. By adjusting the eight possible combinations for each set, users can adjust the temperature alarm from 55C all the way to 90C in 5C increments. For the LED adjustment on the other hand, users can choose between OFF, white, light blue, blue, red, purple, green, and apple green (which leans a bit closer to yellow):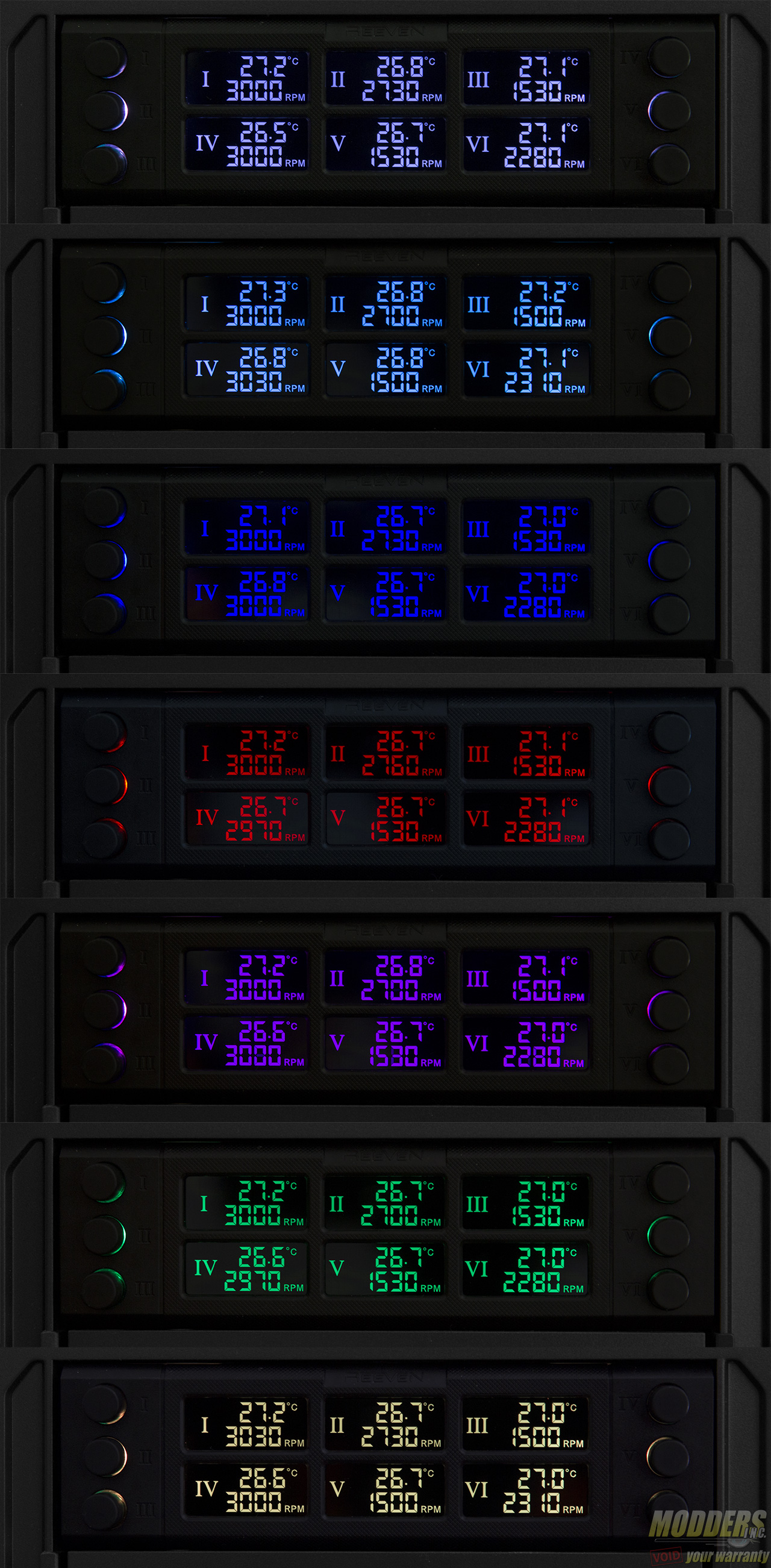 The analog dial is a welcome sight when it comes to fan controllers. Analog controls tend to be ideal for simply reaching out without having to look at the screen unlike digital which may be tactile in the sense that it requires individual key-press input, but the continuous motion afforded by an analog dial feels like a "natural" motion for a fan controller. In the case of the Reeven Six Eyes II. the control layout is separated in two sets. Fan control for the first three fans are located on the left and the last three fans are located on the right. The matching displays for each set is separated vertically however, with the first three fans at the top and the last three at the bottom. This layout is unfortunately not particularly intuitive and can be the cause of confusion, hence Reeven has large LED-lit labels for each display in Roman numerals to the left side. It would have been truly ideal if the controls are banked in a row underneath or above with the corresponding displays on top so as to completely eliminate the breaking-in period for the user in terms of control intuition.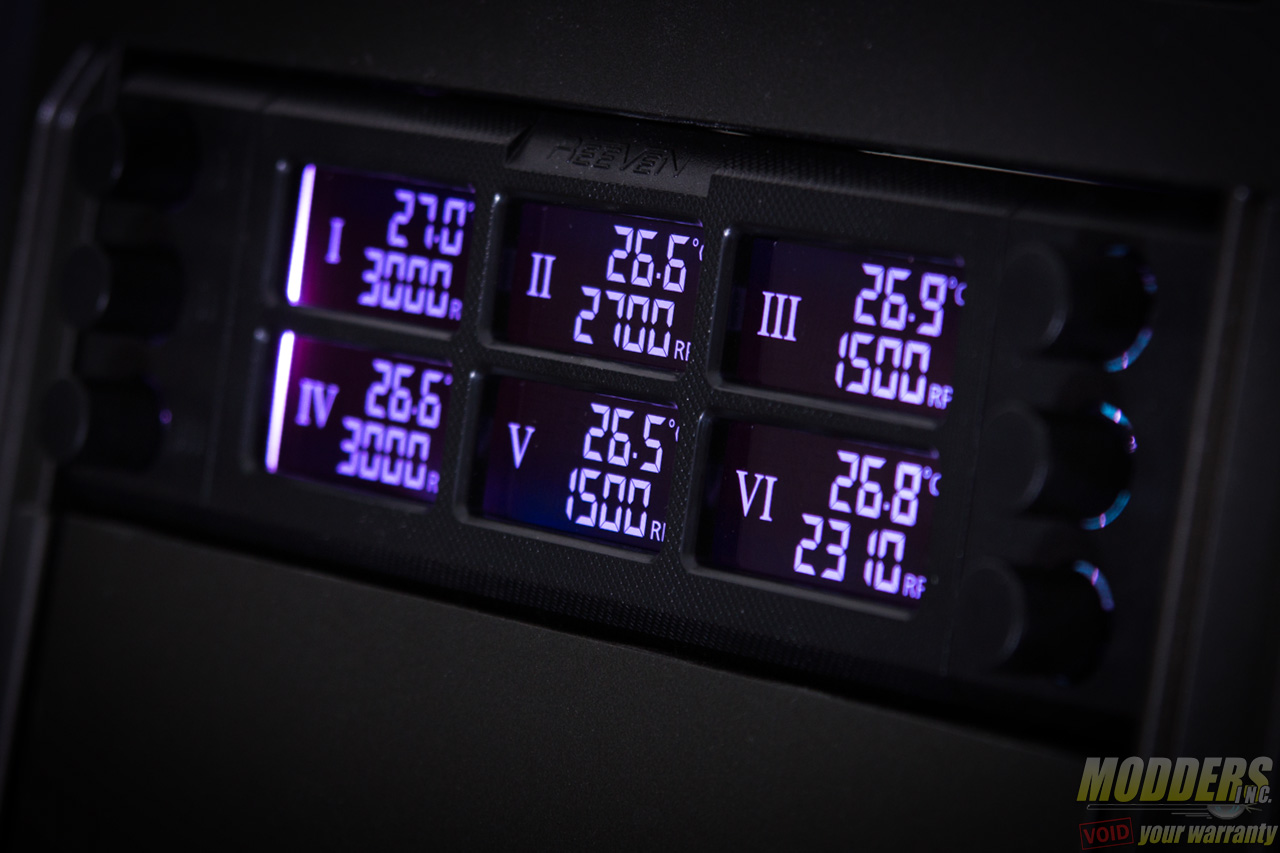 Each channel has a 30W maximum and has no problem running various fans at full tilt, including Noctua's 140mm 3000 RPM Industrial PPC fans  which can draw as much as 6.6W or Enermax' 120mm 3500 RPM Twister Storm fans which can draw up to 15.6W per channel. All the cables included have decent length in them so it is convenient enough to reach on the entire case and if the fan connectors are long enough, they can be daisy-chained into each other.  I do wish the power connector was a bit longer than 550mm however for easier cable management, otherwise it can be used with a MOLEX extension for convenience. The only other probable down side with this controller right now is availability as it seems to be sold-out everywhere, which is not surprising considering that it carries the same price as other four-channel fan controllers including Reeven's own Four-Eyes touch at $49.99 but has more features. For those looking the Six Eyes II and other Reeven products are available on NewEgg.com.
[sc:must_have_award ]