PC Case Fan
Reeven Kiran RGB 120mm Fan Overview
Affordable Standalone RGB LED Fan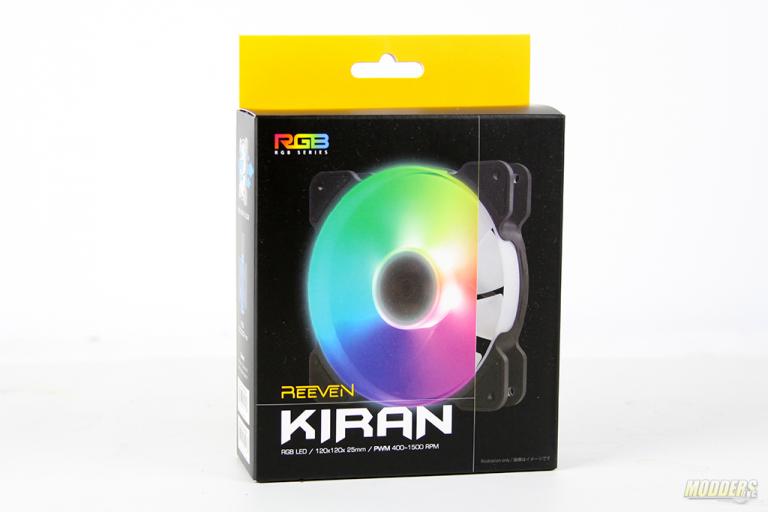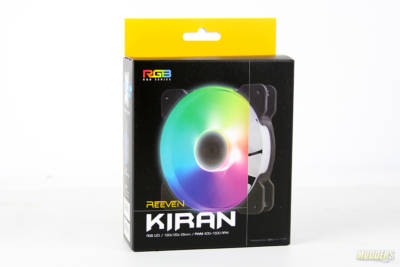 Reeven has recently released a new standalone RGB fan with high static pressure. Called the Kiran, it is specifically designed for radiators that need active cooling. When building a custom water-cooling loop, you need to fans that provide high static pressure on the radiator. The Kiran with its fluid-dynamic bearing and 11-blade design  has that functionality, but it also adds an aesthetic bonus via RGB LED functions. Just like most of the fans you will find that are designed for water-cooling loops Karan's speed could be controlled by PWM controller right from the motherboard. Unlike other RGB fans in the market however, the Kiran fan is affordable and available as a stand-alone  version without needing a separate hardware controller.
Review Sample Provided by: Reeven
Product Name: Kiran
Price at time of review: $ 16.49 USD MSRP
Product was given in exchange for work done to produce this overview.
Technical Specifications
| | |
| --- | --- |
| Product Number | RE1225FD15EW-RLSP |
| Fan Dimension: | (W)120 x (H)120 x (D)25mm |
| Bearing Type: | Fluid Dynamic Bearing |
| MTTF: | 120.000hrs |
| Voltage: | 12V |
| Weight: | 150g |
| Function: | Color Memory Function |
| Connector: | 4-Pin (PWM) |
| Fan Speed | 400(±200)-1500(±10%) RPM |
| Air Flow | 14.0~64.8 CFM |
| Static Pressure | 0.004~0.116 inchH2O (0.1016~2.9464 mmH2O) |
| Noise Level (dBA) | 6.0~33.6 |
| Current (A) | 0.20 |
Packaging
The packaging of the Kiran is very colorful as it should be since its an RGB fan. On the back of the packaging, Reeven included a graphic that shows off all of the RGB colors that this fan has to offer. The packaging box is no larger than a standard 120mm fan box. That is because there is no external controllers required to run the Kiran. Typical RGB LED fans are expensive and are only available in multiples. So far this fan series only comes in one size: 120mm. There is no word for now if Reeven will release a 140mm or 92mm version eventually. However, it would be a welcome option.
Accessories
The Reeven Kiran comes with four mounting screws, a Y-cable and of course the actual fan. Pretty standard accessory set for a 120mm fan.
Reeven Kiran Overview
From the image  you can see the actual fan blades are transluscent white color. That helps with the color diffusion and distribution throughout the blade area.  Both the base and the blade is made from ABS plastic with rubber pads for vibration dampening.
Controlling RGB functions is done by a micro switch which hangs from the side of the fan along with the cable.  It would be nice to have some kind of adhesive that could be used to attach this micro switch to the case. The connector cable uses a 4-pin PWM and is 500mm. Which is plenty long, so you should have no issues connecting this fan to a motherboard header in to the standard ATX case.
The Reeven Kiran's electro-motor operates at 12volts and 0.2amps. Also at the center hub is what gives this fan a longer life-span and quieter operation than other fans: the Fluid Dynamic Bearing. The fan is able to reach a maximum rotational speed of ~1500PRM and spins at ~400RPM at the minimum.
The blade style of Kiran is what I call 'classic'. The small curve at the front facing edge of the blade allows a fan to push a greater volume of air in a vortex motion. There are no guards on this fan however there is a ring/lip on the inner edge of Kiran.
RGB Lighting Modes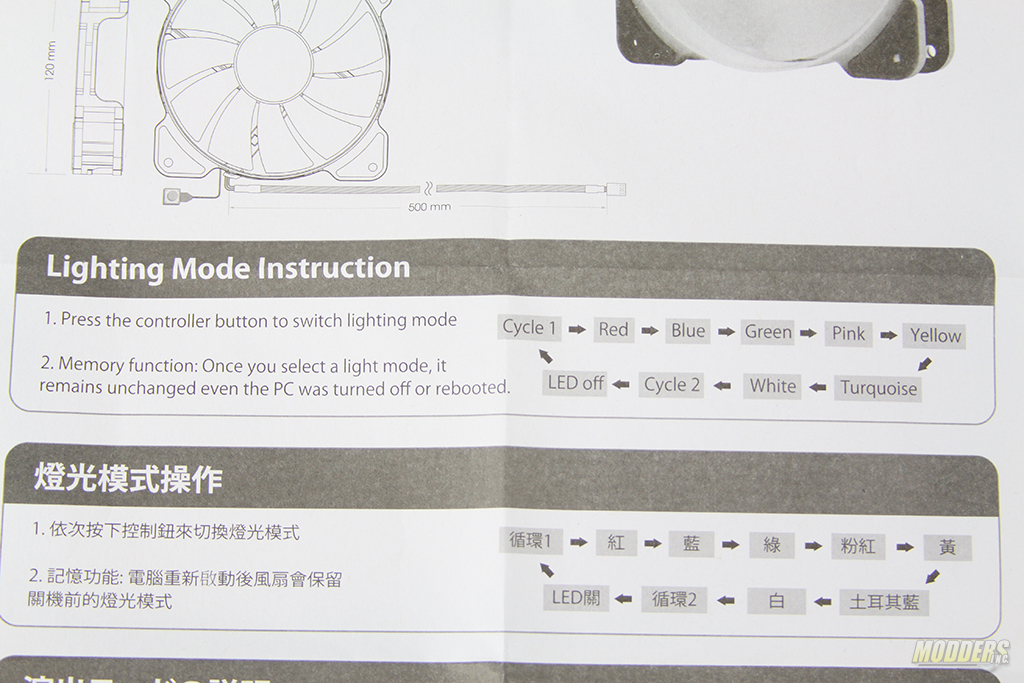 Controlling RGB function is pretty easy. Just press the micro switch to select a desired (pre-defined) color. Red->Blue->Green->Pink->Yellow->Turquoise->White. Seven colors and 3 lighting modes intotal. Once you have selected a light mode, it will stay unchanged even if you restart or power down your system until you click it again.
Pricing and Availability
Currently Kiran retails for $16.49 and is available via NewEgg.com. This is well below most other RGB LED options in the market. The colors are limited to seven and not fully customizable like the RGB fan sets which cost 2x or 3x as much per-fan from competitors such as Corsair or Thermaltake. However, the Kiran also offers excellent static pressure performance, balancing well with the price and looks. In fact, even if it doesn't have the RGB LED feature, the Kiran is still funamentally a very good, highly functional fan.