Page 2 »
The SAPPHIRE HD 7750 ULTIMATE is the first card in this generation to use a passive heatpipe and heatsink cooler to bring totally silent cooling, and increased reliability with no moving parts. It has all the characteristics of the HD 7700 series plus the highly praised GCN graphics processing architecture making it just the thing for HTPC's and a wide-range of PC usage where noise requirements need to be kept to a minimum.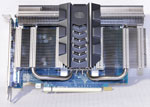 Sponsor: Sapphire
[hr]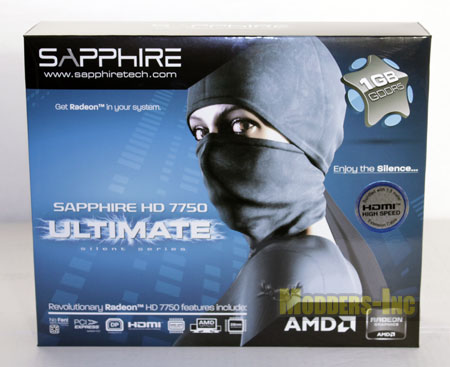 SAPPHIRE has been staying with the "Girl Themed Characters" for a while now and they continue it with the new HD 7750 Ultimate. You can recognize that the character is a Ninja which are silent, fast, and ultimate fighters; which is exactly what SAPPHIRE wants you to know about this video card.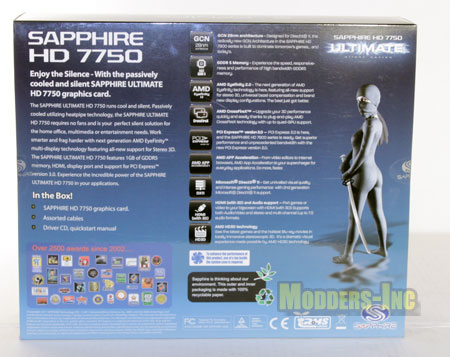 On the rear of the box we can see that they supply a whole bunch of information about what makes this card so special.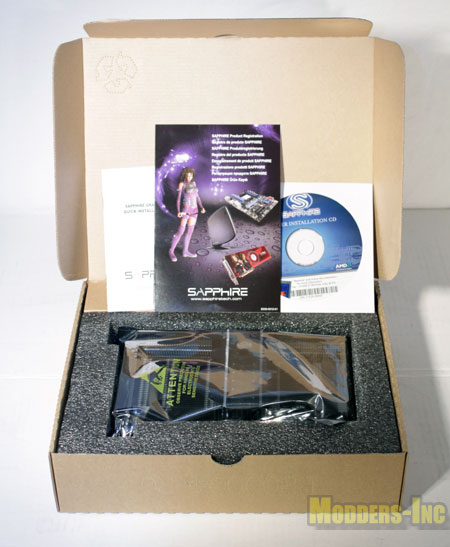 Inside the box we can see that like all other Sapphire products it is well packed to ensure the safety of the video card.  Also packed with the 7750 is the driver install CD, Manual and information booklet.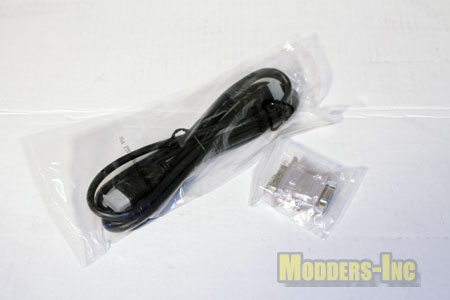 Added in the box is a few items to get you all hooked up to your display of choice. A HDMI cable and VGA/DVI adapter come with the card. 
Specification
Output
1 x Dual-Link DVI
1 x HDMI (with 3D)
1 x DisplayPort
GPU
800 MHz Core Clock
28 nm Chip
512 x Stream Processors
Memory
1024 MB Size
128 -bit GDDR5
4500 MHz Effective
Dimension
170(L)x105(W)x43(H) mm Size.
Software
Driver CD
Accessory
DVI to VGA Adapter
Overview
Dual-Link DVI

Equipped with the most popular Dual Link DVI (Digital Visual Interface), this card is able to display ultra high resolutions of up to 2560 x 1600 at 60Hz.

---
HDMI (with 3D)

Support for Deep Color, 7.1 High Bitrate Audio, and 3D Stereoscopic,  ensuring the highest quality Blu-ray and video experience possible from your PC.

---
DisplayPort

Enjoy the benefits of the latest generation display interface, DisplayPort. With the ultra high HD resolution, the graphics card ensures that you are able to support the latest generation of LCD monitors.

---
Advanced GDDR5 Memory Technology

GDDR5 memory provides twice the bandwidth per pin of GDDR3 memory, delivering more speed and higher bandwidth.

---
AMD HD3D Technology

Enjoy the most immersive experience possible with full support for High Definition Stereoscopic 3D, a technique that presents 2D images (movies, games, photos) in a format that creates the illusion of three-dimensional depth when using compatible 3D displays / glasses / software. 

---
28 nm GCN (Graphic Core Next) Architecture

The new and 28nm GCN Architecture with more efficient process technology puts more transistors in less space, enabling a dramatic increase in Processing Power. Crank the settings, devastate your enemies and bear witness to absurdly high frame rates with AMD Radeon HD7000 series graphics card-DirectX 11 has never looked this good. Maximum setting and crazy performance shouldn't be a compromise. The AMD Radeon HD7900 Series with the new 28 nm GCN Architecture assures that it's not.

---
PCI Express 3.0

PCI-Express 3.0 delivers double the bandwidth per lane of PCIe Gen 2 for faster GPU (GPU communication-up to 16GB/sec in each direction), maximizing the performance from your GPU when paired with the latest platforms.

---
AMD Eyefinity 2.0

The next generation of AMD Eyefinity technology is here, featuring all-new support for stereo 3D, universal bezel compensation and brand new display configurations. Face it: the best just got better: The enhancements for AMD Radeon HD7000 series include: Stereo 3D-multi-display stereoscopic 3D support via DisplayPort 16K X 16K maximum display group resolution-output up to 268 megapixels per GPU.


*To support 3 displays, one of the monitors has to support DisplayPort
**When running Microsoft Windows XP, Eyefinity technlogy supports a maximum of 2 displays.

---
Discrete Digital Multi-Point Audio

The AMD Redeon HD 7900 Series is the first GPU that can simultaneously output multiple and discrete audio streams via HDMI and DisplayPort Output.

---
Shader Model 5.0

Supports the latest Shader Model 5.0 feature set including VTF (Vertex Texture Fetch) which is a key feature used extensively in many of the games that ship today. Without support for this feature the game will fall back to a lesser shader path resulting in the loss of cool, lifelike effects made possible by Shader Model 5.0

---
OpenGL 4.2

OpenGL 4.2 improves the GPU efficiency by improving the shader process operation and capturing GPU tessellated geometry. The process of modifying an arbitrary subset of compress texture is also simplified. The memory management in handling shaders is more efficient as well.

---
Best Microsoft DirectX11 Support

The tessellation performance on AMD Radeon HD7000 is up to 2X faster than the previous generation, and DirectCompute performance is also faster to accelerate advanced post-processing, filtering, and anti-aliasing techniques. Direct X11 games has never looked this good.

---
AMD Catalyst Control Center™

The AMD Catalyst Control Center™ software application gives you complete control over the performance and visual quality of your SAPPHIRE AMD Radeon™ based graphics card allowing for the best experience on your PC.

---
Dolby® TrueHD and DTSHD Master Audio™ Support

Support for copy protected, high bandwidth, 7.1 channel surround sound over HDMI. Get a fully immersive, high definition audio experience with the latest Blu-ray movies. (Requires a DVI to HDMI dongle on some models, an HD capable monitor and a Blu-ray drive)

---
AMD PowerTune™ Technology

AMD PowerTune is a breakthrough technology that sets an entirely new direction for maximum performance at TDP. It allows the GPU to be designed with higher engine clock speeds which can be applied on the broad set of applications that have thermal headroom.

---
Display Flexibility

Offers an incredible choice of the latest display connectivity options natively on the board, including dual-link DVI-I, DisplayPort and HDMIalong with adapters to ensure compatibility with your legacy analogue VGA monitor. 

---
Windows® 7 support

WHQL (Windows Hardware Quality Labs) Certified drivers and logos are available for all SAPPHIRE HD2000, HD3000, HD4000 and HD5000 series cards ensuring compatibility and reliability with Microsoft Windows 7.

---
AMD App Acceleration

AMD App Acceleration is a set of technologies designed to improve video quality and enhance application performance. Full enablement of some features requires support for OpenCL, DirectCompute or DirectX Video Acceleration (DXVA).

---
AMD PowerPlay with ZeroCore Power Technology

AMD PowerPlay is a power management technology in response to the GPU loading, AMD PowerPlay automatically manages the power consumption. AMD RADEON HD7000 Series with AMD ZeroCore Power Technology, the power consumption can be as low as less than 3 Watt when idle, making the best use of power.

---
Accelerated Internet Applications Rendering

The new AMD Radeon HD 7000 Series accelerates the rendering performance with the latest web browsers (IE10, Firefox 6) and programming interfaces (Direct2D, HTML5, WebGL, Flash 11 / Molehill).

---
AMD HD Media Accelerator

AMD HD Media Accelerator has been designed to help optimize and dramatically improve video playback on your computer by taking advantage of hardware video acceleration from your AMD Radeon GPU. With full 3D stereoscopic decode you can enjoy it all in 3D. AMD HD Media Accelerator speeds up the decode of one 1080p and one 1080i HD video streams simultaneously by hardware, and the new hardware encodes/transcoder processes your media content faster than ever!

---
Cutting-edge Quad HD display support (4K Support)

The display resolution on AMD Radeon HD7000 series is quadrupled to the resolution of 4KX2K( 4096X2160 ) from the outputs of DisplayPort 1.2 and HDMI.