SAPPHIRE NITRO+ Radeon RX 480 video card review
Article Index:
A Closer Look at the SAPPHIRE NITRO+ Radeon RX 480
Size wise, the Nitro+ RX 480 is a lot smaller than some of the other GPUs that I've reviewed recently and measures in at 12.8x5x1.7 (in). Two Sapphire Dual-X 95mm fans are used to help keep the temperature under control.
While the official specifications say the card occupies 2 slots, at 1.7 inches tall, it is more like a slot and a half. With most a few motherboard manufactures giving extra clearance between the first two PCIe slots, airflow will be less of an issue with the Nitro+ Radeon RX 480. The heatsink features 10mm heatpipes which connect the cold plate of the cooler to the fins. The fins are covered by the fan shroud and very little of the fins are exposed. Overall, a very clean look for this card.
Connectivity features one DVI-D, two display port, and two HDMI ports.


The rear portion of the heatsink is the only part that is really exposed and outside of the shroud. A single 8-pin power connector is used to to power the Nitro+ RX 480.


An aluminum backplate is present on the back. The back plate provides rigidity for the card as well as helps aid in cooling of the card.  The slots in the edge of the back plate are designed to help exhaust hot air and are part of what Sapphire calls NITRO Free Flow.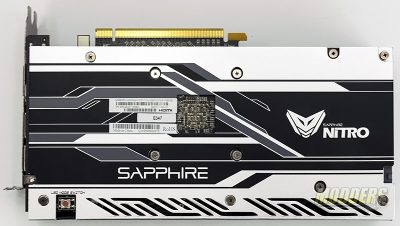 On the corner of the back plate there is the LED mode button as well as the v BIOS switch. The LED mode button allows you to change the color of the LED lit Sapphire logo on the leading edge of the card. You can choose one of six modes that include cycling through the RGB LED colors and temperature monitoring. The v BIOS switch allows you to choose the BIOS on the card. Much like Sapphire's Fury, each BIOS is tuned for different fan and power profiles.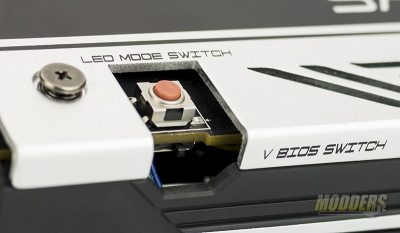 Article Index: