« A Closer Look At The Sapphire NITRO RX Vega 64 Internals
|
Real World Gameplay Testing: Max Settings »
Test System
| | |
| --- | --- |
| Processor | AMD Ryzen 7 1700X (Retail) @ 3.78GHz |
| CPU Cooler | Corsair Hydro Series H115i Closed Loop Liquid Cooler |
| Motherboard | ASUS PRIME X370-PRO |
| Memory | 16GB Corsair Vengeance LPX DDR4 2x8GB @ 2,666MHz 16-18-18-35 (XMP 2.0) |
| Storage | Samsung 960 EVO 500GB SSD, Seagate FireCuda Gaming SSHD 2TB HDD |
| Case | Phanteks Enthoo Evolv |
| Drivers | Radeon Software Adrenalin Edition 18.3.2 |
| Video Card(s) | Sapphire NITRO+ Radeon RX Vega 64 Limited Edition |
| VR Headset | N/A |
| Monitor | Acer XG270HU 1440p 144Hz TN panel & Samsung UN43MU6300 43-Inch 4K TV |
| Operating System | Windows 10 x64 Pro with latest updates |
For this review, I used my Ryzen-based test system, which features a Ryzen 7 1700X I bought shortly after launch and overclocked to 3.78GHz. I have a Corsair Hydro Series H115i closed loop liquid cooler installed to keep temperatures in check, and the motherboard I'm using is the ASUS PRIME X370 Pro. To get idle temps, I let the PC idle for no less than 30 minutes before taking the measurement. The stock boost clock speed of the Sapphire NITRO+ RX Vega 64 Limited Edition is 1,611MHz. All synthetic and real-world benchmarks are run at the card's stock clock speeds. I used 3DMark to fine-tune the overclock, but I'll cover that topic later.
Synthetic Benchmarks
3DMark is a DirectX 11 benchmarking tool, created and developed by Futuremark, used to determine the performance of a computer's 3D graphic rendering and CPU workload processing capabilities. I ran 3DMark Fire Strike once to get our score, and I used the default settings. The Sapphire NITRO+ RX Vega 64 Limited Edition graphics card achieved a 17,273 Overall, 22,670 Graphics, 19,565 Physics, and 5,834 Combined score.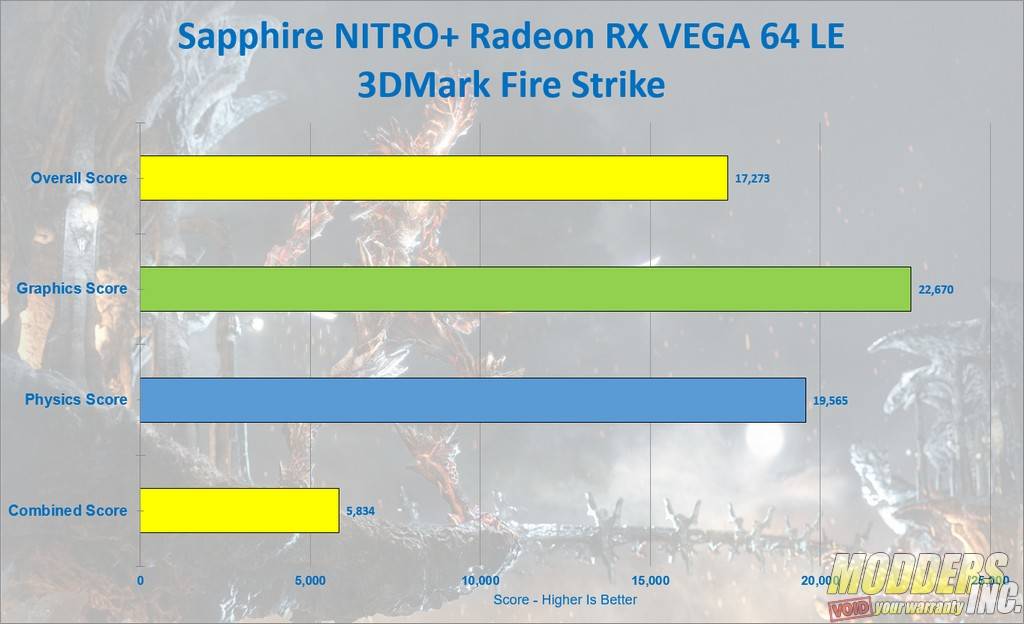 3DMark Time Spy is a DirectX 12 benchmark that is designed to showcase many of the Windows 10 exclusive features that are designed to appeal to gamers, such as features like asynchronous compute, explicit multi-adapter, and multi-threading. I ran the benchmark once at the default settings (at a 2,560 X 1,440 resolution) and recorded the CPU, Graphics, and Overall scores, which were 8,301, 7,216, and 7,360, respectively.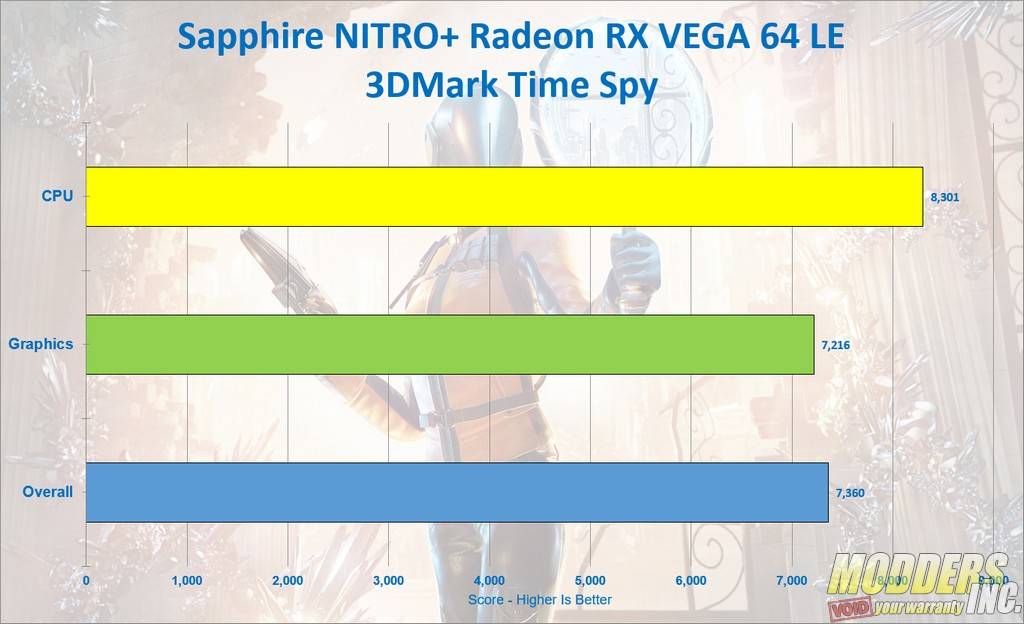 The Unigine Superposition benchmark is a graphics-centric utility designed to stress your GPU under heavy workloads. It was built on the updated UNIGINE 2 Engine. I ran the Superposition benchmark with the Sapphire NITRO+ RX Vega 64 LE at the 1080p Extreme and High settings, using the DirectX API. The test reports average, maximum, and minimum framerates, which I recorded after a single run. At the High setting, this card scored an average of 76.61fps, maximum of 96.07fps, and a minimum of 62.81fps. At the Extreme preset, the average, maximum, and minimum frame rates were 33.9fps, 40.51fps, and 26.63fps, respectively.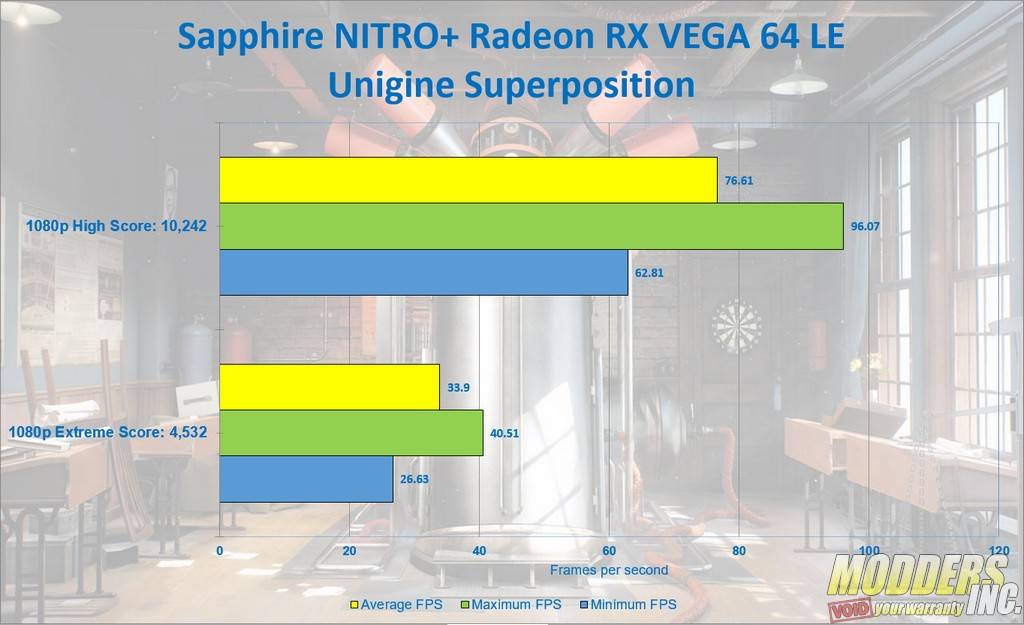 FurMark is a very intensive OpenGL benchmark that uses fur rendering algorithms to measure the performance of the graphics card. Fur rendering is especially adapted to overheat the GPU and that's why FurMark is also a perfect stability and stress test tool for the graphics card. I ran FurMark on its 2560 x 1400 preset and left all other settings at the defaults. I let the test run for five minutes and recorded the maximum temperature reported by the utility.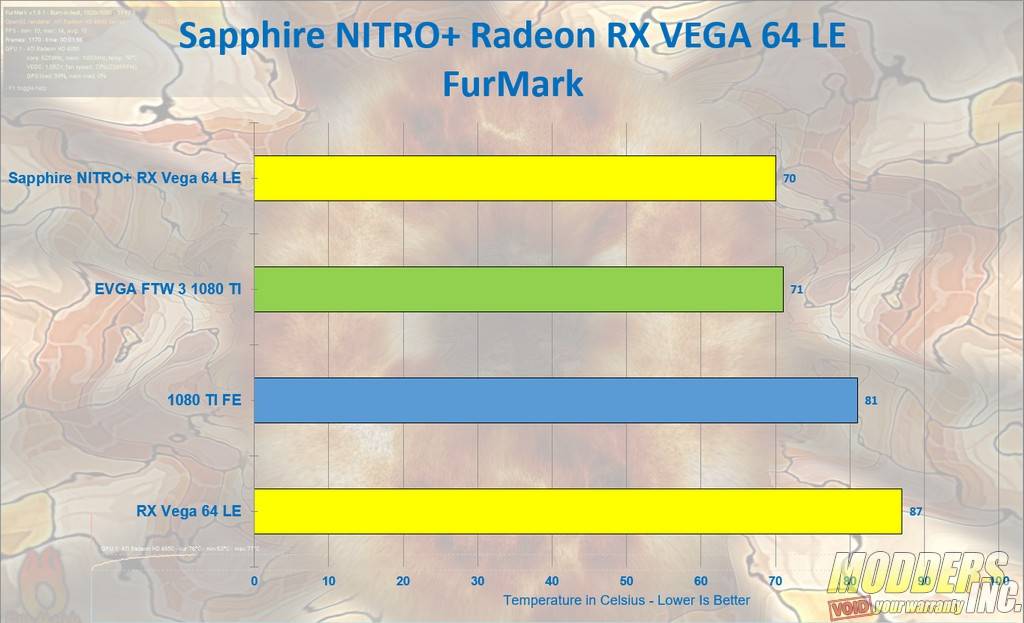 The Sapphire NITRO+ RX Vega 64 LE runs at about 34°C at idle but hit a max temperature of 70°C while running this utility. This card's GPU stayed cooler than a pair of GeForce GTX 1080 TIs and the reference design air-cooled Radeon RX Vega 64 Limited Edition. Even after overclocking the card, which we'll cover in greater detail later, the card still didn't get any warmer than 72°C.
Sapphire clearly invested a great deal of engineering into creating the NITRO+ Vega's cooler. The same cannot be said for most of the AMD-based graphics cards on the market today. This test proves that all that blood sweat and tears paid off in an impressive fashion. Regarding the noise output, this card remains quiet even under extreme synthetic and real-world game loads. The RX Vega 64 Liquid Cooled Edition I tested last year did exhibit occasional coil whine, most audibly in The Witcher 3, but I noticed none while testing Sapphire's card.