A Closer Look At The Sapphire NITRO RX Vega 64 »

It was way back in August of 2017 that I first got my hands on AMD's flagship, in the form of the limited edition Radeon RX Vega 64 Liquid Cooled Edition, and at the time I wrote that add-in-board alternatives from ASUS, GIGABYTE, MSI, XFX, and the like would be hitting store shelves by October. You can read Paul's review of the limited edition air-cooled RX Vega 64, here. Fast forward half a year, and although Add-in-Board partners have launched a handful of RX Vega-based graphics cards much later than anyone expected, they're hardly available, and the ones you can find for sale are still selling for significantly more than their suggested retail prices. We're confident that the situation will improve, cards will show up in greater and greater volumes, and prices will normalize, but we're clueless about when this will happen.
Until it does, however, we know there's a considerable amount of pent-up demand from gamers, and although Vega's first impression left something to be desired in late 2017, Sapphire has provided us an opportunity to get reacquainted with the headliner for AMD's Radeon graphics division.
Under The Hood
Before we tear into the box and get a look at this beast, let's touch briefly on the GPU and what makes it special. This is AMD's fifth-generation GCN (Graphics Core Next) architecture, and the second generation chip to feature AMD's High Bandwidth Memory. Compared to the R9 Fury Series, which first saw the light of day back in June 2015, this design boasts higher IPC (instructions per clock) and higher clock speeds. The RX 500 Series is actually considered a predecessor architecture, though these cards and the RX Vega 56/64 are being sold concurrently.
Highlights of the architecture include support for a larger memory address space, an integrated High Bandwidth Cache Controller, and enhanced Rasterization and ROPs. Rapid Pack-Math technology for 8-bit, 16-bit, and 32-bit numbers is another Vega catchphrase that effectively double rendering speed at the cost of some precision. AMD's Draw Stream Binning Rasterizer is a method that the new GPUs can utilize to cull pixels, particularly the pixels you'll never see, resulting in lower memory access and improvements in power efficiency. A sister technology to DSBR is referred to as Primitive Shaders, a technology designed to discard obscured polygons before they're ever rendered, which has the potential to dramatically improve geometry performance in games.
Just prior to CES this year, AMD confirmed that DSBR is currently enabled and works without game developers needing to program for it. The HBCC is also functioning, but the applications that require more than the 8GB of VRAM that both RX Vega GPUs come equipped with, are so few and far between, that there aren't many that benefit from this feature… yet. AMD claims that there are games that do support Rapid Packed Math, and the upcoming Far Cry 5 is one such example. The Next Generation Geometry Engine, the core pillar of which is the primitive shaders feature, will need to be integrated at the API-level, so we're talking about DirectX 12 and Vulkan, which are the two gaming APIs that are getting the most active development. This means that any performance benefits Vega enjoys due to this feature will not simply appear with the release of new driver update from AMD. It will take time. Fine wine anybody?
The GPU in this card is codenamed the Vega 10 XTX, and it's composed of 12.5 billion transistors manufactured on the firm's 14nm FinFET process. The chip measures 486 square millimeters, and there are 8GB of HBM2, in two 4GB stacks, situated below the GPU. It has also been confirmed that Vega uses AMD's Infinity Fabric as its underlying bus. Imagine a variant of Vega that includes multiple dies on a single substrate, CrossFire-on-a-chip if you will, it's entirely possible according to AMD. This card supports 12.7TFLOPS of peak performance, 484GBps of memory bandwidth, and 4,096 stream processors divided among its 64 Next Gen Compute Units. I'll touch on the GPU and memory frequency of the Sapphire NITRO+ RX Vega 64 later, but just know that it blows the 1,247MHz/1,546MHz base/boost clocks of the air-cooled reference design out of the water.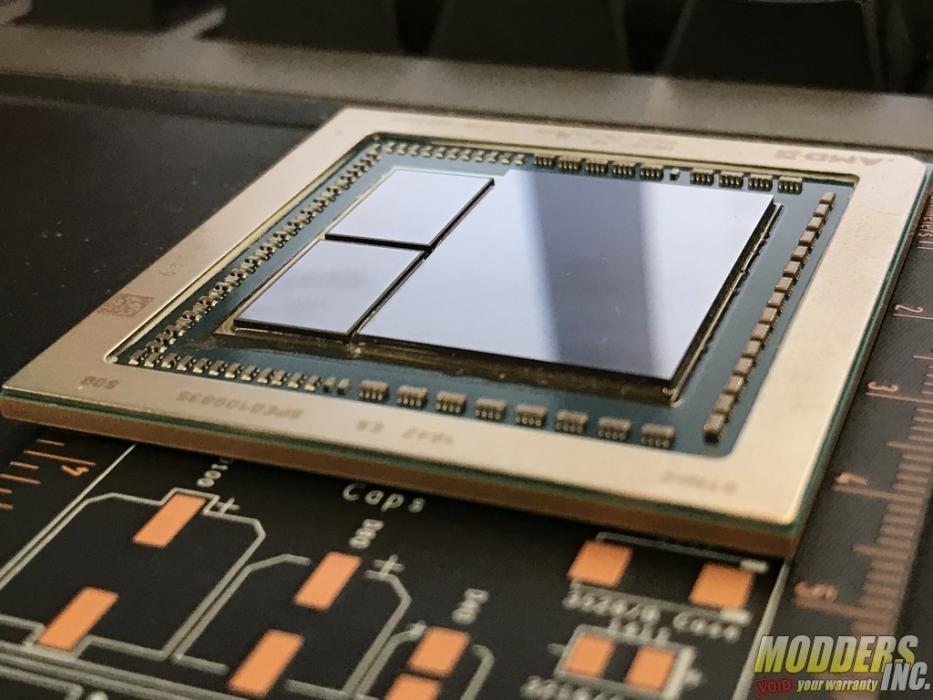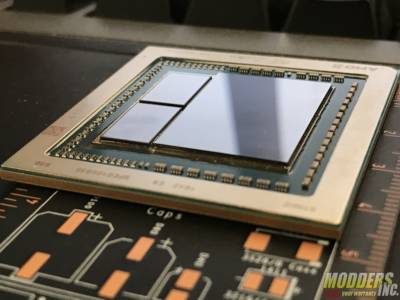 Review Sample Provided by: Sapphire
Product given in exchange for work done to produce this review.
Packaging
The box housing the Sapphire NITRO+ Radeon RX Vega 64 Limited Edition graphics card prominently features a distinctive battle-worn robot covered in plates of armor. This is the same mechanoid featured on the reference design RX Vegas with Sapphire's branding, but it's different from the slimmer-looking bot featured on Sapphire's RX 500 Series cards. In a fight, I imagine this one could probably reduce the other to slag in short order.
The NITRO+ in the card's name is in a larger font compared to the rest this card's rather wordy name. Other branding you'll find on the front of the box is AMD's RADEON RX Vega, with the 64 in superscript. There is a quartet of feature highlights listed here, including high bandwidth cache, Next-Gen Compute Units, FreeSync 2, and a Radeon VR Ready Premium. The stylized Vega "V" is below a circle informing us that the card features 8GB HBM2. There's also an HDMI logo and a badge that draws attention to the fact that the card supports a new Sapphire NITRO+ feature called Turbine-X Intelligent Fan Control, which we'll dig into later.
The back of the box offers a great deal more information. The first thing I want to point out is the Minimum System Requirements, in a grey box. If the back of the box follows the color convention established by the front of the box, then we can safely assume that these numbers are generally going to be the same across any RX Vega 64 you buy, and for the most part, this is true. You'll need a PCIe x16 slot; at least 8GB system memory (16GB recommended); Linux, Windows 7, or Windows 10; a 64-bit version of the aforementioned OS; and there's a URL where you can go to learn more about what VR Ready Premium means (amd.com/VRready). The interesting thing is the recommended power supply, which is 850-watts. The reference design air-cooled Vega 64s recommend a 750-watt PSU, so this is our first hint that Sapphire has done something unique here. You may be thinking that Sapphire's top-of-the-line Vega 64 is excessively power-hungry, but keep in mind, the AMD Radeon RX Vega 64 Liquid Cooled Edition has a face-melting 345W Typical Board Power rating and 1KW PSU recommendation.
In the Technology Features box are short descriptions of some of the GPU's architectural highlights:
"Next Gen Compute Units: These revamped nCUs (1 nCU = 64 stream processors) are designed to operate at incredible clock speeds and deliver extreme gaming experiences with the newest high resolution and high refresh rate monitors.
Revolutionary Memory Engine: State of the art memory system shatters the limitations of traditional GPU memory, to tackle the growing high res texture packs in today's games.
Optimized Pixel Engine: Optimized rasterizer technology enhances rendering efficiency and leaves more headroom to crank up quality settings while maintaining smooth 3D rendering.
Enhanced Geometry Engine: The enhanced geometry engine can efficiently process millions of polygons that make up your game, helping boost FPS."
AMD features listed on the back of the box include:
8GB High Bandwidth Cache (HBM2)
Radeon VR Ready Premium
Next-Gen Compute Units (nCUs)
Radeon FreeSync 2 Technology
Radeon WattMan
Radeon ReLive
Radeon Chill
3rd Gen FinFET 14
DirectX 12 Optimized
Vulkan Optimized
The Sapphire NITRO+ Features box lists a dizzying array of items, including extra overclocking headroom, enhanced TRI-X cooling, (three) dual ball-bearing fans, version 4 Black Diamond chokes, vapor chamber technology, NITRO Boost Overclocking, NITRO Quick Connect fans, NITRO Intelligent Fan Control III, NITRO Glow RGB LED indicators, dual VR Ready HDMI 2.0 ports, and Dual UEFI settings for Boost or Silent operation. Most of these items merit further explanation, but it's clear, Sapphire threw every last bit of its technological know-how into making this card.
Inside the plain cardboard inner box is the card, enclosed in a bubble wrap bag and encased in a thick-but-pliable black foam, with a 1/4-inch thick sheet of foam on top. There's a support contact card, quick install guide, support bracket install guide, and a Turbine-X install guide, which covers the basics of how to plug in a pair of PWM-controlled fans to let the Sapphire NITRO+ RX Vega 64 control the speed of those fans based on fan curves that can tap into five internal temperature sensors. This is not a feature everyone will find useful, but it is a nice option for those with cooling-constrained cases.
There's a long narrow opening in the foam below the card where Sapphire has stowed the "limited edition" support bracket and the pair of washers and extra-long screws that go with it. Graphics card sag is a real problem that mars countless otherwise stunning systems, so it's nice to see items like this becoming commonplace as add-ons. I also like that the rubber-nub that comes in contact with the graphics card is adjustable, just push the button and slide it to your desired position anywhere along the bracket's length. This lets you use the bracket with virtually any graphics card.
Specifications
GPU
4,096 Stream Processors
14 nm FinFET
1,423 MHz  Engine Clock
1,611 MHz Boost Engine Clock
Interface
PCI-Express 3.0
Memory
2,048 bit Memory Bus
HBM2 Memory Type
945 MHz, Effective
8 GB Size
BIOS Support
Dual UEFI BIOS
Displays
Maximum 4 Outputs
Output
2 x HDMI
2 x DisplayPort 1.4
Resolution
5120×2880@60Hz Pixel DisplayPort Resolution
4096×2160@60Hz HDMI Resolution
API
OpenGL® 4.5
OpenCL 2.0
DirectX® 12
Shader Model 5.0
Feature
FreeSync Technology, AMD Eyefinity, Dual BIOS, AMD Liquid VR Technology, AMD Xconnect ready, DirectX™ 12 Optimized, Radeon VR ready Premium, HDR Ready, Frame Rate Target Control, NITRO Fan Check, NITRO Quick Connect system, NITRO Glow RGB LED, NITRO CoolTech, Intelligent Fan Control III, Black Diamond Choke 4, Fuse protection, Precision fan control, Robust VRM Cooling, Radeon Chill, Radeon Relive
Cooling
Tri-X fans
Two ball bearing
Vapor-X chamber
Form Factor
3 Part Slot Occupied
310 X 133 X 54 (L×W×H) millimeters, 12.2 X 5.2 X 2.1 (L×W×H) inches
Power Consumption
OS
Windows 10 Windows 7
System Requirement
850 Watt Power Supply (Suggestion)
3 x 8-pin AUX Power Connector
PCI Express® 2.0 or higher version based PC is required with one X16 lane graphics slot available on the motherboard.
Specifications provided here are for guidance only. Please check with your regional distributor or dealer for latest specifications.
Colors of PCB or other components may differ from those illustrated.
SAPPHIRE reserves the right to update or revise specifications without prior notice.
All trademarks and logos are acknowledged as the property of their respective holders.