Page 2 »
The Sapphire PURE 785G AM3 is designed for AMD new Phenom II™ / Athlon II™ AM3 true quad-core/ triple-core/ dual-core processors and next generation graphics with high speed DDR3 DRAM module. Performance, scalability, and personalization are coupled with an innovative and efficient design incorporating new ATI Hybrid CrossFire technologies. The Sapphire PURE 785G AM3 based on ATI Radeon™ HD 4200 Graphics enables an exceptionally power-efficient platform at an incredible value.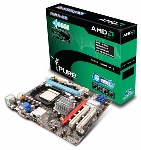 Sponsor: Sapphire
[hr]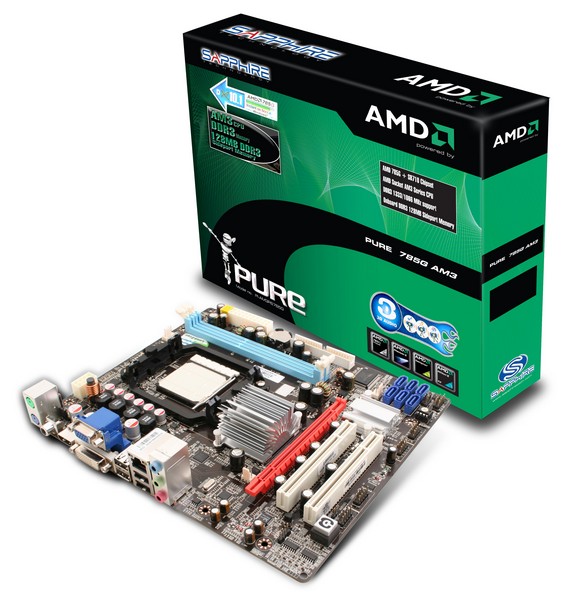 Today I am going to be looking at a new board from Sapphire tech. The board is a Micro-ATX AM3
socket
 board from Sapphire with the "Pure" moniker. I was excited that not only was this board of the Micro form factor but also a "Pure" motherboard. I had one of the original Pure motherboards back in the day and was a huge fan of it's style and overclocking abilities. I was excited to see if this same would hold true in a smaller form factor as well. The specs are off to a good start with the 785G chipset paired with an onboard Radeon HD 4200 with DX10.1 support. The Pure 785G also supports up to 8GBs of DDR3 1333/1066 Ram and has both a 16x PCI-express slot and two legacy PCI slots for expandability. I'm thinking this board will be excellent for either a compact gaming machine or a quick and easy Media PC. The Audio is an onboard ALC662 6-Ch HD audio with 3D Audio capabilities. Also onboard is an integrated 
Gigabit LAN
 connection. All this provides an impressive base to start off for a Media Center or Small Form Factor Gaming setup. For More detailed information of the boards look below. I have provided a layout of the specifications directly from the Sapphire site. Enough with the introductions I'm ready to dig into this board so lets move ahead for a closer look.
Specifications:
AMD Phenom™ II AM3™ Quad-Core Processors with True Quad-Core Technology
   1. Smoother faster experience, even when running complex software application with native.
   2. Multi-Core Technology
   3. Scaled performance to conserve PC power with HyperTransport® 3.0 Technology
   4. Hear your music, not 

your PC

 with AMD PowerNow! ™ Technology (Cool'n'Quiet™ Technology)
   5. Prevent the spread of certain viruses and strengthen your network integrity with Enhanced VirusProtection  (EVP)
   6. With DDR3 memory controller to expend memory bandwidth and upgrade higher speed
AMD™ 785G Chipset: Backbone of the Performance Platform
AMD HD4200 redefine the Way You Play. Enjoy awesome gaming performance for the mainstream PC with stunning visual effects and dynamic interactivity with Microsoft® DirectX® 10.1. ATI Stream technology enables AMD graphics processors, working in concert with AMD Processors, to accelerate many applications beyond just graphics. This enables superior balanced platforms capable of running demanding computing tasks fast. Get a smooth and amazingly visual PC experience for Microsoft® Windows® 7, with support for features such as "Aero Shake", "Aero Glass", "Transparent Windows" and more!
Energy Smart
ATI PowerPlay™ and AMD PowerNow™ 3.0 with Cool n' Quiet™ technologies give you maximum performance when you need it, and save power when you don't, while delivering a superior "Green PC" experience..
ATI Avivo™ HD
   1. Dedicated unified video decoder (UVD 2) for H.264/AVC and VC-1 video formats to HD playback of both Blu-ray and HD DVD formats
   2. Hardware MPEG-1, MPEG-2, and DivX video decode acceleration
   3. ATI Avivo Video Post Processor to
      ■ Color space conversion
      ■ Chroma subsampling format conversion
      ■ Horizontal and vertical scaling
      ■ Gamma correction
      ■ Advanced vector adaptive per-pixel de-interlacing
      ■ De-blocking and noise reduction filtering
      ■ Detail enhancement
      ■ Inverse telecine (2:2 and 3:2 pull-down correction)
      ■ Bad edit correction
 

CPU

Supports AMD Socket AM3: AMD AM3 Series processors

Chipset

AMD™ 785G Chipset + AMD™SB710 Chipset

Hyper Transport Bus

HT 3.0

     Integrated Graphics Processor

ATI Radeon HD 4200(Support Microsoft DX 10.1)

Memory

2 * 240-pin DDR3 DIMM slots
Supports DDR3 1333/1066 non-ECC ,un-buffered memory
Max.8GB 

Expansion Slots

2 * 32-bit PCI Slots
1 * PCI Express 2.0 x16 slot @16-lane 

Storage

AMD™SB710 Southbridge Chipset :
6 * Serial ATA2 3Gb/s connectors
Supports HDDs with RAID 0, 1,JBOD Functions
1 * Ultra DMA 133 / 100 / 66 IDE Connector

Audio

Realtek ALC662 HD Audio CODEC with 6-Channel

Ethernet LAN

Realtek RTL8111DL PCI Express Gigabit LAN

USB

Embedded 8 * USB 2.0/1.1

Special Features

Advanced Power Design that supports the latest Socket-AM3 CPU 
3D Audio technology with onboard button 

Rear Panel I / O

4 * USB 2.0/1.1 ports 
1 * PS/2 mouse port
1 * PS/2 keyboard port
1 * VGA port & 1 * HDMI port & 1 * DVI port
1 * RJ-45 port
1 * SPDIF_Out port
1 * Audio I / O ports 

Internal I / O

2 * USB 2.0/1.1 headers for 4 USB 2.0/1.1 ports
CPU / Chassis Fan connectors
1 * 8-pin ATX 12V Power connector
1 * 24-pin ATX Power connector
1 * COM header
CD / AUX Audio in 
Front panel audio connector
1 *HDMI_SPDIF_OUT header 

BIOS

AMI DIP socket removable flash BIOS EEPROM

Form Factor

Micro ATX Form Factor (210X245 mm)