« Page 4
Conclusion
I will have to say that I was a bit taken when I got the email that the 5700 series cards would be coming out in a few days. I mean the 5800 cards have just barley gotten their feet wet and now the mid range cards are here. I am wondering if they are trying to get an early start on the holiday season buying? Some people may have to start now to make sure that they can stretch their holiday dollars because of the economy or maybe they have something else in mind, who knows.
The Sapphire Radeon 5750 did perform much better than I had expected it to. When comparing it against the 4000 series cards we could see that it was a very nice jump in performance, while others stayed very close to the new mid-range low end card. But is it worth the upgrade? I would have to say that if you are on the lower end of the 4000 series cards then yes you need to get it. If you happen to be in the 4800 level then I would say does the new features means enough for you to upgrade.
I also did my normal game testing by jumping in and playing my favorite games to get the real life feel . I found that I did not need to change any of the settings I had already had in place and that they all ran smooth.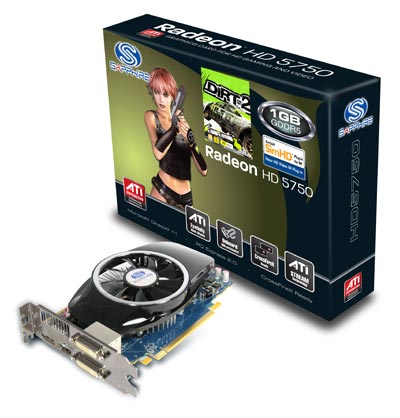 The ATI Eyefinity technology, ATI Stream technology, and the full support for Microsoft DirectX® 11 does make this a card and the 5000 series of Radeon cards a very desirable card to have. The idea of 3 monitors alone makes me think that it could be a very fun card to play with.
Pros

---

Cons

---

+Price
+Performance
+ATI Eyefinity
+DirectX 11
+DVI X2, HDMI and Display Port
– Would have like to seen the cooler push air out the back.