Page 2 »
The BUC comes in from InWin as a member of their "Destiny Lite" series. A lower cost of entry into this line will make this class of enclosures more accessible. What is a BUC capable of? What is a BUC, for that matter? And how well does it work managing your hardware? Let's answer these questions and more, shall we?

Sponsor: In Win
[hr]
To BUC… or not BUC… that is the question….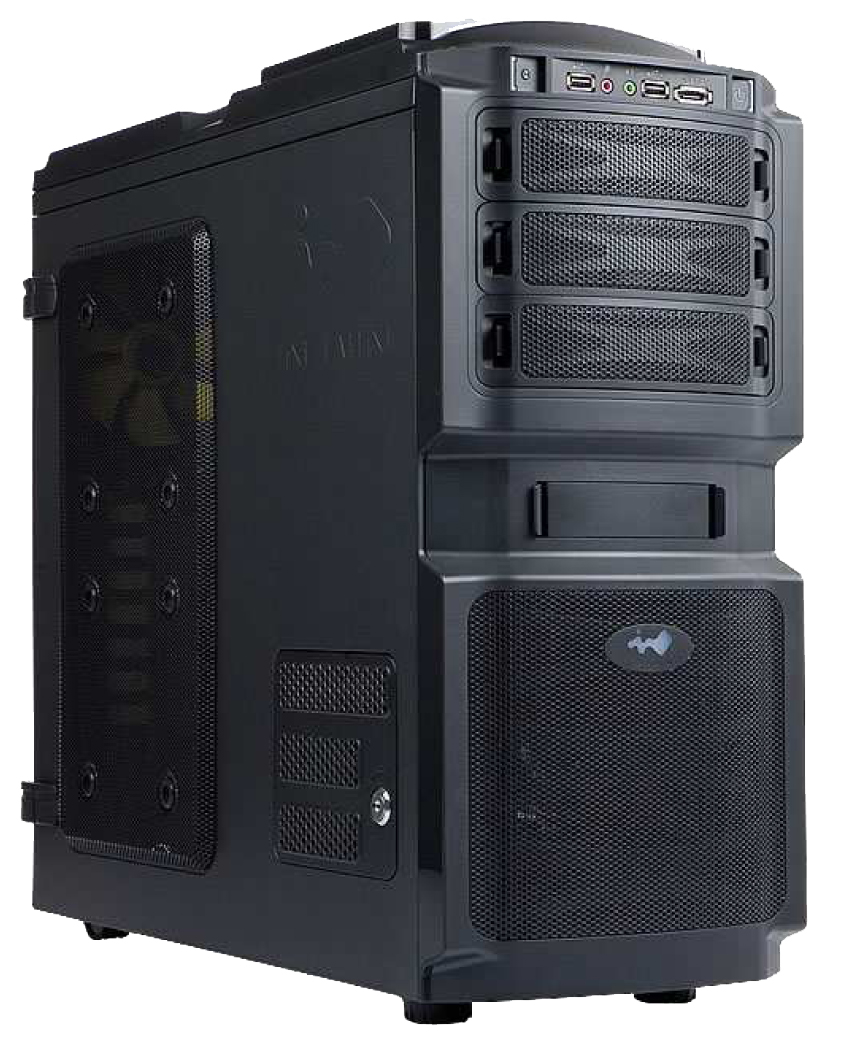 In Win has been been in business sine 1985, using the slogan "Contemporary and Innovative", they have served the computer community for years with well thought out cases. Now they have started expanding their case offerings into the enthusiast/gamer market with several new series of chassis development. The BUC we have here today comes to us from their "Destiny Lite" series, a set of cases with a lower price point set to allow for an easier purchase. The case color is a consistent matte black all through out the case. 
The BUC name is a bit of a mystery, but thanks to the wonders of Facebook (their Facebook page is here), they had a contest to give the moniker some meaning! So, here we have the "Blast Unit Commander". The machine does have a rather military-esque styling to it, so the name seems to have a good fit. :) 
It is a mid tower sized chassis, that In Win posts the following information about:
Built with a strong "shield" concept at heart, the BUC's core is echoed across its front panel design, in strong SECC steel construction and a hard-wearing and stylish black interior and exterior. With the clever EZ-swap HDD drive bay and a lockable door, it allows access to three HDD without having to remove the whole side panel, while the tool-less, vibration reducing drive bays complete the package to yield a triple innovation from In-Win. The convenient Super-speed USB 3.0, USB 2.0, audio and eSATA ports on the top of the chassis allows users to easily connect headsets, cameras, cell phones, external hard drives and a wealth of other devices with ease. Finally, two integrated 120mm and several extra fan positions give it excellent cooling potential for all the latest performance hardware as well. With core design innovations, support for the latest PC hardware and a high quality of construction, the In-Win BUC PC chassis is a great choice for PC builders worldwide. "
Product Specifications from their site:
M/B Form Factor: ATX/ Micro-ATX
Case Size: Mid Tower
Dimension(HxWxD): 485 x 210 x 506 mm (19.1″ x 8.3″ x 19.9″ )
Power Supply:ATX 12V PS/2
Drive Bays:
External 5.25″ x 3*, 3.5″ x 1, 
Internal 3.5″ /2.5″ Device Converter Cage x 5 (Hot-Swap Module x 4)
Front I/O: USB 3.0 x 1; USB 2.0 x 2; HD/AC'97 Audio; eSATA x 1
I/O Expansion Slots: PCI-E/PCI/AGP Expansion Slot x 7
Thermal Solution: 140mm Fan at Top and Front, 120mm Fan at Rear, Optional 120mm Side Fan x 2, Water-Cooling Hole Ready
It seems good and ready to house your beloved components.