PC Power Supply
Silverstone Strider Platinum 750W ST75F-PT Overview and Pin-out Guide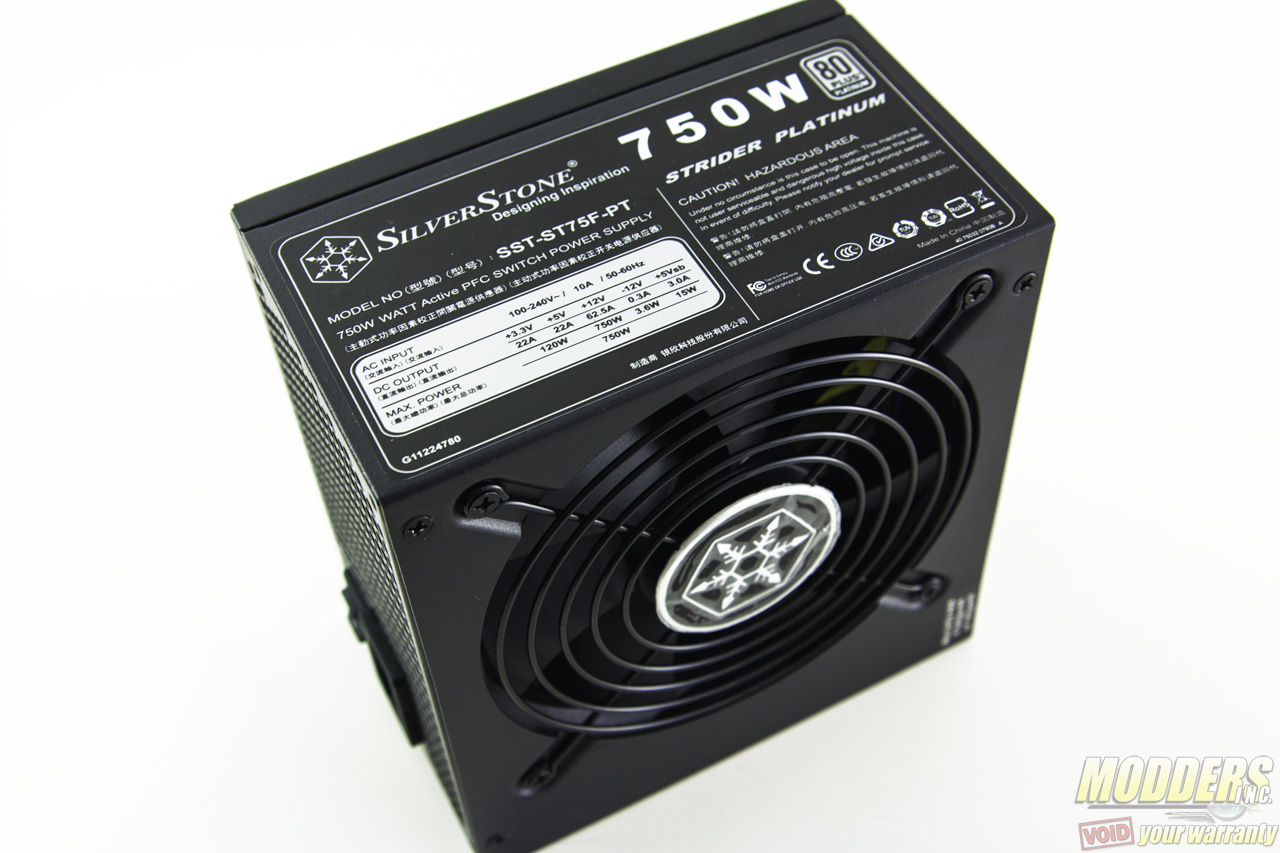 SilverStone's strategy when it comes to power supply recently has been to squeeze as much power in a compact space as they can. They were early in the market with their SFX form factor power supply units and many of their competitors are now playing catch-up in that regard. They have also been focused on providing increased efficiency per volume on their ATX form factor power supply units. This involves not only getting a higher 80-Plus rating but sticking to a compact size as well within the ATX form factor standard.
A 750W version from Silverstone's Strider Platinum series was on display at CES at the beginning of 2016 but by the time Computex came around in June, Silverstone added three more higher wattage units to the Strider Platinum line that boast even higher power density. The ST75F-PT Strider Platinum 750W unit itself is already fairly impressive packing 80 Plus Platinum rating on a 415W-per-liter package and is a great well-rounded option in the Strider Platinum line. Like the rest in the series, the ST75F-PT is fully modular and come bundled with flat black cables.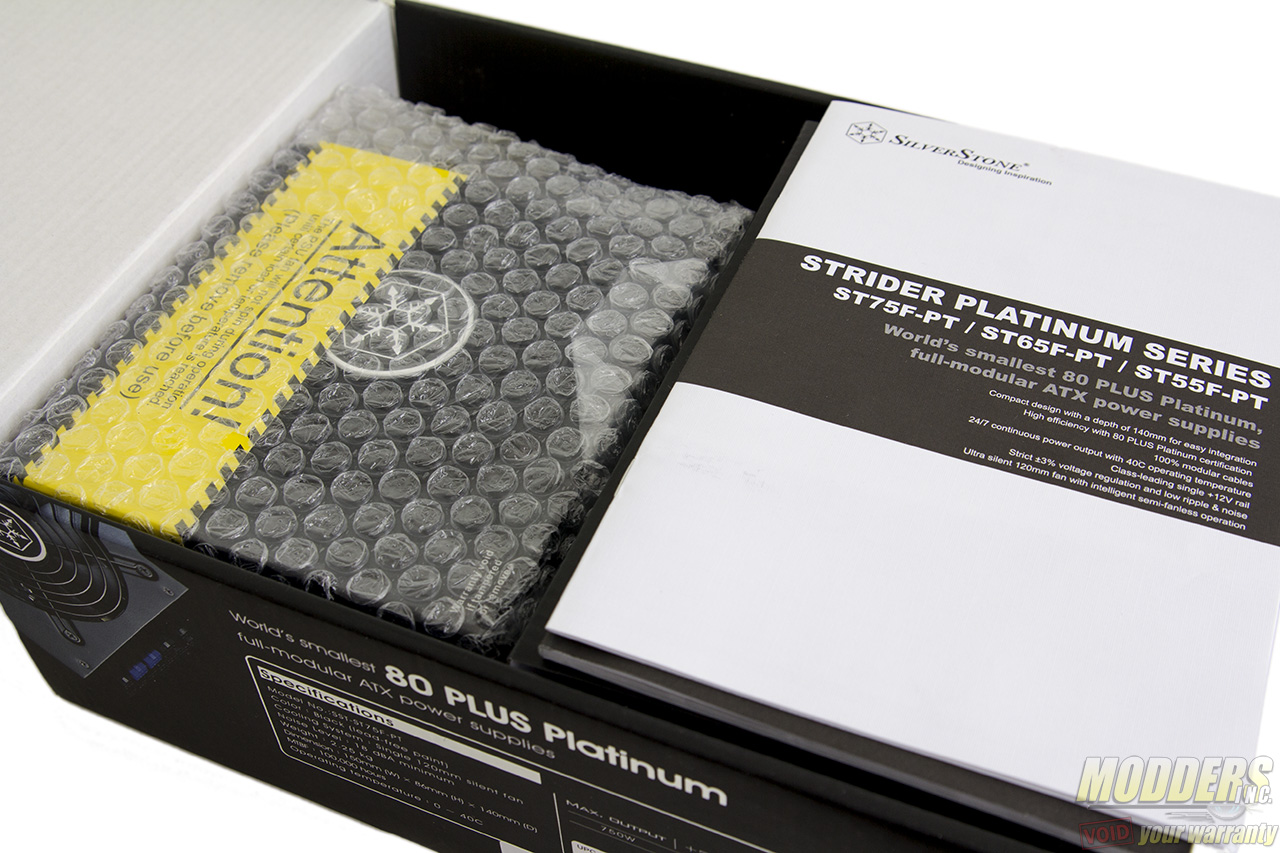 The packaging format is fairly standard although it adds bit of flair with the fancy platinum accents externally, separating the highly rated unit from common rabble. Inside, the ST75F-PT is packed in a bubble wrap bag while the cables are partitioned on the other half of the box. Two documentation booklets are available inside as well as mounting screws and cable management accessories in the form of four velcro straps and four zip ties (in matching black of course).
The cables are all black and flat, including the 24-pin.
As is standard of an ATX power supply the Strider ST75F-PT measures 150mm wide and 86mm tall. What makes it unique is its compact 140mm length which is extremely convenient when assembling a system because it presents the least clearance issue out of any ATX power supply there is. The Strider units have fans that do not spin under low loads so a large notice is included on the fresh packaging so that users do not clamor for an RMA when they think the fan is not working.
The rest of the ST75F-PT's aesthetics are utilitarian having a simple Silverstone stamp at the top and an information sticker on the left side. It looks otherwise plain and even has exposed screws, so at least maintenance and modding is much easier.  The 120mm fan is mounted offset towards the left side and uses a rounded wire grill with a Silverstone logo in the middle. Exhaust is located only at the rear with a full coverage large honey-comb mesh.
The load table on label reads:
+ 3.3V
 +5V
 +12V
 -12V
 +5Vsb
22A
 22A
 62.5A
 0.3A
 3.0A
120W
750W
 3.6W
 15W
 750W
Disassembly for modding begins by simply removing the screws on the fan-side of the ST75F-PT. The void sticker is in one of the corners and modding the PSU of course voids this warranty. The 120mm fan is attached via a 2-pin connector header and there is some glue in there that the user must remove first. The actual top plate of the power supply enclosure otherwise comes off completely and if this ist he only part that will be modified, it is ready to be painted.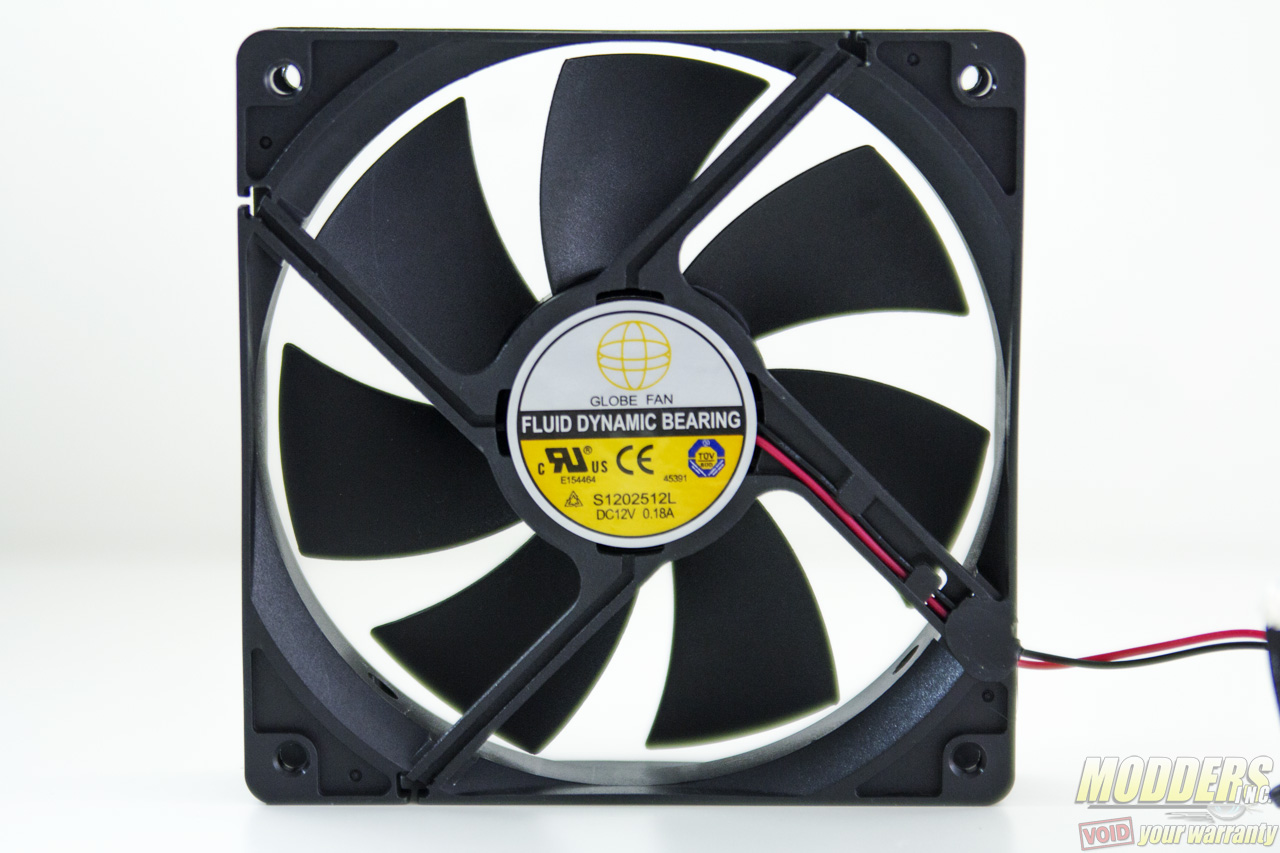 The 120mm fan uses fluid dynamic bearings which is great for its quieter operation and longer lifespan compared to a sleeve bearing fan. Max RPM is just under 1500RPM and remains completely idle under 15% load. Under 70% load, the fan remains under 1000RPM so it remains quiet under most operation.
Underneth is a High-Power/Sirfa design similar to the the previous Strider Gold series. The primary side uses half-bridge topology and LLC resonant converter. The secondary side uses synchronous rectification and DC-to-DC converters. A single Rubycon MXG 400v 560uF electrolytic rated at 105C is used for the primary cap while the secondary side uses a combination of Nippon Chemi-con and Teapo capacitors.
All the wires are conveniently color-coded (with colored shrink-wrap tips) so it is easy to take apart and re-house if needed for a mod. For the most part, if repainting the housing, disassembly requires minimal desoldering near the line filtering and the rest of the screws are actually accessible from the outside of the unit.
Cables Included and Pinout Guide: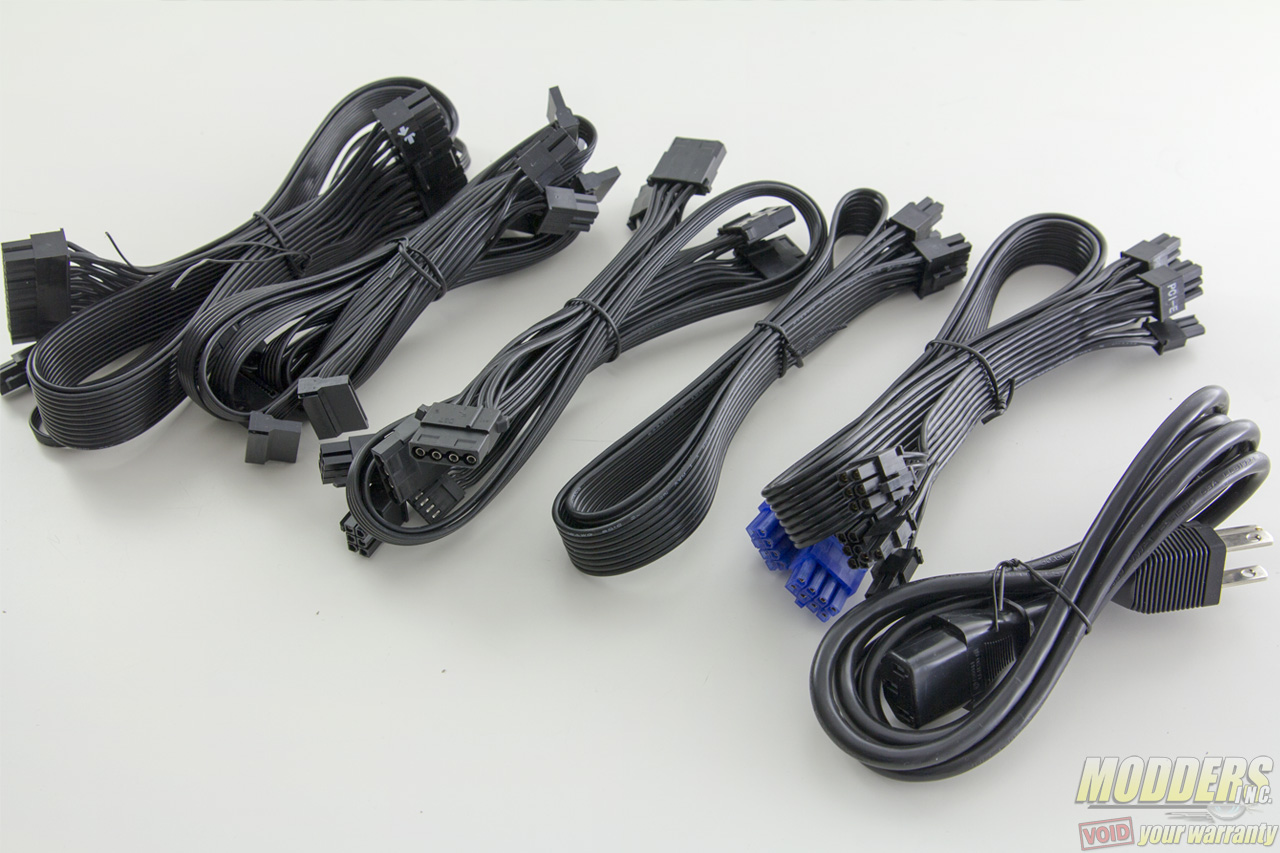 | | | | |
| --- | --- | --- | --- |
| Cable Type | Connector count | Measurement | Notes |
| 20+4-pin motherboard with sense connector | 1 | 550mm (580mm for sense cable) | Has sense connector leading back to PSU |
| 2+2-pin EPS/ATX 12V | 1 | 750mm | |
| 6+2-pin PCIE | 4 | 550+150mm | Connector header is color coded leading back to PSU |
| SATA | 4 | 600+150+150+150mm | |
| SATA | 4 | 600+150+150+150mm | |
| 4-pin Peripheral+Floppy | 3+1 | 600+150+150+150mm | |
| 4-pin Peripheral+Floppy | 3+1 | 600+150+150+150mm | |
There are two connectors for Floppy and both of them are hardwired into the MOLEX cables instead of as an adapter. Connectors are 1-to-1 similar to previous Silverstone Strider series PSUs.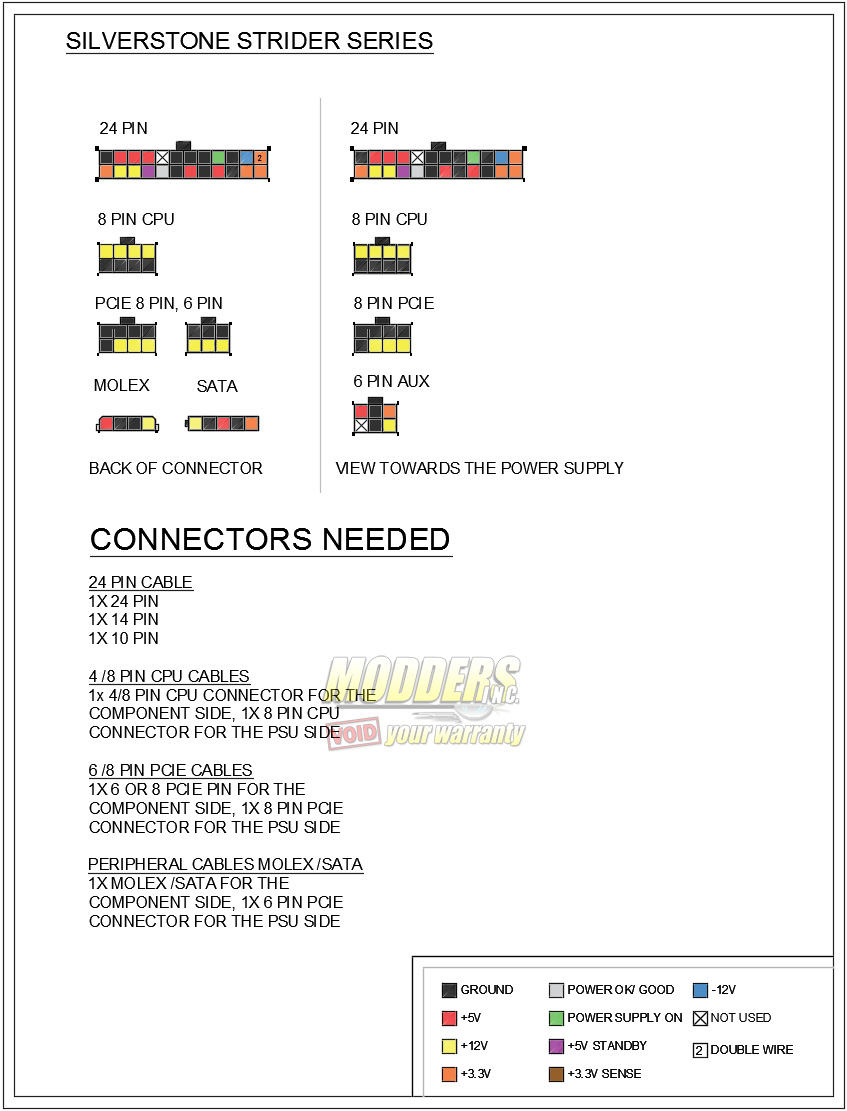 *Modders Inc, is not responsible for any damage that may occur during the process of voiding your warranty to either the user or components. Please exercise caution when dealing with power supplies, as they can discharge even after being unplugged.
OklahomaWolf from our sister-site JonnyGuru has published a review of this particular unit for those interested, which you can read following this link: Silverstone Strider Platinum 750W Review where it received a total score of 8.1/10.