PC Power Supply
be quiet! Dark Power Pro 10 850W 80 Plus Platinum Modular PSU Overview
Page 2 »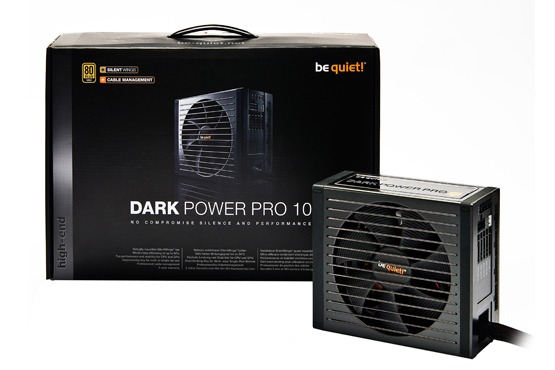 With this review we will be looking at the be quiet! Dark Power Pro 10 850 Watt ( Model Number BN603). be quiet! is a premium brand manufacturer of power supplies and cooling solutions for your desktop PC. be quiet! products are convincing which is proved by reaching and defending the market leadership in the computer power supply  business in Germany since 2006.
[sc:power_supply_testing_disclaimer ]
Legendary Silence, Cutting Edge Performance Dark Power Pro supplies are already renowned as the world's quietest PSU (Power Supply Unit) in the high performance category. The Dark Power Pro 10 850W model takes that a giant step further with an all-new design topology that delivers 80PLUS Platinum performance, the world's highest energy efficiency certification. Add to that an unparalleled array of enhancements that augment this unit's compatibility, convenience of use, reliability, and safety, and the result is simply a power supply without equal. Simply put, this is the highest-powered, most technologically-advanced power supply be quiet! has ever built.
Virtually silent operation achieved through a broad array of meticulous optimizations, including use of be quiet!'s custom-designed 135mm SilentWings® fan
SilentWings fan features airflow-optimized fan blades, fluid dynamic bearing with copper core and high quality IC motor controller for the quietest possible operation
80PLUS Platinum certification and up to 94% power conversion efficiency let you do more work with the same power and reduce your power bills
850 Watts of continuous power provide deep power reserves for demanding computing applications
NVidia SLI and AMD CrossfireX multi-GPU certifications allow you to build intense Quad-GPU systems with utter confidence
Cable management with extra long cable reach simplifies component installation and reduces annoying clutter, increasing airflow and improving cooling in even the largest PC cases
Overclocking key allows switchover between quadruple independent +12V rail mode and high-performance single-rail operation
German product conception, design and quality control
FIRST LOOKS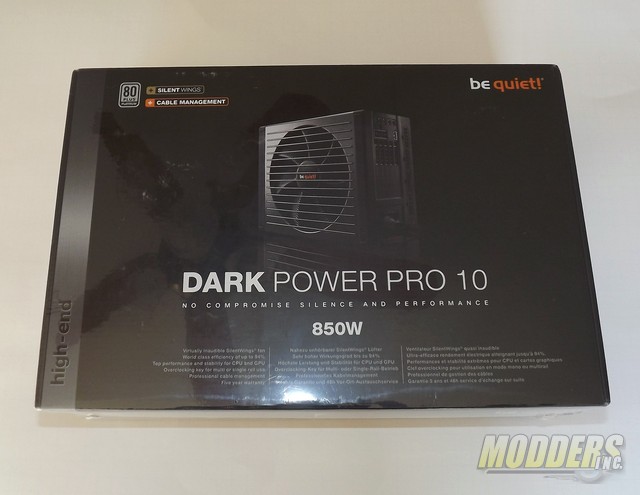 Packaging is well sealed, heavy with plenty of information about the product.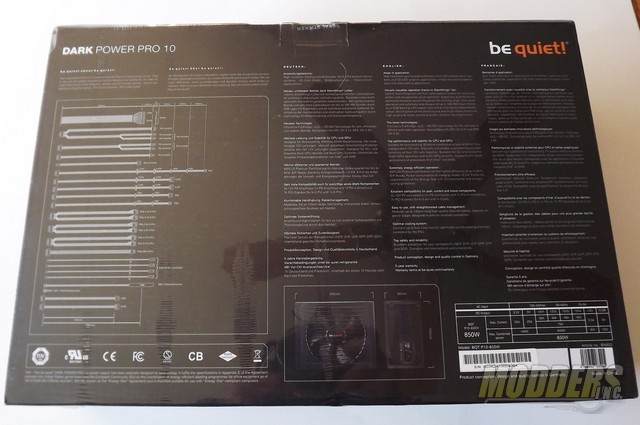 On the rear of the box is an impressive "UBER" presentation of information. A graphical schematic of every cable included not only each length but each connector and length between each. Image of both top and side of  the PSU with measurements,  the AC/DC power and rail ratings. Multiple languages breakdown the Claims above in detail with more supporting information on each.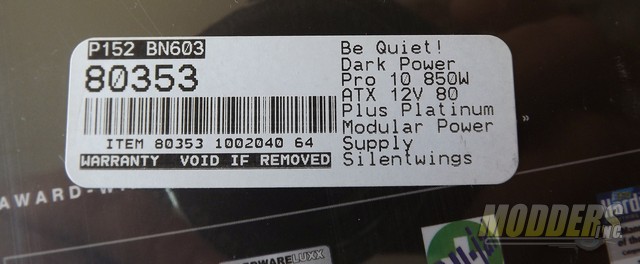 Model is BQT P10-850W, S/N 603K2410004064, Product conception, design and quality control in Germany, Made in China.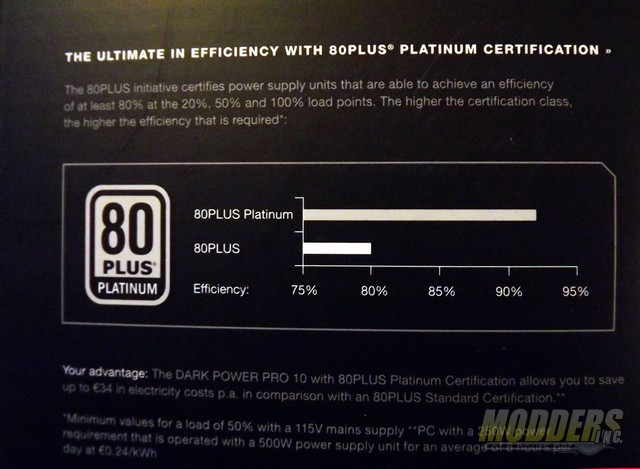 The side panel of the Dark Power 10 boasts 92-93% efficiency giving it a Platinum 80 Plus rating which is not an easy achievement to reach.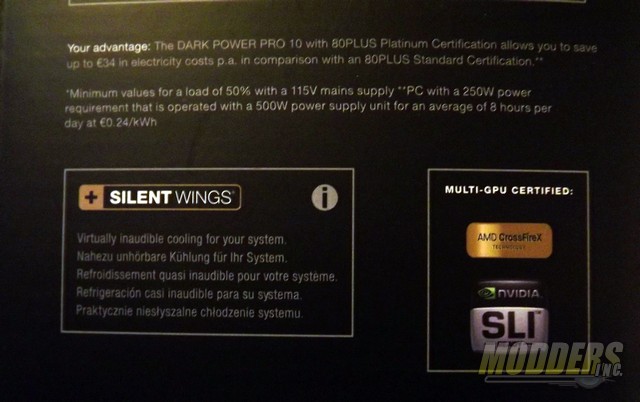 Same side also claims to have special cooling with a fan called Silent Wings that's virtually inaudible and that it's SLI and CrossFireX certified.