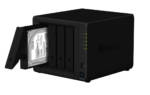 Synology announced the launch of their newest multimedia center NAS, DiskStation DS418play. The Synology DiskStation DS418play is a 4 bay NAS which is highly oriented towards streaming media an has all of the potentials to act as a media center.
Equipped with a powerful dual-core processor that can burst up to 2.5GHz and 2GB DDR3L memory (by default) can provide all of the performance for any task.  If multi-tasking you are after then the RAM could be expanded up to 6GB to give you that extra boost in performance. Transcoding is done by hardware that supports up to two channels of H.265/H.264 4K video.
"Mobile devices supporting 4K video recording are becoming increasingly popular. However, since 4K video clips are capacity-consuming and not all TVs at home support 4K video playback, users tend to record videos with lower resolution as an alternative," said Michael Wang, product manager at Synology Inc. "With DS418play supporting up to 40TB of raw capacity, users can store their favorite videos in ultra-high definition, organize and share videos with families and friends effortlessly, and transcode videos on-the-fly to allow video playback on devices that do not support 4K."
DS418play can also be used as a traditional NAS providing AES-NI hardware accelerated encryption.  Encrypted data transfer throughput is measured at over 226MB/s read and 185MB/s write.  Users' digital assets are protected by AES-256 encryption, which allows them to enjoy high-performance data transmission.
DS418play is powered by DiskStation Manager (DSM 6.1) with advanced yet intuitive features that run Synlology NAS devices.  Various applications are available to download and use to enhance work productivity.
Synology has received numerous media accolades, topping the mid-range NAS category in TechTarget's storage solution survey and winning PC Mag Readers' Choice seven years in a row.
For more information on DS418play, please visit https://www.synology.com/products/DS418play
Check out the other DiskStations that Synology has to offer at