Modder Alias: 6-Bolt
Real name: Darren Bertanzetti
Age: 35
Live: Thornton, CO
Occupation: Electrical Engineer for AMD
Years in Computers: 27
Length of time Modding: 1 year and 2 months
Modded cases: Temple of Fusion
Website: www.templeoffusion.com
M-I -I want to thank you for agreeing to our interview and congratulation on winning the Featured Rig of the Month here at Modders-Inc.
Everyone has a story of what got them into Modding. What or whom got you into Modding?
6-Bolt – I grew up with a Commandore64 and loved gaming on it. Eventually my Dad got an IBM clone and I have been into computers ever since. When I graduated with an Electrical Engineer degree from the Colorado School of Mines, I gladly took a job with Intel. I got to work on many desktop chipsets. This is when I got into overclocking and performance computing. I was always reading Tom's Hardware page and one day saw an article about a custom modded case. I loved what I saw and wanted to do a custom modded case one day, but I had a lot of other goals at the time. Another goal that I had was working on a car. I wanted to use a wide body kit to change the style of the car. I wanted a unique looking car and have it look like it was a custom made car. The same thing went for the computer cases.
I was building a 97 Eagle Talon TSI AWD when I got sick. It turned out to be cancer, and I eventually couldn't work on the car. The chemo did nerve damage to my face, and I suffered from chronic pain 24/7. I wanted to work on a project, but the car was out of the question. Going back to my goal list, I wanted to do a custom high performance computer with a custom modded case. At the time I was working for AMD, and decided I wanted to try to get sponsored. I talked to the marketing guys at AMD, and they help me and I came up with the design and wrote out a proposal. The rest is history.
M-I -Where do you get your inspiration for your mods?
6-Bolt – My inspiration came from three places. The first was getting the optimal performance out of the computer and decided to go with water cooling. I didn't want to hide the radiators in the case because of getting the best air flow on the fins of the radiator. Also, I wanted to do a dual loop system since I was going to have 2-4 GPUs in Crossfire.
The second is my love for ancient cultures, with my favorite being the Roman Empire, and Egyptian and Greek history being a close second and third. I knew that I wanted to do an ancient culture theme, so I drew out a temple with the radiators up front. The radiators looked like towers, and the idea came to me to make the towers into obelisks. I drew pyramid on the top of each tower, and I had my design. I added in the doors and decided to use the FrozenQ Double Helix reservoirs to give it an ancient technology feel.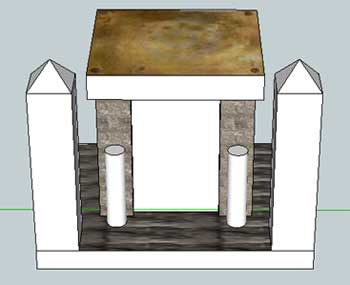 The third influence was the Steampunk culture. I didn't know what is was until I went to Comic-Con two years ago. I loved that Steampunk includes wanted to make unique items with high quality. This called to me since I wanted to have unique items, like the car with a wide body kit. I used a lot of brass in the project, because of Steampunk. I learned how to etch the metal from a Steampunk website. The brass really makes the computer project. With all the brass edging and etched plating, it made the case shine. 
M-I – What were the thoughts behind the winning mod?
6-Bolt – My immediate thought was validation of my work. It is a good felling that people liked what I did and hopefully I inspired people to do different things with their projects. I would love to see what people can do with metal etching for the future. There was a lot of work for this project, and I was glad that my hard work and determination paid off. Hopefully people saw my struggle and learned that you can do project like this. If I could do it, then anyone can do it.    
M-I – Why did you do it the way you did?
6-Bolt – When I start a project, I go to the max. It is not an ego problem, but I want to learn everything about the project. When I started working on the car, I bought and read text books on car mechanics and body work. I wanted to do the engine, wide body kit, car audio system, turbo system, AWD system, and ECU programming.
So when I started the Temple of Fusion, I went all out too. I wanted to learn how people got sponsored. I had my foot in the door working for AMD. I was able to talk to the marketing division at AMD and learned what was needed. I wrote out a proposal and AMD sponsored me. The first placed I went for the liquid cooling sponsorship turned me down. I emailed EK Water Block about a sponsorship and they told me to send them the proposal. I knew I was on the right track when EK said it was the best proposal they saw. I was sponsored by AMD and EK Water Blocks, and it was great feeling to get sponsored.
Now the real worked began. I worked every weekend, and updated the project site (www.templeoffusion.com). I was still not in the best physical shape, but happy I was working on a project again. Then my health took a dive and progress was slow. However, I still worked on the project. There were some weekends I only worked an hour or two. I was not going to quit, no matter how much pain I was in.
I read comics and have seen Superman and Captain America get up after a fight, no matter how hard they get hit. I felt like this many times. I was not going to give up. I didn't matter how many times I had to pick myself up and get my butt into the garage.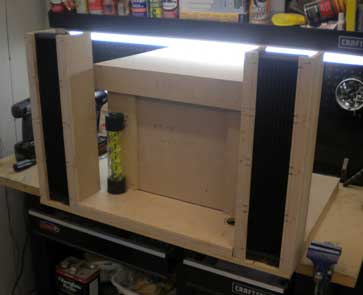 M-I – What do you think was the hardest part about the mod?
6-Bolt – The hardest part on the project was getting the metal etching process working. I made mistakes and learned from them. I got it down after awhile. Even used the pitting to make the brass look old. The Egyptian hieroglyphs are one of the key features on this mod.   
M-I – Did it turn out how you thought it would?
6-Bolt – Besides the time issue, the mod turn out on how I wanted it. It looks amazing with all the shiny brass and the metal etching. The inside with the brass boxes and the tubing makes it awesome.
I had a few goals for the mod. One is to keep the noise level down. After owning a P4, I had to put an extra six fans in the case to make it not overheat while playing games. This made sound a major issue for me. I wanted to minimize the sound and only wanted fans to be on the radiators. I bought the best quiet fans that I could for the radiators. Then I made everything in the computer liquid cooled. I bought special liquid cooled RAM, PSUs, and hard drive blocks to make this happen.
The second goal was to make a high performance computer with Quad Crossfire. Since the board I had only included two fully populated x16 PCIe2 slots, I went with the two AMD 5970 dual GPU cards. These cards are the main reason why I got two 1000w PSUs. When overclocking these cards, they produce a lot of heat. The two loops are needed for optimal performance. Also the two PSUs safeguard the case for future computer hardware. When Ocho Crossfire comes out, I will be ready. Having an AMD 6-core Black Edition help a lot.
The third was to make the best temple and obelisks I could build. I wanted a high quality mod. I researched how to build models and made a couple trips to the model train stores to pick up the supplies. I got the veneers and most of the paint from the model train stores. The stone paint is not paint at all, and is actually brown shoe polish. I learned this trick from a model fan site. I mention before, Steampunk had a big influence on the obelisks and the temple's doors. Learning how to metal etch was a great experience.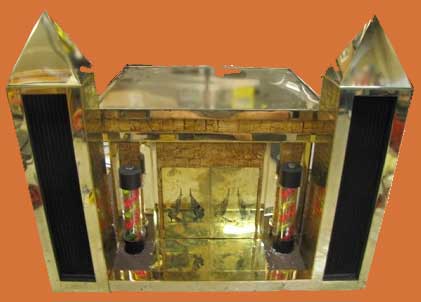 M-I – Is there anything you might have wanted to do different?
6-Bolt – I missed out on two things with the case. The first was the drawer idea that I had. I wanted to have the back pull out for easy access to the computer inside. This would have been great to have, but I had to cut it out for time constraints. It would take some engineering with the tubing and the brass boxes inside.
The second thing was not using the Egyptian molds for finer stone work and Egyptian accents. It was going to take a lot of time to make the molds and paint them. I decided it didn't have enough return on investment and went with more brass edging.    
M-I – How much time did you spend on the mod?
6-Bolt – This is a hard question to answer. It looks like it will take me about one year and three months to fully finish this project. This is with getting the liquid cooling system working, computer booting, and all the brass sealed with a lacquer. However, I was really impacted with my medical problems. I don't know how long it would have taken if I was fully fit. But then again, it was my medical problem that made me stop working on the car and start the computer project.
In the end, this project turned out to be more than just a mod. It became my carrot on a stick to get me moving and have something to work on. During the build, I had to take my second medical leave of absence from AMD, the first was when I went through chemo. This was due to the chronic pain I had from nerve damage in the face. The pain killers stopped working and I was in horrible pain 24/7. This hit me really hard. I love my work and take great pride in it. The mod became a symbol on how I fought against the pain. It took so much away from me and I put my foot down with this mod. Even working on the case for 30mins a week was a victory for me. Now I can't wait to get this computer booted up and play some games with maxed out settings. So when I am taking out a zombie horde or saving the Universe, it's me giving the finger to cancer, pain, and all the trips to the ER.    
M-I – Do you have another project in the shop or in the planning?
6-Bolt – Now that I am getting better, I plan to get back to the car. But I do have to say that I do have the modding bug. I have two mods that I would like to do. The first mod being a medieval castle. I could use the molds I got for the stone work. The second one would be Cthulhu on the island of R'lyeh. I could use a model of Cthulhu and have weird geometry of the island. Then I could use one to two fanned radiators sunken into the geometry. The temple theme could be done with weird writing using metal etching again. It would look weird, but I love H.P. Lovecraft's writing. I have to say I would do the Cthulhu mod before the medieval castle.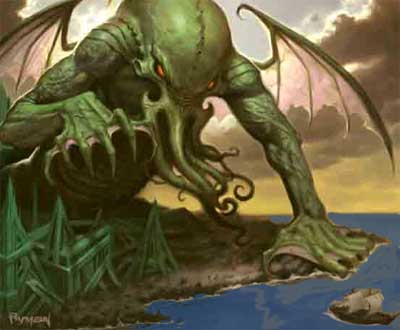 The Cthulhu
Take look at the Worklog