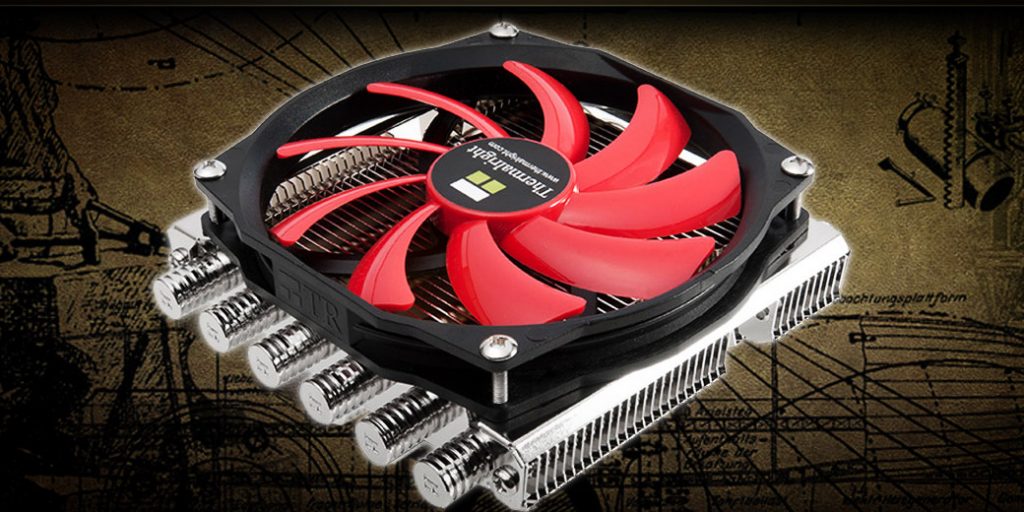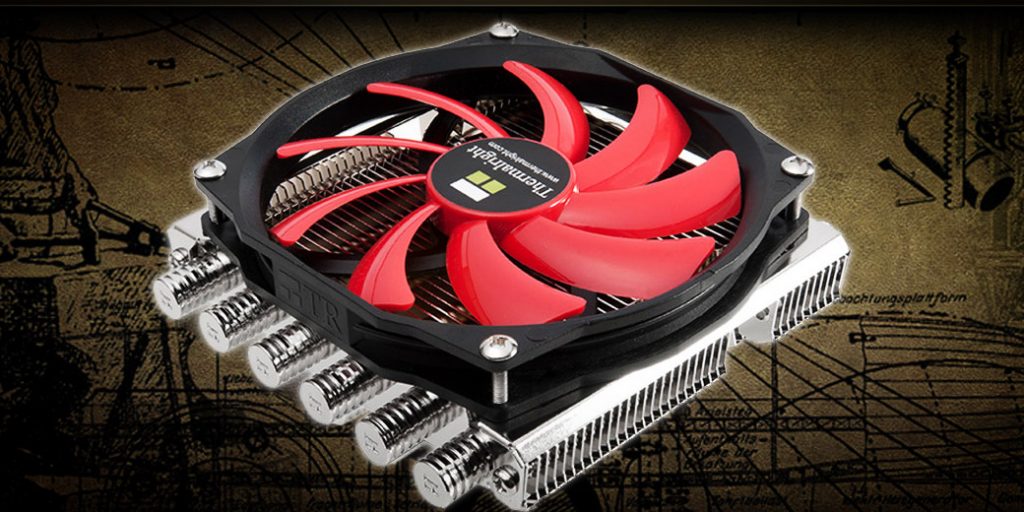 CPU cooling innovator Thermalright has released a new version of their AXP-100 ITX HTPC cooler now dubbed AXP-100RH, adding a new color and slightly increased in size to match the cooling power of the AXP-100H Muscle. The new red color directly draws inspiration from ASUS' Republic of Gamers line of motherboards and the height clearance was increased by 7mm in comparison to the original AXP-100 so that it clears the VRM cooling of ASUS' RoG Maximus series motherboards.
Clad in black and red, the 51mm tall AXP-100HR is still relatively compact and only stands up to 65mm tall with the bundled fan installed. The C-type layout uses six 6mm heatpipes with capped wicks on the end and the entire unit is nickel plated for a premium finish and resistance to oxidation over time. The heatsink uses a T-shaped down draft cooling method that directs the airflow perpendicular to the motherboard so that the surrounding VRM components receive active cooling as well. This TY 100R fan bundled fits standard 120mm fan mounting holes and has a new enhanced fan mount for easier installation.
Specifications 
Length: 108 mm (w. fan)
Width: 121 mm (w. fan)
Height: 65 mm (w. fan)
Weight: 320 g (w. fan)
Fan dimensions: 108 x 101 x 14 mm
Material: Hybrid
Fan speed: 900 – 2,500 rpm
Airflow: 27.3 – 75.7 m³/h
Noise: 22 – 30 dB(A)
Connector: 4 Pin PWM
Heatpipes: 6 x 6 mm
Max. cooling capacity: 180 Watt
Code: 814256001298
Order number: 100700566
Manufacturer number: AXP-100RH
MSRP: 49.99€ incl. 19% VAT
It is widely available as of February 2017 and has an MSRP of €74.99/69.99 USD. It comes with Thermalright's latest universal mounting kit and are also AMD AM4 motherboard compatible.