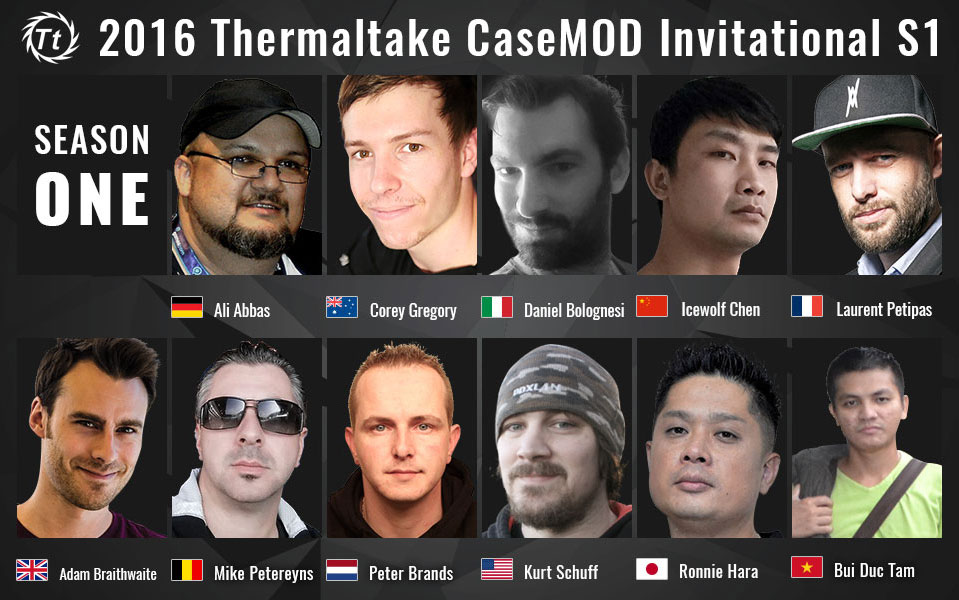 The modders participating for the latest Thermaltake 2016 casemod invitational season 1 has been announced and as usual, it includes some of the best top modders worldwide. Eleven modders from Europe, US, Australia and Asia are competing for the top trophy, utilizing the latest Thermaltake hardware to create their builds. The roster includes:
Ali Abbas representing Germany with his award-winning hand-crafted modding skills
Corey Gregory of Imfaceroll Gaming, representing Australia
Daniel Bolognesi from Italy known for his Twister mod 8.0.0.D
Icewolf Chen from China and winner the Tt regional Chinese CaseMOD invitational Season 2
Laurent Petipas, co-owner of Watermod from France
Adam Braithwaite from the UK known for his Darwin PC mod
Mike Peteryns of Belgium, an award winning veteran modder
Peter Brands of Netherlands, known best for his L3p D3sk and most recently L3pipe scratch build
Kurt Chuff, one of the Northwest USA's top modders who built a charity mod for PDXLAN28 and raised $15,000
Ronnie Hara of Japan, a prolific modder and has won several awards including mod of the year from Custom PC magazine
Bui Duc Tam from Vietnam, known for his project "The Bentable" which won first prize for modding style at Intel Enthusiast Day
All the mods will be on display at the Thermaltake exhibit at Computex Taipei. As usual, users are invited to join in the Thermaltake forums to cheer on their favorite modders, comment and get the chance to win prizes. Sponsors for this season include ASUS, Avexir, Intel, Samsung and NewEgg.
https://www.youtube.com/watch?v=NJyExPDX0Jc
Thermaltake 2016 Season 1 Forums: http://community.thermaltake.com/index.php?/forum/74-2016-thermaltake-casemod-invitational-season-1/
Thermmaltake 2016 Season 1 landing page: http://casemod.thermaltake.com/2016S1/