Keyboards
Thermaltake eSports CHALLENGER Prime Gaming Keyboard Review
A Closer Look »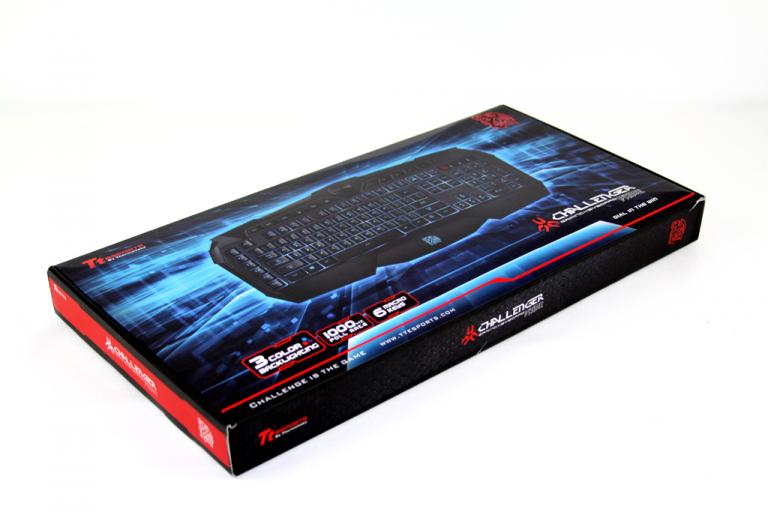 There is an endless number of keyboards on the market right now. Each and every one of them has some kind of unique feature or a series of options available which are beneficial for both gamers and programmers, or just for anyone really. Buying the right keyboard for the task could be a real pain. If you want to be satisfied with your purchase you really have to know what you are looking for. Do you want a particular function or do you want to save some money? Nowadays everyone is trying to save money and with that in mind, the selection narrows down. Today, we are going to be looking at the newest creation by Thermaltake: The CHALLENGER Prime. The CHALLENGER Prime is mostly oriented toward gamers, however, from just the first glance I could tell it could be beneficial to general users. Offering multi-color changing layout with macro keys really caught my eye as I love eye-candy. Let us take a closer look at the CHALLENGER Prime to see what other benefits this particular keyboard has to offer.
Review Sample Provided by: Thermaltake eSports
Product Name: CHALLENGER Prime
Price at time of review: $ 29.99 USD MSRP
Product was given in exchange for work done to produce this review.
Technical Specifications
| | |
| --- | --- |
| COLOR | BLACK |
| INTERFACE | USB |
| MEMBRANE, MECHANICAL, PLUNGER | MEMBRANE |
| ON-BOARD FAN DEVICE | NO |
| ANTI-GHOSTING KEYS | 6-8 KEY |
| NO. OF GAME PROFILES | 3 |
| NO. OF MACRO KEYS | 6 X 3 |
| POLLING RATE | 1000 HZ |
| BACK-LIGHT | YES, 3-COLOR |
| WRIST REST | YES, UNDETACHABLE |
| GRAPHICAL UI | YES |
| ON-BOARD AUDIO JACKS | NO |
| SMART CABLE MANAGEMENT | NO |
| GOLD-PLATED USB | NO |
| USB CABLE DETACHABLE | NO |
| MULTIMEDIA KEYS | 9 KEY |
| ON-BOARD USB PORT | NO |
| KEYSTROKE LIFECYCLE | 10 MILLION |
| CABLE LENGTH | 1.5M BRAIDED |
| DIMENSION (LXWXH) | 508X239X24MM |
| OTHER FEATURES | ADJUSTABLE BRIGHTNESS VIA DIAL |
Features
3 COLOR BACKLIGHTING, WITH FINE BRIGHTNESS ADJUSTMENT
The CHALLENGER Prime features 3 color backlighting (in Blue, Red, and Purple). Lighting configurations include Pulse lighting mode and static lighting. There's a dial in the top center of the keyboard to allow for fine brightness adjustment.
STYLIZED GAMING DESIGN
The CHALLENGER Prime features an aggressive styling in the keyboard frame to add to your gaming atmosphere. The keyboard is an essential weapon when you game, so it should look like one too!
MACRO FUNCTIONS AND KEY SWITCHING
The CHALLENGER Prime comes with 6 dedicated macro keys, which amounts to 18 programmable macros when paired up with the 3 storable profiles. Switch between profiles with the dedicated M1, M2, and M3 keys. In addition to macro functions, the WASD and arrow keys may be toggled to have their functions switched interchangeably. Via software, users can map keys to another one to switch their function (re-mapped keys only show up in Game Mode, in Normal mode all keys return to their regular functions)
HIGHLY FUNCTIONAL KEYSET
The CHALLENGER Prime features multimedia keys, shortcut keys, lighting keys, game mode / normal mode toggle keys, and adjustment keys for both repeat rate and polling rate along the top of the keyboard. Offering extreme convenience at your fingertips.
ANTI-SPILL DESIGN
The CHALLENGER Prime comes with drainage holes at designated areas in the keyboard frame to help avoid accidents due to spills.
Unboxing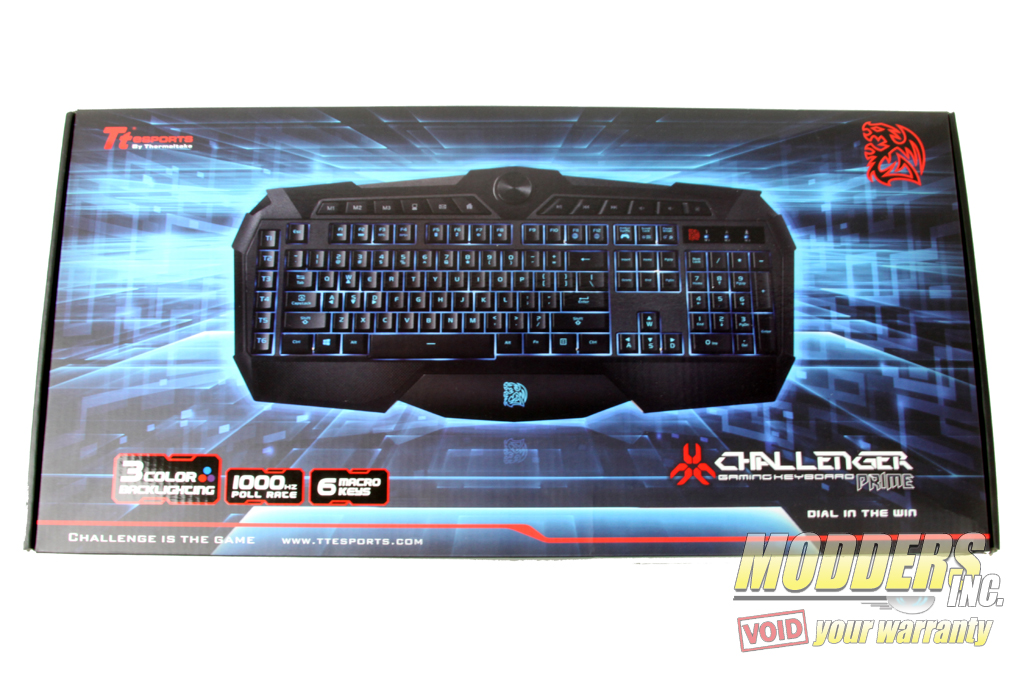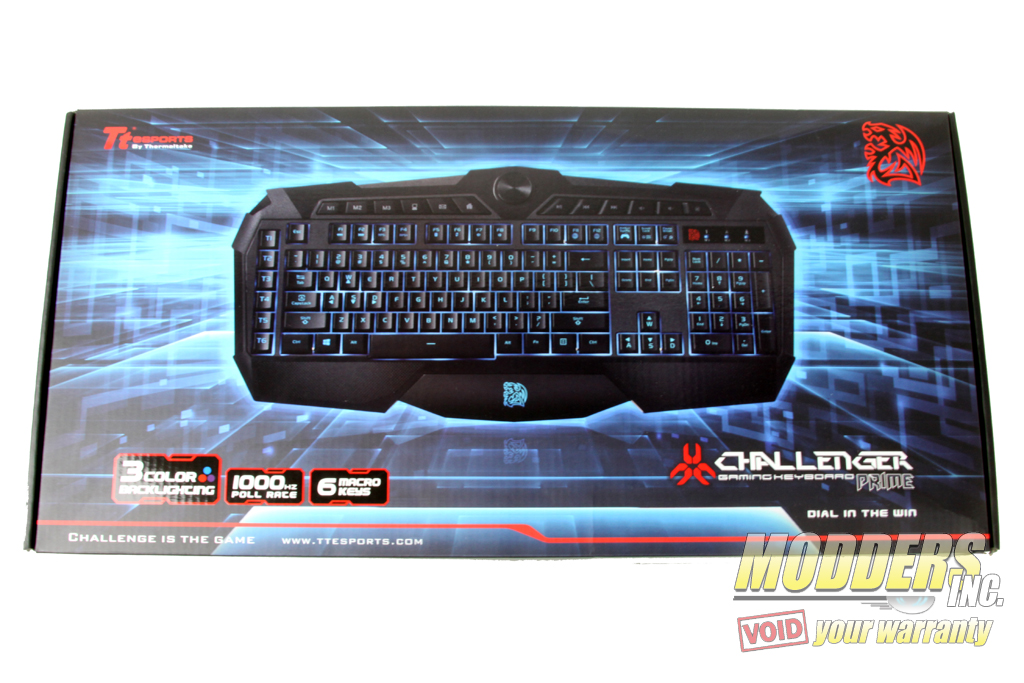 Thermaltake does not need any introduction on their colorful design of pretty much any product they release. This particulate keyboard belongs to the Thermaltake eSports brand which is designed by gamers for gamers. Making packaging appealing with tons of eye candy always does the trick. I often forget how colorful these designs are. Nevertheless, with the "picture perfect" marketing CHALLENGER Prime packaging shows everything you should be expecting inside. All of the features are described on the front and rear of the packaging box. A company that has nothing to hide is the one that deserves trust and respect.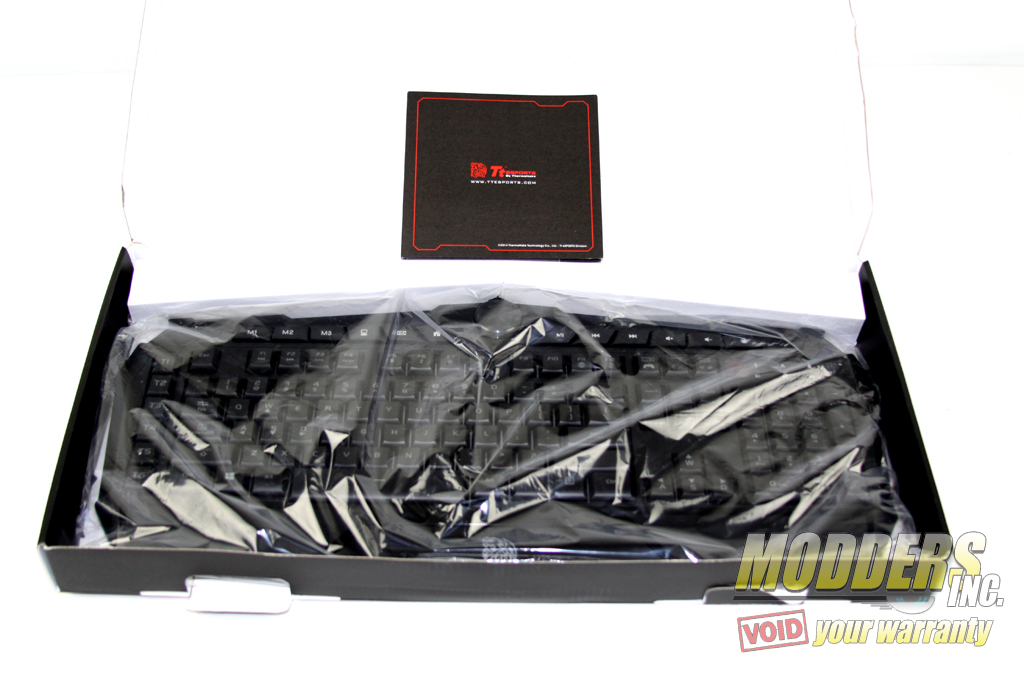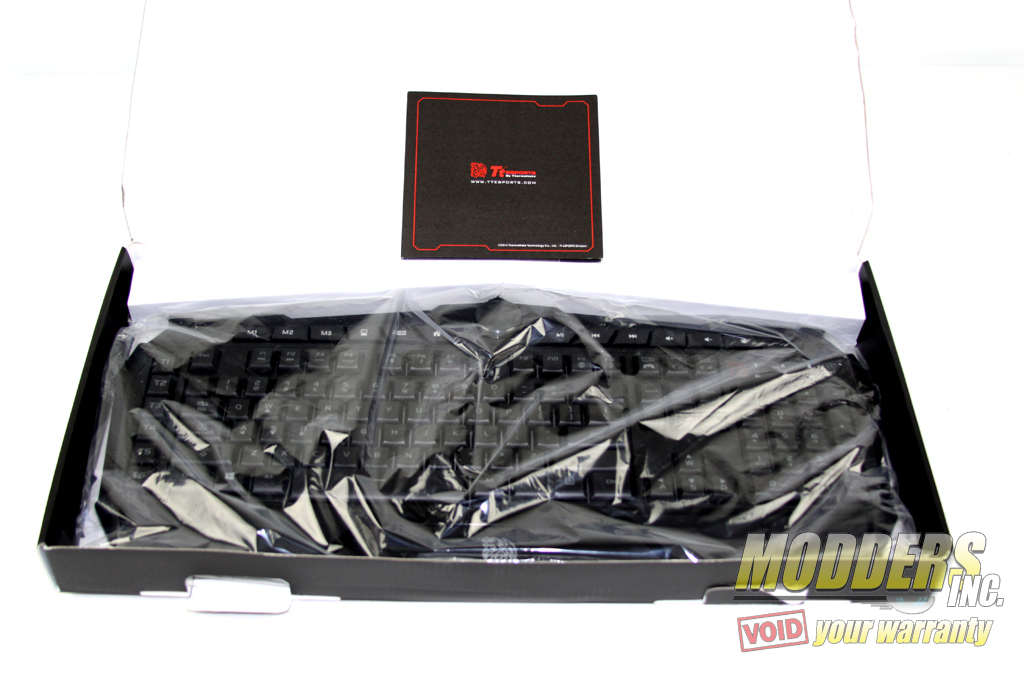 The actual keyboard is wrapped in a plastic bag. Will the bag scratch the surface of the keyboard? It could but I haven't found any scratches or blemishes on keyboard. There is no extra padding on the inside of the box however, the USB cable was nicely tucked away in the cable management section of the box.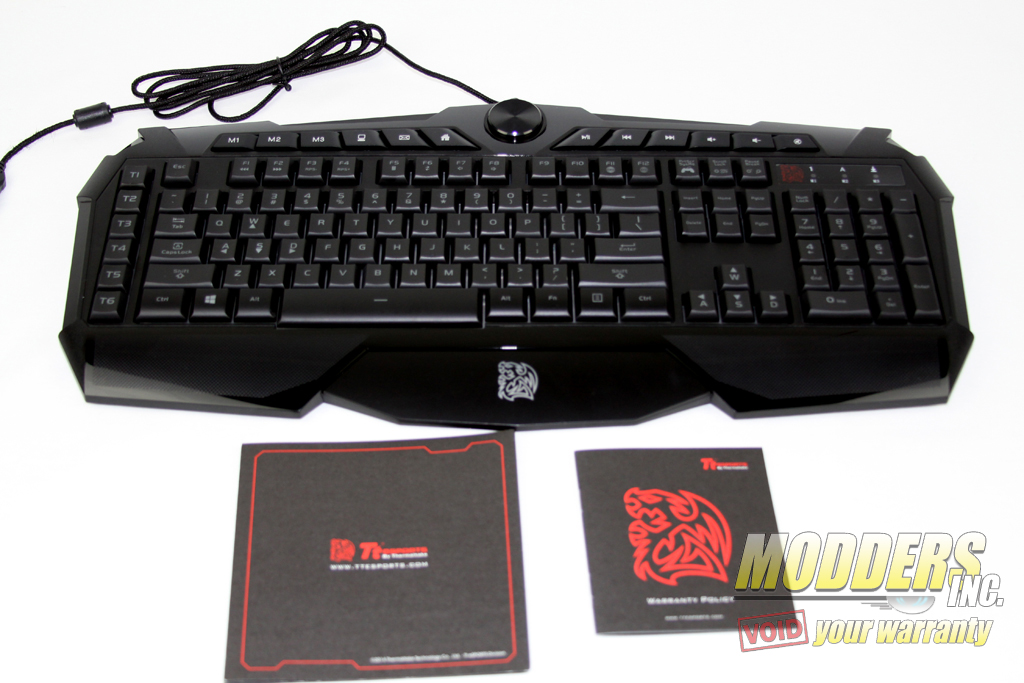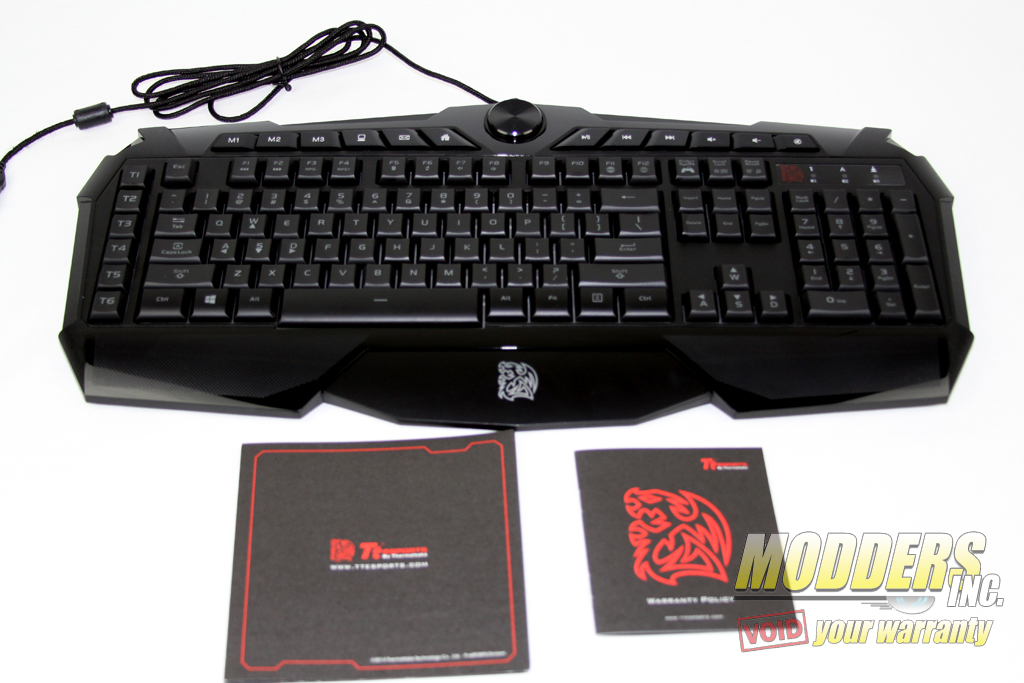 What you see here is what you get. CHALLENGER Prime comes with the actual unit itself, a warranty card and instructional manual on how to customize your experience with the keyboard. No, Thermaltake did not forgot to include a driver CD. CHALLENGER Prime's Drivers/Software could be found on Thermaltake eSports web site or directly linked below.
Installation drivers/Software download: