Keyboards
Thermaltake Level 20 GT RGB Razer Keyboard
Thermaltake Level 20 GT Keyboard
« iTake Engine/TT RGB Plus/Apps
Conclusion and Final Thoughts on the Thermaltake Level 20 GT RGB Razer Keyboard
The Level 20 GT is my first foray into the mechanical keyboard area. As someone who previously never saw the need to spend a lot on a keyboard I can say that on a fundamental level, I appreciate the solid construction, the tactile feel of the keys and the plethora of customization features. I find the mechanical keys to be more comfortable while typing up documents as well. There are other switches which can cause fatigue quickly, however, I find the Razer green switches to be very comfortable for long stretches of typing. I enjoy that when I am not looking at the keyboard I know exactly what key I am about to press. Especially with gaming, I feel having a good grasp on your input device is paramount. Mis-Stroking keys can mean the difference between winning and losing. We all want to win. There is no measurable flex in this keyboard either, there are plenty of screw mounting points on the top plate which mounts it firmly to the other components. I currently use a glass top desk and the keyboard has not slid around at all, even with my heavy gaming hands.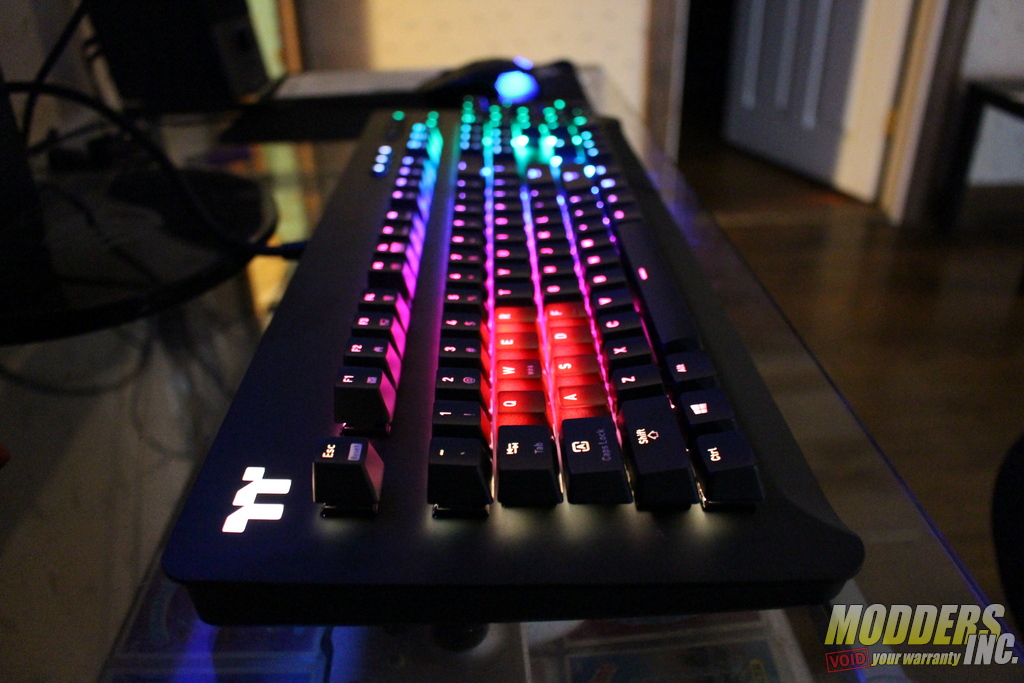 The fact that you can get so granular with color customization across your compatible devices has me excited to try more RGB products and explore. I really like the light effects you can scroll through. My personal favorites are the fading effect (when you hit a key, it will light fully then dim), and one I call the water effect (when you hit a key, the light will emanate from the keys in the row in a ripple effect).
Despite my iTake Engine issues, which I feel Thermaltake will resolve, this keyboard is a great step for someone who never had a mechanical keyboard previously like myself. I have been beating on this keyboard for two weeks straight and all the inputs have been spot on. In the past, I would have had second thoughts about spending $150.00 on a keyboard but I now understand why it makes such a difference.