News and Articles
Tt eSPORTS Expands Lineup into Gaming Chairs, Offers Four New Models
Thermaltake's Tt eSPORTS has moved beyond peripherals and products that plug into the PC into offering gaming chairs with the launch of their GT FIT, GT COMFORT, X FIT and X COMFORT products. As is the trend with gaming chairs, Tt eSPORTS takes cues from racing chairs in terms of aesthetics and incorporates extra features for ergonomic comfort. These gaming chairs are available in a variety of color combinations including black/red, black/blue and black/green.
All four models are built with 22mm diameter steel framework and surrounded with a dense 75kg/m3 foam padding before upholstered with faux leather material (that last bit should make PETA and other animal rights groups happy). This surface provides some water resistance so that it can be easily cleaned, plus let us face it, after hours of gaming without moving during the summer, you will pretty much have to.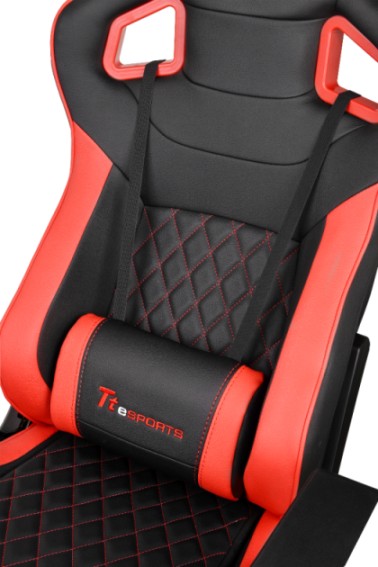 Users can happily roll around while sitting without fear of losing balance due to the five-point base with three inch caster wheels instead of four, plus the chair height and tilt can be adjusted. The tilt can be adjusted all the way to 160 degrees so you can pretty much sleep on these chairs if the gaming session extends too long and you do not have enough energy left to stand up. If you do stand up however, Thermaltake claims that the casters have been tuned for quieter performance so you will not wake up your room mate when you do with the incessant squeaking normally associated with office chairs. That tends to happen after an extended period of applying pressure directly from the top, so the extended base helps minimize that by distributing more of the downward exerting force into a greater surface area. Extending the comfort further, it these chairs also come with a backrest with lumbar support, height adjustable armrests and extra cushioned head support.
A preview of these gaming chairs were in use during Computex at Thermaltake's booth paired with a Tt eSPORTS gaming desk (which has not been released yet) and they did seem to manage to withstand several hundred people of various shapes and sizes sitting and sweating on them during the entire week so Thermaltake's claims of quality construction might have some merit as its been field tested so to speak.
The GT FIT Gaming chair is the entry level model starting at $329.99 USD, followed by the GT COMFORT priced at $399.99. The X FIT and X COMFORT are the higher-end models featuring carbon stitching and other premium extras to push them into the $349.99 and $419.99 prices respectively.