Page 2 »
We all want the best for our computers since we have spent a large amount of our hard earned money on them. We do not want to take any chances of ruining the machine due to excessive heat, especially the processor. So we are always on the lookout for the best thermal paste to apply between our processors and heatsinks. The Tuniq TX-2 thermal paste is the product that wants to be your choice for the binding between our processors and heatsinks.
     The Tuniq TX-2 Thermal Paste comes in an easy to  use syringe which is shipped in a small see-thru plastic bag. The syringe is 4 1/4 inches in length and holds 3.5 grams of the thermal paste which is more than enough to do several CPU cooler installs. The paste itself is gray in color like some others that are on the market. This product has no metals and is not electrically conductive, so you should not have to worry about anything getting shorted out. Here are a couple of photos to show you how the product comes and out of it's bag.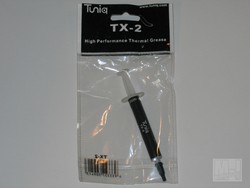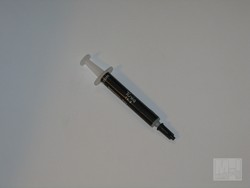 When you open the syringe to place a dollop onto the processor you will find that the paste is easily spread across the processor. The sample that I received was a fresh unit because there wasn't any separation of the materials. I did not have to do any mixing of the paste on top of the processor. I have done this in the past and had to mix my thermal paste on some of the lower quality thermal paste that has come with some of my heatsinks.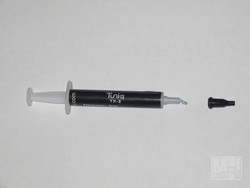 Here is a sample of it at the end of the syringe