« Intro
|
Page 3 »
     Now that you know what the product looks like and how easy it is to work with lets get down to the brass tacks of seeing how well it will work for us.  The test rig that will be used is the one that I use for gaming.  Here are the specs for it.
Motherboard-Biostar N4SLI-A9
Processor-AMD Opteron 170 socket 939 with a Zalman 9500
Memory-Patriot Low Latency PC3200 2x512mb Dual Channel
Graphic Card-2-eVGA 6800XT's
Sound Card-Creative Labs Fatal1ty Extreme Gamer
Power Supply-Antec Truepower Quattro 850 watt
Case-Ultra Wizard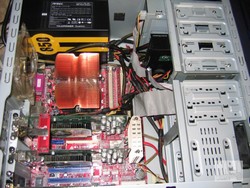 I will be using the ArctiClean before each application of thermal paste test. To ensure that I don't have a mixing of materials to contaminate the outcome. Here is a photo of the material that I will be using for the cleaning and application of the thermal paste.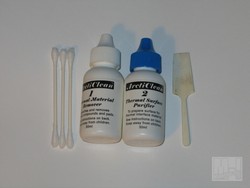 The products that I will be using to compare against Tuniq TX-2 is one of the best known product, Arctic Silver 5 and I will also be using a plain Jane silicone thermal paste that comes with every heatsink on the market. However this one came from a big name company such as CoolerMaster or Ultra. The reason that I'm not giving you the company is because I can't remember which one it came from but it came from one or the other due to they were the last two companies that I purchased from… lol Oh well, we all forget at times but the silicone thermal paste did come from one of those two companies and I feel that it should be a fairly decent silicone thermal paste for this test. Here are the products that I will be using.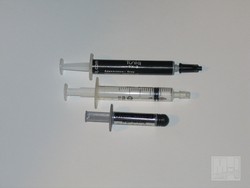 Here are a couple of photos to show you what the contenders paste looks like.