Page 2 »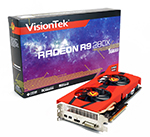 [sc:sponsor sponsor="VisionTek" product_name="VisionTek Radeon R9 280X" ]
Over the last couple of years we have seen the graphics card industry explode. The GPUs range in price from a lowly basic gaming card at around $100.00 to a full blown freakshow pricing upwards of a grand. It seems lately that the price/performance bracket has belonged to nVidia. Historically nVidia's price to performance ratio has been spot on. I have been waiting for a little while for the folks over at ATI to get it together and come play in the sand box. Within the last month ATI has revamped their line of GPUs and have simplified the naming conventions. The R7 series is aimed at budget conscious gamers while the R9 line is geared toward the enthusiast crowd. The R9 series features the 290x, 290, 280X, 270X and the 260X. Do the revamped cards have what it takes to make waves in a small pool? Read on to find out.
[sc:sponsor sponsor="VisionTek" product_name="VisionTek Radeon R9 280X" ]
The R9 280x shares the same architectural family as the 7970 series and therefore is not a brand new GPU core. ATI tweaked clock speeds and timing a bit to get the most of the Radeon R9 280x.
Here's the run down on the R9 series.
| | | | |
| --- | --- | --- | --- |
| | R9 290X | R9 280X | R9 270X |
| GPU Architecture | 28nm | 28nm | 28nm |
| API Support | DirectX® 11.2, Mantle, OpenGL 4.3 | DirectX® 11.2, Mantle, OpenGL 4.3 | DirectX® 11.2, Mantle, OpenGL 4.3 |
| PCE Express® Version | 3.0 | 3.0 | 3.0 |
| AMD PowerTune Technology | Yes | Yes | Yes |
| 4K Resolution Support | Yes | Yes | Yes |
| DDMA Audio | Yes | Yes | Yes |
| HDMI (With 4K, Stereo 3D, Deep Color & x.v.Color™) | Yes | Yes | Yes |
| TrueAudio Technology | Yes | No | No |
| AMD Eyefinity Technology (Maximum displays) | 3 with DVI/HDMI, 4 using DisplayPort, 6 with an MST hub | 3 with DVI/HDMI, 4 using DisplayPort, 6 with an MST hub | 3 with DVI/HDMI, 4 using DisplayPort, 6 with an MST hub |
| Video Codec Engine (VCE) (with H.264, MPEG-4 ASP, MPEG-2, VC-1 & Blu-ray 3D) | Yes | Yes | Yes |
| GPU Clock Speed | Up to 1GHz | Up to 1GHz | Up to 1.05GHz |
| Memory Bandwidth | Up to 320 GB/s | Up to 288 GB/s | Up to 104 GB/s |
| Memory Amount | Up to 4GB GDDR5 | Up to 3GB GDDR5 | Up to 4GB GDDR5 |
| Stream Processing Units | Up to 2816 | Up to 2048 | Up to 1280 |
| Required Power Supply Connectors | 1 x 6-pin + 1 x 8-pin | 1 x 6-pin + 1 x 8-pin | 2 x 6-pin |
| AMD CrossFire® Support (Maximum number of GPUs and CrossFire Bridge Interconnect required) | 4, no | 4, yes | 2, yes |
| Form Factor | Full height, dual slot | Full height, dual slot | Full height, dual slot |
Now let's take a look at VisionTek's Radeon R9 280X