Thermaltake, an industry leader in computer chassis, thermal solutions, and power supply units, presents the biggest international modding event of the year, the 2015 Thermaltake Case MOD Invitational, taking place in the Tt Community on April 15th and featuring seven of the world's top case modders from USA, Japan, Germany, France, UK, Thailand, and Australia. Contestants will use various Thermaltake liquid cooling components to transform the Thermaltake Core X9 E-ATX Cube Chassis into a brand new creation! From April 26th until May 15th, everyone is welcome to vote for their favorite modders and have the opportunity to win incredible prizes from Thermaltake and our sponsors. Thermaltake is proud to present this exciting case mod invitational event for the first time; more details about the event can be found at: http://casemod2015.thermaltake.com/.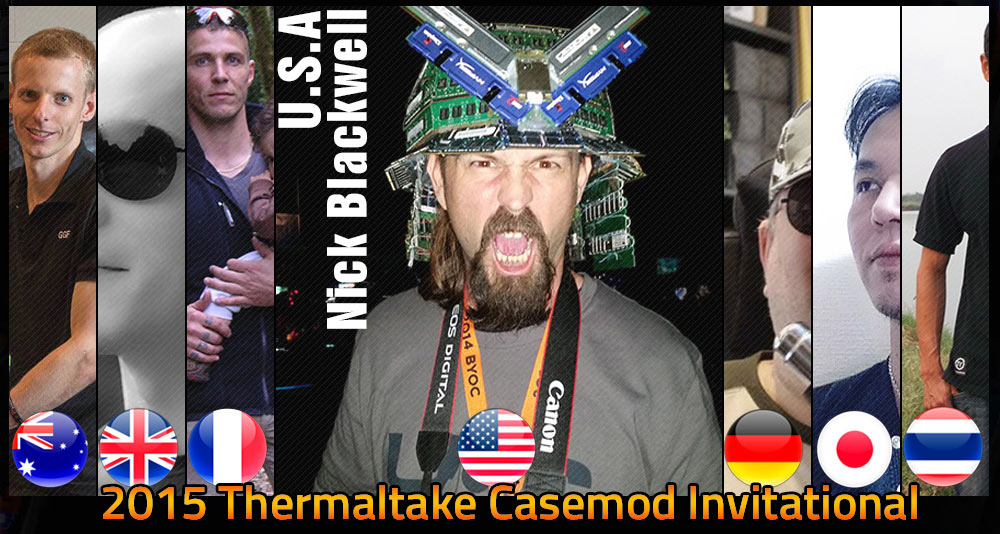 Come register on Tt Community and vote for the coolest one, and the winner will send back the completed prototype to 2015 Computex Taipei for display at the Thermaltake booth (booth no. M110). We will offer over US$10,000 in hardware prizes up for grabs. Contest begins on April 15th 2015.
CaseMOD with Core X9 Chassis
Core X9 E-ATX cube case, a continuation of Thermaltake's tradition of innovative design and edgy technology, particularly for liquid-cooling system cases. Featuring a cube design, the series offers endless stackable ability and expandability for enthusiasts to create massive liquid cooling systems for a single system, file server or even dual systems. Users can customize the chassis for the best viewing presentation with interchangeable window and I/O panel design. Delivering outstanding cooling performance with compatibility for extensive DIY/AIO LCS and overclocking components, the Core X9 further enhances the reputation Thermaltake enjoyed for its earlier air cooling units.
Meet the Modders
Stuart Tonks from Australia, owner of GGF Lan Party has built a killer Core X9 case to match the Thermaltake 'Tt Dude' mascot, involving custom orange paint and rigid-tubed watercooling filled with orange coolant.
Richi Bowzer of X-Treme computing from the United Kingdom built the Thermaltake Level 10 original BMW chassis and the Level 10 GT Battlefield theme as well.
Andy Weber from Germany, a reviewer at Bundymania, does several reviews on his Youtube channel: Bundymani. He also reviews and participates in over 25 forum activities around the world.
Nick Blackwell from the United States is the founder of Dirty South PC Mods, as well as the product reviewer for Modders-inc.
Suchao Prowphong from Thailand built a custom Thermaltake Thor's Hammer mini-ITX case mod, and has built many other outstanding mods too.
Mathieu Delsuc from France, founder of Math Military Modding, has built many notable mods like the Shielding War TUF, Desert Storm, Furtif, 760T MARPAT edition, Asus Strix and so on.
Fabio Moma from Japan, with his mod "Guardians of the Galaxy", broke the "Red for GAMING" rule and designed the Thermaltake Core V1 Mini Chassis with the colors gold, white and blue.
How to Vote and Voting Prize Highlight
A weekly voting event will be held on the Tt Community forum and prizes will be given out to members that vote. The total percentage of the score allocated to Community voting is around 45%, 55% by the Thermaltake.
For more information on prizes:
http://casemod2015.thermaltake.com/rulesandprizes.html
The Tt Community platform (http://community.thermaltake.com/) is open to all users. We welcome you to join us by interacting and sharing valuable information and experiences with one another. Most importantly, your opinions and ideas will help us to better understand your desires and expectations of our products and services. Don't hesitate, come register and vote for your favorite Modder right away!
For more details on the 2015 Thermaltake CaseMod Invitational please visit:
http://casemod2015.thermaltake.com/
Thermaltake official website and community websites:
Thermaltake Official Website: www.thermaltake.com
Tt Community Forums:  http://community.thermaltake.com/
Thermaltake Facebook: https://www.facebook.com/ThermaltakeInc
Thermaltake Twitter: https://twitter.com/thermaltake
Thermaltake Instagram: http://instagram.com/thermaltakeusa