Page 2 »

The Xigmatek Gigas is a different case, a unique take on space management and design. How good of a solution it is depends wholly upon what you are wanting to do with it. Let's dig a bit deeper and dig into the mystery that is the Gigas! 
Sponsor: Xigmatek
[hr]
The Gigas…. what it is… and what it is not….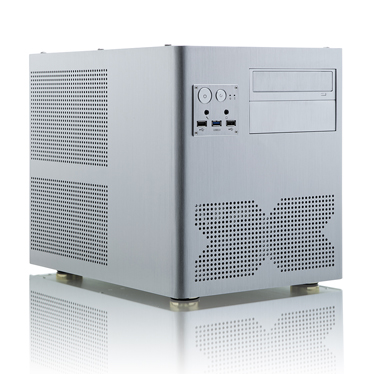 Per Xigmatek:
"The Xigmatek Gigas is an all aluminum Micro-ATX small form factor chassis with a stylish, brushed aluminum finish in either Silver or Black. From the exterior, the Gigas appears deceptively small for a Micro-ATX case. Inside, the Gigas packs many unique and industry leading performance features. The Gigas chassis houses 2 x 5.25" optical disk drive bays with one bay featuring a custom bezel. Inside, there are two drive cages that can each house 3 x 3.5" and one 2.5" drive for an unheard of 6 x 3.5" + 2 x 2.5" drives. The case is designed to allow for the use of a full-length 320mm graphics card and can accommodate up to a 160mm side blowing cooler. Four 12cm fans, two of each located in the front and rear of the case provide excellent cooling performance to round out this unmatched design."
It is popularly classified as a Micro ATX case, which, it could be. HOwever, any case that has 2 5.25″ drive bays, 6 3.5″ drive bays, and can handle a full length 320mm graphics card.. I would not consider this case as "deceptively small". I *would* however, describe it as "uniquely small". I will explain this in a minute. 
It comes with the following equipment and features:
Gigas Micro-ATX SFF chassis in either Silver or Black brushed aluminum finish
Front-mounted I/O panel featuring 1 x USB 3.0 and 2 x USB 2.0 ports
Two adapter-free 2.5" drive mounts, 6 x 3.5" bays with anti-vibration rubber insulators, and two 5.25" external optical drive bays
Four 1000RPM 12cm fans, two of each mounted in the front and rear of the case
Chassis features full aluminum construction for light weight and strength
Compliant with Micro_ATX and ITX motherboards
Supports top-mounted ATX/EPS power supply
Can accommodate full-length 330mm graphics cards
Up to 160mm side blowing cooler may be used
Two adapter-free 2.5" drive mounts, and anti-vibration rubber insulation for the 6 x 3.5" drive bays
Two 5.25" external optical drive bays
Front Fan: Pre-installed 120mm black fans x 2 (1000RPM)
Rear Fan: Pre-installed 120mm black fans x 2 (1000RPM)
Dimensions are 278(W) x 322(H) x 396(D) mm (10.94*12.68*15.59 inches)
This "small" case has enough space to handle 6-3.5″ drives, 2-5.25″ drives, 2-2.5″ drives, and a full sized video card solution. I dont know of many "small" cases that can handle that much equipment. My statement above regarding that I would call it "uniquely small" is based like this. A Mid towersized case will hold an equivalent spec of hardware, however it will do so on a taller platform that is more narrow. If you think about it this way, they took their 120mm fans and they put them side by side in the front, and on top of one another in the back I don't know of very many small cases that can accommodate dual 120mm fans oriented like that, and still be small. This is more of a reconfigured mid tower case, and instead of utilizing space upwards, they spread out sideways, and shrunk down the height. It is smaller than a midtower, but has a wider footprint. So, is it "small", yeah, you could say that. But I have smaller cases that are for the mATX spec, this one is not small by those comparisons. None of this is to be construed as a negative hit on the case, I just want to make sure the reader knows that this case is not "small" like what we would commonly think of. It is shorter and winder than a Mid Tower, and is nearly equivalent in space where the important points are: PSU/Heatsink clearance/hard drive capacity/video card capacity. The outer shell is a very simple, elegant appearance. Natural silver brushed aluminum, the outer shell is one piece. Wraps around the case like a "U" placed on its back. This makes for a very aesthetically minimalist look. The holes drilled into the case front and side form an "X" shape, that bears a resemblance to the Xigmatek logo… I'm pretty sure that was a lucky accident.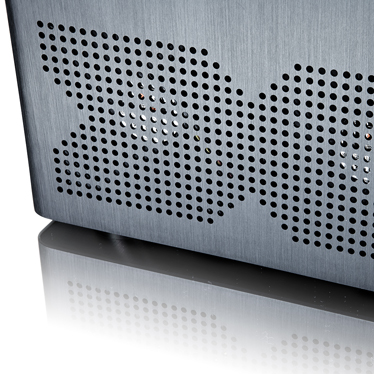 What it is not: It's not a stealthy cable wrangler. You are going to need to get creative with how you cable route, as there is *no* place to hide cables. When I show you the internal pics, you will fully understand what I am talking about. Space is well thought out, but there is simply not enough room to make cable channels like what you see on other mid tower cases. Since this is being classed as a small mATX case, then it should be judged against other small form factor cases. And those have the same issue. But those other "small" cases don't have the room that this case does, so there in lies the quandary! ;) Is this a small case acting like a larger mid tower? or is this a mid tower trying to skooch down in it's height and make it self shorter to play with the small form factor cases?? It will be different for each user, but I think it is a smaller case acting like a larger one. The design philosophy seems to lean that way. What I would like to see from the next iteration of a case in this size bracket is some additional thought into cable management, or a list of recommended power supplies that less sophisticated end users could be provided with, so that they could build the machine in it's most efficient way possible. Building in this case is different, and you will see just how different in a few moments, but you really need to think out your build before you jump into this case!