« Page 3
The Gigas is a bit of an amalgam. It's supposed to be a small case, for working with mATX motherboards. But it eschews the minimalist attitudes of other mATX cases, and builds itself a bit taller and deeper that the competition. That simple design philosophy change netted a ton of usable space! It is oriented differently. so installation is not as straightforward as we are used to in typical mid tower cases. It takes planning, it takes strategy, and it takes patience. But what you are left with is a small case that will hold all of your big hardware, and give you uber performance in a small package! Have a lot of hard drives? No problem! mATX board with a 3rd party/aftermarket CPU heatsink, many of them will fit! Off the shelf power supplies work too!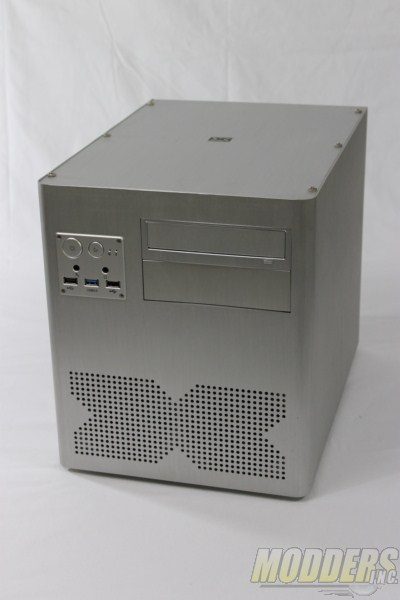 It is a great case, with poor cable management options. There is simply no place to really hide cables in this case. Zip ties are king, and you need to plan out your power cables, otherwise you end up blocking the fan's airflow. Mid tower performance in a box that is shorter and more easily hidden than a mid tower case. 
I like this case! It's not perfect, but it is an ingenious solution to a small form factor problem! 
Pros

---

Cons

---

+ Brushed Aluminum everywhere
+ Clean outside surfaces and design. 
+ 4 – 120mm fans included with a basic fan controller
+ All metal… no plastic that looks like metal here! 
+mATX case that can fit a full sized video card *without* modding it!

– Difficult installation. Requires much more planning than a regular case
– prone to rattles, needs additional foam for metal on metal of the drive bays
– Front drive bezel was bent