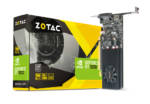 The budget GPU market has been neglected for years.  A powerful low profile single slot card can be hard to find because of this. The release of the nVidia GT 1030, I believe, has changed that perception. Zotac has taken the GT 1030 and whipped it into shape knowing that the market need a card just like this. With multiple display outputs you can now do even more.
When looking to make a workstation or home theater PC you want power, but that means noise comes along with it. Not with the Zotac GT 1030. Designed to use power more efficient Zotac was able to bring the fan noise down to just a whisper.
But what if you want to push the GT 1030 to all it can deliver. Again Zotac looked at this and resigned the GT 1030 to get every little bit of performance out of the card, plus you can use the FIRESTORM software to tweak all the setting to your liking. You can fine tune the GPU, Memory and fan speed as well.
The card comes with both full and low profile brackets, and is very easy to change out, unlike other recent low profile cards like the EVGA GT 1030.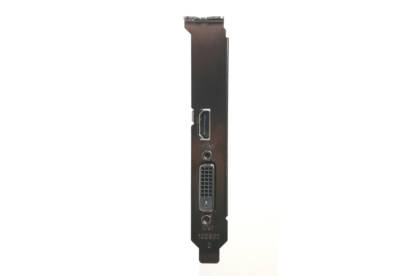 For an entry level gaming PC, or a budget home theater setup, the Zotac GT 1030 2GB provides an excellent balance of power, low noise, low power, and cost.
The Zotac GT 1030, at only $75, hails back to a time when you could purchase an affordable, low-power, low-profile graphics card that could actually play modern games, or even play modern media through hardware decoding.
Specifications
GPU

GeForce® GT 1030

CUDA cores

384

Video Memory

2GB GDDR5

Memory Bus

64-bit

Engine Clock

Base: 1227 MHz
Boost: 1468 MHz

Memory Clock

6.0 GHz

PCI Express

PCIE 3.0

Display Outputs

SL-DVI-D
HDMI 2.0b

HDCP Support

Yes

Multi Display Capability

2

Recommended Power Supply

300W

Power Consumption

30W

Power Input

N/A

DirectX

12

OpenGL

4.5

Cooling

Heatsink + fan

Slot Size

Single Slot

SLI

N/A

Supported OS

Windows 10 / 8 / 7 (32/64-bit)

Card Length

172.5mm x 111.15mm x 16mm (6.79in x 4.38in x 0.63in)

Accessories

Driver Disk, Quick Install Guide, Low-profile bracket