Article Index: >>
A Closer Look »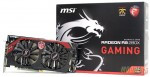 Graphics cards are what make a gamers world go-round. High levels of detail and great frame rates are crucial in their world. What good is having great frame rates if the game looks blocky and frankly, ugly? This may come to a shock to some, but not every gamer has 1000's of dollars to pour into their components and PCs. While some can afford to plop in a R9 295×2 or GTX Titan black, others must be a little more conservative. In my mind, $300-350 is a good price range for great graphics performance. This seems to be pretty much on par with what we have seen at events and LAN parties. The R-series of graphics cards have been out for a while and AMD has had time to massage and mature the drivers and clear up performance issues.  The MSI R9 280x Gaming 3G graphics card sits firmly in this price range; does the performance justify the price?
Review Sample Provided by: MSI
Product Name/Link to Website: MSI R9 280x Gaming 3g
Product was given in exchange for work done to produce this review.
Specifications
Graphics Engine

AMD Radeon™ R9 280X

Bus Standard

PCI Express x16 3.0

Memory Type

GDDR5

Memory Size(MB)

3072

Memory Interface

384 bits

Core Clock Speed(MHz)

1000MHz Core (Boost Clock:1050MHz) (OC mode)
1000MHz Core (Boost Clock:1020MHz) (Gaming mode)
1000MHz Core (Boost Clock:1000MHz) (Silent mode)

Memory Clock Speed(MHz)

6000

DVI Output

1 (Dual-link DVI-I)

HDMI-Output

1 (version 1.4a), Max Resolution: 4096×2160@24 Hz

Mini DisplayPort

2

HDCP Support

Y

HDMI Support

Y

Dual-link DVI

Y

RAMDACs

400

DirectX Version Support

11.2

OpenGL Version Support

4.3

CrossFire Support

Y

Card Dimension(mm)

269x128x34 mm

Weight

849
Article Index: >>
A Closer Look »