CPU
AMD Athlon 5350 Kabini AM1 APU Review
Article Index: >>
Page 2 »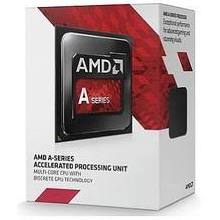 In the global market computing isn't just about power or speed. Not everyone is concerned with purchasing the latest top tier CPU and in some countries, others just simply cannot afford to purchase such products. In developing countries users have asked for components that are low cost but can still be upgraded. With the previous generation of products, the CPU was soldered on to the motherboard. Enter the AMD Athlon 5350.
The Athlon nomenclature at one time was AMD's mainstream processor now however, that Athlon name is given to the low cost/low power line. AMD is touting the new Athlon line as a "system on a socket" as all IO is handled on the CPU and there is not a chipset on the motherboard. This should help drive costs down and get the platform into more hands. The new AM1 platform from AMD features the Kabini APU. The Kabini line isn't truly new, but rather a variant of the Kabini that is already released into the mobile market and is featured in AMD powered laptops and other x86 based mobile devices. The Kabini APU is designed to be marketed to the budget segment. Pricing suggests the AM1 platform should be around the same costs ($50-$80) as the previous Brazo series. AMD is launching the AMD Athlon 5350 Kabini APU at $55 USD and expected pricing for motherboards should be between 25.00 and 50.00 USD.
Review Sample Provided by: AMD
Product Name/Link to Website: AMD Athlon 5350 Kabini
Product was given in exchange for work done to produce this review.
AM1 Platform Features
Single Chip SoC
Up to 4 "Jaguar" Cores
GCN-Based Radeon Graphics

DirectX 11.2, OpenGL 4.3, OpenGL ES 3.0
OpenCL 1.2, DirectCompute, C++ AMP

Multimedia Features
I/O

2 USB 3.0, 8 USB 2.0, 2 SATA 6GB
AMD Kabini APU Specifications
APU Model
TDP
CPU Cores
CPU Frequency
GCN Radeon™ Cores
GPU Frequency
Memory Frequency
Total Cache
Price(Suggested
(R)Etail Price, USD)
AMD Athlon™ 5350
25W
4
2.05 GHz
128
600 MHz
1600 MHz
2 MB
$59
AMD Athlon™ 5150
25W
4
1.6 GHz
128
600 MHz
1600 MHz
2 MB
$49
AMD Sempron™ 3850
25W
4
1.3 GHz
128
450 MHz
1600 MHz
2 MB
$39
AMD Sempron™ 2650
25W
2
1.45 GHz
128
400 MHz
1333 MHz
1 MB
$34
Article Index: >>
Page 2 »