« Intro
|
Page 3 »
 A Closer Look
The top side of the AMD Athlon 5350 doesn't really look a whole lot different than the other current AMD Processors. CPUs in general are not very exciting to photograph.
Here's the backside of the AMD Athlon 5350 "Kabini" AM1 APU. AMD still chooses to use a pin grid array for their CPUs.
Internally the AMD Athlon 5350 "Kabini" AM1 APU houses everything. Specifically for the Athlon 5350, the die houses the 4 Jaguar x86 cores, memory controller,  128 Radeon GCN cores.  I/O is normally handled by a chipset located on the motherboard for things such as USB, and SATA. However with Kabini I/O functions have now moved on to the CPU. Theoretically, moving the I/O onto the CPU should help keep prices low on AM1 motherboards. A note on the memory controller, the Kabini memory controller is single channel only. The APU supports a maximum memory of 16 GB DDR3-1600 MHz.
It is a bit difficult to do a CPU review without a motherboard. AMD sent along Asus' entry into the AM1 market. The Asus AM1I-A is a mITX motherboard that features 2 SATA, 2 memory slots, 2 USB 3.0 ports, and 8 USB 2.0 ports. The only expansion slot on the motherboard is a PCI-Express x4.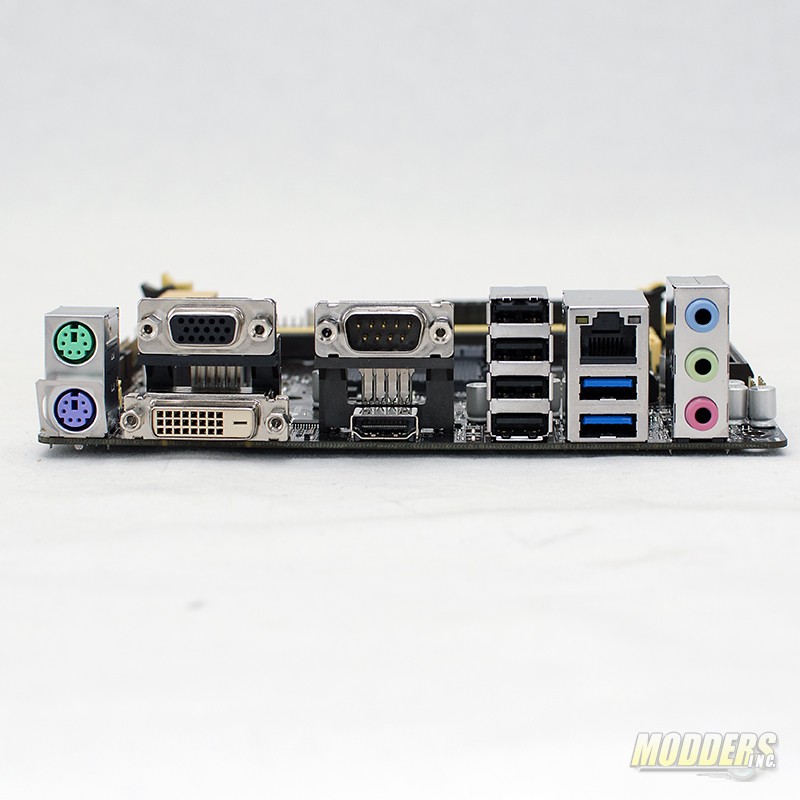 The I/O panel of the Asus AM1I-A is a little different that what is typically seen on motheboards today. 2 PS/2 ports as well as a COM port are just not included on most modern motherboards. This is not a negative and I believe it leans towards using this board in a manufacturing/production environment. With legacy computer controlled components such as a CNC machine for example. The CNC machine may get the commands delivered via a Serial cable which is connected to the COM port. At least the motherboard may give the owners the opportunity to upgrade to a current generation processor/motherboard combo. For me it is good as most of the networking gear I work on still uses serial communication for configurations.