18 tickets to the MOA Finals up for grabs during MSI MOA 2014 Qualifiers MOA Qualifiers and 'Xtreme' photo sharing event kick off
MSI, the leading motherboard and graphics cards brand, officially kicks off the qualifying rounds of this year's MSI Master Overclocking Arena (MOA), the global overclocking competition reaching its seventh annual event that has set a class of global overclocking masters. A true attraction for the most skilled overclockers to come and compete at the overclocking battleground. The best 18 online qualifier contestants will be invited to the MOA 2014 Grand Finals, with an opportunity to compete with the most extreme hardware gear in the world and win plentiful prizes.


MSI shapes the start of this extreme event of the worldwide online qualifiers together with the world-class overclocking community website HWBOT.org on July 1st, 2014. For detailed event rules please go to http://hwbot.org/competition/moa_ww_2014.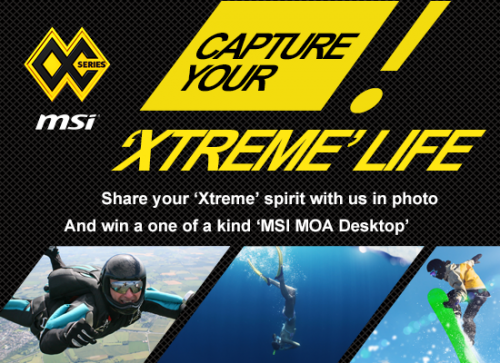 While all eyes are focused on the MSI MOA competition and the extreme overclockers, MSI also invites more people to share their 'XTREME' spirits in life. Capture any moment when you are overclocking or doing a sport which is 'XTREME' to you, place the MSI 'OC series' logo in the photo and upload it to the "CAPTURE YOUR 'XTREME' LIFE" official website. By doing this, you have the chance to walk away with unique MSI prizes, including a one of a kind MSI MOA desktop. What's more, invite your friends to vote for your photo and get the chance to win MSI's latest generation motherboard! So grab your camera, create your own 'XTREME' moment and share it with the world!
More event info please goes to this website: http://event1.msi.com/mb/2014/xtremelife