Enermax launches its new full tower chassis: Thormax GT. This full tower case comes with the ample interior to support E-ATX MB and up to 490mm length VGA cards, a superior cooling compartment to support 240 & 360mm depth liquid coolers, and many user friendly designs. Thormax GT is the best armor for professionals and enthusiastic gamers to suit up their giant system.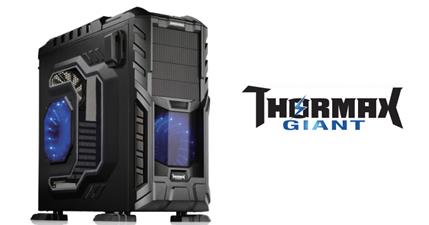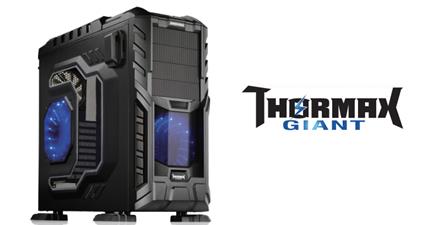 Ample Interior Construction
Thormax GT is built with an ample internal space. It can easily accommodate the E-ATX sized motherboards and can also support up to four dual-slot graphics cards of 360mm depth; two VGA cards have a max length support of up to 490mm long with the HDD cage removed.  Also, Thormax GT houses various drives spaces: four 5.25" bays with screwless latch design, five 2.5"/3.5" HDD trays and an additional 2.5" drive behind the MB tray for sophisticated data storage device management.
Superior Cooling Compartment
Thormax GT's unique compartment structure allows it to install two extended length liquid coolers with 60mm high clearance. A 360mm length liquid cooler can be installed under the roof and one 240mm can be installed at the bottom.  Furthermore, Thormax GT is pre-installed with dual 18cm Enermax Vegas blue LED fans and comes with an additional six 12/14cm fan slots for maximum airflow.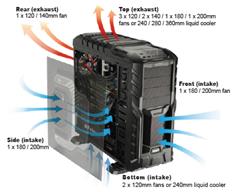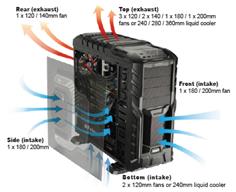 Thormax GT also has an extravagant top I/O panel and controls: two USB 3.0 ports & four USB 2.0 ports, pre-installed Enermax 18cm Vegas fan 5 LED mode switch, and power & reset buttons. It also comes equipped with a 4-level fan RPM controller, with LED speed indicators, that can be used to adjust all four fans at once.
User Friendly Design
Thormax GT features several user friendly designs. First, the included magnetic headset holder allows users to easily place their headset on the metal side panels or any other metal surface.  The Thormax GT also sports a sturdy metal handle on the rear roof area for easy system relocation. Besides that, the 360 degree rotatable foot stands allow uers to adjust the chassis to fit the space. Thormax GT also provides 5.25" adapters to convert one 3.5" HDD and two 2.5"SSDs.
| | | | |
| --- | --- | --- | --- |
| Foldable & Movable Magnetic Headset Holder | Sturdy Handle | 360 Degree Rotatable Foot Stands | 5.25" converted to 1 x 3.5"HDD + 2 x 25" SSDs adapter |
Thormax GT, a solid armor for users to build the most advanced systems: multiple VGA cards, liquid coolers top and bottom, plenty of room for expandability. The Thormax GT will be available in mid-October worldwide.