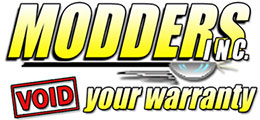 The latest news from Modders-Inc
Happy New Year!
Like the old saying goes, "Change is inevitable. Change is constant". You must learn to deal with change or you will never grow. With each new year it brings us new challenges and new paths to explore. It is hard to believe that 2018 will mark the 12th year that Modders Inc has been around. What started out as a hobby …
GamerStorm Baronkase Liquid by DeepCool - Video
We're taking a look at the GamerStorm Baronkase Liquid by DeepCool. It's an interesting case with some unique tricks up its sleeves. First and foremost, the Baronkase supports both MicroATX and Full ATX boards, thanks to two different power supply mounting options. Check out the Modders-In Amazon Shop for all your custom PC needs: https://www.amazon.com/shop/moddersinc More information on the GamerStorm …
Caselabs Bullet BH8 Unboxing Video
Have you every wanted a case that is custom made and created by someone that understands the issues you have when updating your system? Caselabs to the rescue with the Bullet BH8! Created in the USA and by a small private company that knows what it is like to not be able to put a system together just they way …
Happy Holidays
We at Modders Inc would like to extend Christmas wishes to our friends, family's and modding community. Be safe, enjoy your day with whoever you can and hopefully Santa will bring you all your modding wishes. If you would like to wish other a Merry Christmas please do so in the comment section.