« A Closer Look at the ADATA SX950
|
Final Thoughts »
Benchmarks
ADATA has an SSD Toolbox software free for download for monitoring, updating firmware and secure erasing an ADATA SSD. The drive info page shows a graphical overview of the drive health including temperature, bytes written and estimated life remaining.
While the SSD Toolbox and its utilities are compatible with Windows 10, secure erase can only be performed on a Windows 7 system. The toolbox version and firmware can be updated here as well as OS optimizations for those running a non-Windows 10 OS.
Following benchmarks were performed to demonstrate in the lab and real-world performance data.
CrystalDiskMark was performed on the stock (right out of the box) SX950 and at 75% full SX950. Read and write tests for "Seq Q32T1", "4K Q32T1", "Seq" and "4K".
Seq Q32T1: Sequential (Block Size=128KiB) Read/Write with multi Queues & Threads
4K Q32T1: Random 4KiB Read/Write with multi Queues & Threads
Seq: Sequential (Block Size=128KiB) Read/Write with single Thread
4K: Random 4KiB
AIDA64 disk benchmark suite that measures read performance (in MB/s) and show average read access. All tests are set to the 1MB block size.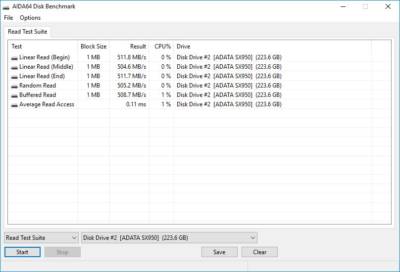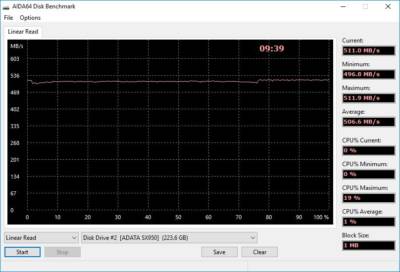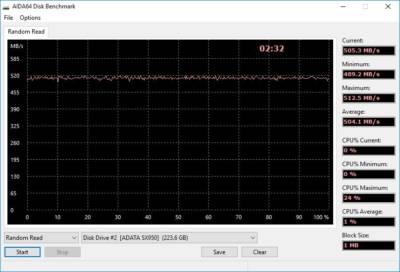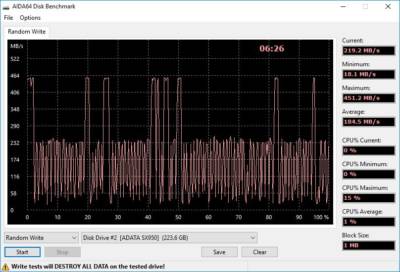 ATTO disk benchmark is a 32-bit compressible data benchmark that measures read and write speeds across various file transfer sizes from 0.5KB to 8192KB to show SSD behavior.
AS SSD uses incompressible data for benchmarking and can measure read/write performance in MB/s or in IOPS. AS SSD also has a Copy Benchmark which simulates ISO, Game and program performance, providing both speed and access time results.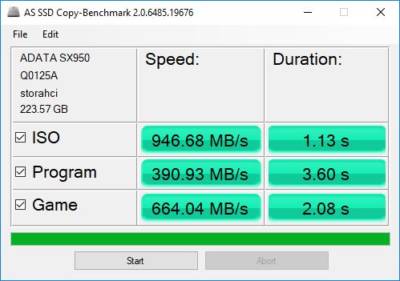 Anvil Storage Utilities is a comprehensive storage testing program that provides plenty of information and option for each test. For this review, 100% incompressible, 46% incompressible (simulating Applications) and 0-fill compression data were used to observe behavior across.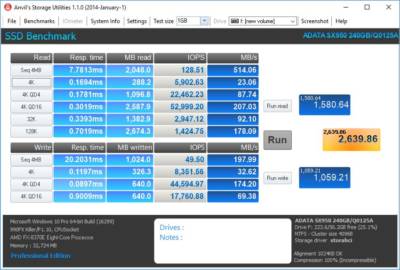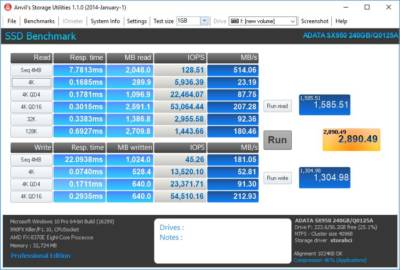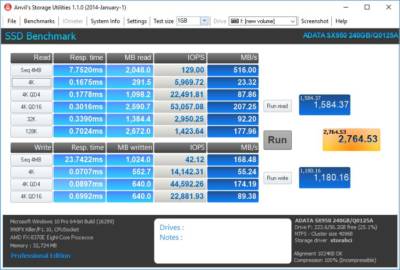 PCMark 8 from Futuremark is a semi-synthetic testing suite that has a specialized Storage testing performance feature. It simulates storage performance while playing games, running productivity and creative programs and generates a total score based on how long each test took and the storage device behavior during its 3-set run.