ADATA Technology, a leading manufacturer of high-performance DRAM computer memory modules and NAND Flash application products, has received the prestigious Good Design Award 2014 by matching extremely eye-catching design features with superior performance. Thanks to advanced R&D, innovation and rigorous quality control, ADATA's XPG Z1 DDR4 Overclocking memory stands well above competitors' offerings.
An Overclocker's Dream – XPG Z1 Speed, Quality & Great Looks
The XPG Z1's jet-wing inspired design, red-hot metallic lines and carbon racecar texture make it clear that it's built for extreme performance! By delivering not only awesome looks, ADATA's XPG Z1 DDR4 memory also features outstanding stability and reliability thanks to a thoroughly tested design and ADATA's unique TCT (Thermal Conductive Technology).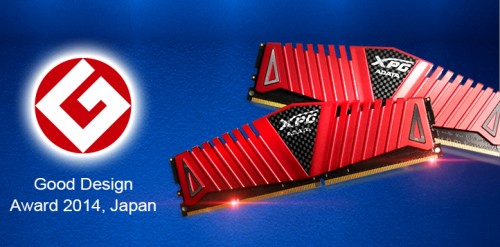 By leveraging all the advantages of the new JEDEC DDR4 standard, ADATA's XPG Z1 DDR4 memory modules outperform DDR3 both in speed and by consuming less power. Compared to DDR3, the XPG Z1's power consumption has dropped from 1.5V to 1.2V. With this 20% reduction in power, along with 2 ounces of high-conductivity copper mounted on a 10-layer PCB, the XPG Z1 provides excellent cooling and improved data transfer unimpaired by noise interference. SPD (Serial Presence Detect) allows direct application execution without changing BIOS settings, facilitating uninterrupted usage and system stability. By offering all these benefits, ADATA's XPG Z1 DDR4 memory modules are the perfect solution for gamers, overclockers and PC enthusiasts!
Product Webpage: